Impress your guests with innovative Arabian cuisine. Our talented culinary team will elevate your event with creative food and beverage experiences – with everything from private villa dining to interactive coffee breaks and seasonal dining events. Our chefs leverage their relationships with nearby farmers and suppliers to deliver the highest quality menus, reflecting the freshest local flavours.
Everything You Need
Discover True Arabian Flavours

Take a culinary tour of Dubai with customized menus for your event. Entice your guests with such menu options as vegetable crudités with spicy hummus, organic zaatar, rose-water muhalabia and famous Arabic coffee.

Choose from the skyline views of Mercury Lounge, the chic and relaxed Sea Fu right on the beach or the vibrant, market-style Suq. All of our venues are unique and can be privatized for your themed event, company party or product launch.

Details

We invite you to take your gathering outside. Outdoor dining is available atop the Resort at Mercury Lounge, around the intimate beach fireball at Dana Garden and in barefoot luxury at Sea Fu restaurant. Infuse your event with more fresh air at Suq's shady restaurant terrace, in the tranquil Pearl Courtyard or on Shai Salon's terrace.
MEET THE TEAM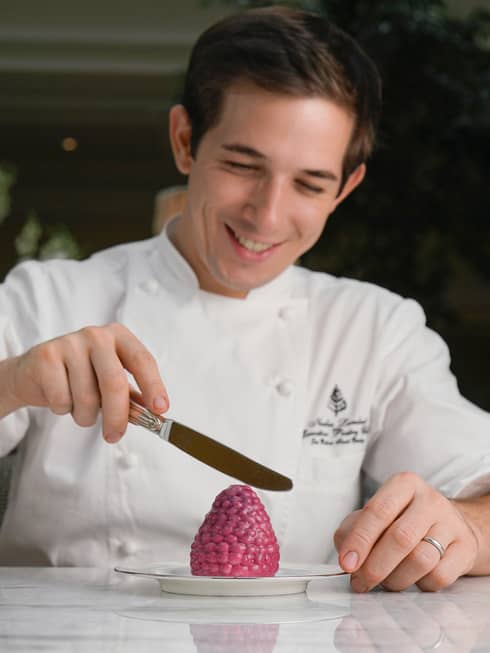 Nicolas Lambert
Senior Executive Pastry Chef
While Lambert's masterpieces are a feast for the eyes – and the camera lens – the magic happens with that first bite. Using a distinguishable taste profile, Chef Lambert is known for being a believer in simplicity, using a maximum of four textures and three flavours in each pastry. His creations are informed by an abundance of chocolate balanced with seasonal and local ingredients to captivate the taste buds.
"There is a story and emotion behind each of my creations. I have tried to capture beautiful moments from my life and communicate them the only way I know – pastries"