Impress your guests with innovative Arabian cuisine. Our talented culinary team will elevate your event with creative food and beverage experiences – with everything from private villa dining to interactive coffee breaks and seasonal dining events. Our chefs leverage their relationships with nearby farmers and suppliers to deliver the highest quality menus, reflecting the freshest local flavours.
Everything You Need
Discover True Arabian Flavours

Take a culinary tour of Dubai with customized menus for your event. Entice your guests with such menu options as vegetable crudités with spicy hummus, organic zaatar, rose-water muhalabia and famous Arabic coffee.

Choose from the skyline views of Mercury Lounge, the chic and relaxed Sea Fu right on the beach or the vibrant, market-style Suq. All of our venues are unique and can be privatized for your themed event, company party or product launch.

Details

We invite you to take your gathering outside. Outdoor dining is available atop the Resort at Mercury Lounge, around the intimate beach fireball at Dana Garden and in barefoot luxury at Sea Fu restaurant. Infuse your event with more fresh air at Suq's shady restaurant terrace, in the tranquil Pearl Courtyard or on Shai Salon's terrace.
MEET THE TEAM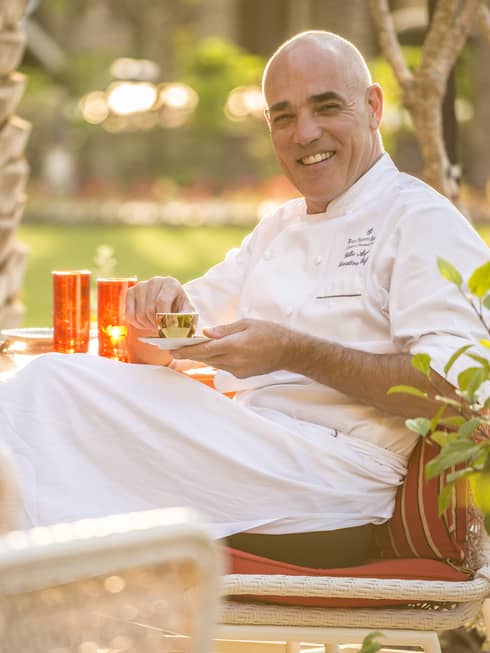 Gilles Arzur
Executive Chef
There's plenty for Chef Arzur to be passionate about in Dubai, where he oversees five restaurants as well as in-room dining and banqueting. Raised in a small, oceanside community in Brittany, he began cooking for his family at an early age, and his talent for contemporary cuisine is continuously inspired by the joys and challenges of creating menus with locally sourced ingredients.
"It is not just about getting the food to the table, but using service to share our passion for the food."