All Food and Drink
Inside or on the terrace? There are no wrong decisions here. Every item on our Asian-inspired fresh seafood menu comes with unbeatable beachfront views.

Take a seat at the bar overlooking the beach, or relax in the sunken lounge by the fire pit. Refreshing Lemongrass Martinis and a South Atlantic Ocean Cocktail pair perfectly with our Tempura Prawns or Tuna Bruschetta.

Everyone gets what they want at Suq, our casual, market-style restaurant where Arabian specialties and international favourites are prepared à la carte, and a special children's play area keeps the kids entertained.

Make yourself at home beneath the intricate lattice ceiling in our salon, the ideal place to sip fresh-brewed coffee or tea, snack on meze plates and relax.

Cocktail Bar

Hendricks Bar

Each drink at Hendricks Bar is lovingly crafted by our mixology artisans, inspired by the recipes of world traveller Sir James Hendricks. With elegant interiors and a soothing ambience conducive to conversation or contemplation, Hendricks Bar is an institution of experimental mixology made with the finest of spirits and the mightiest of touches.

Rooftop Lounge

Mercury Rooftop

Set between the glistening sea and the striking skyline, Mercury Rooftop is an elevated social dining destination for after-dark revelry. Join us to graze on seasonal dishes made for sharing and sip elegant elixirs beneath the stars.

Meaning "from the leaves" in Latin, Folia's plant-based masterpieces are rooted in Chef Matthew Kenney's mission of crafting delicious healthy cuisine. The celebrated chef's creations extract incredible flavours from all that blossoms and blooms, perfectly complementing the serene garden setting they are served in.

At Nammos Dubai, located in Restaurant Village, experience Mediterranean elegance alongside stunning sea views. Savour inventive Mykonian dishes, a bespoke wine and Champagne list, and a chic atmosphere that's perfect for romantic meals or evening drinks with friends.

Turkish Steakhouse

Nusr-Et

An acclaimed steakhouse restaurant from Turkey, Nusr-Et is the creation of famously charismatic Nusret Gökçe, a butcher and meat specialist. Meat is the main focus of the menu, with every piece of beef and lamb cooked with flair. Signature dishes include asado ribs, Nusret "spaghetti" and Nusret golden steak.

Find your inner Inca at COYA Dubai. This award-winning restaurant takes guests on an immersive, multi-dimensional dining experience to Latin America through exceptional Peruvian food, innovative pisco infusions and drinks, cultural events and unforgettable parties.

Mimi Kakushi blends time-honoured cuisine with new thinking, serving far eastern flavours you'll recognize with western influences you'll love.

Honour the centuries-old traditions of Italian gastronomy with a menu designed to be shared between friends and family. Using thoughtfully chosen ingredients and bold, seasonal flavours, Scalini showcases the culinary team's interpretation of traditional Italian cuisine served in sublime surroundings.

Verde Dubai is a dining concept hailing from Paris, named after a restaurant on Avenue George V that took the French dining scene by storm. It is without limits and avant-garde, serving a Mediterranean-inspired family style menu, full of warmth and life.

Restaurant Village

At our Resort, opposite the main entrance, sits a cutting-edge curved building that's home to four independently operated venues, including three of Dubai's best restaurants. (Restaurant Village reservations are managed independently by each outlet.)

Takeaway

Enjoy classics from Four Seasons Dubai's restaurants in the comfort of your home.

In-Room Dining

For breakfast in bed, impromptu business meetings or romantic meals on your private terrace, we've got you covered, day or night. Have an exceptional Dubai dining experience delivered right to your room, whenever you like.
Fulfil your palate and discover new cultures at our exclusive restaurants and bars, where every meal is curated, every moment elevated and every experience memorable.
Featured Culinary Experience
Our romantic beach dining experience will reawaken your feelings for your beloved one. We create a true feast for the senses for couples wanting to celebrate their love. As waves gently lap the shore, your private attendant will present five courses and a bottle of rosé champagne, for an evening designed to tempt and delight.

Learn More
Meet The Team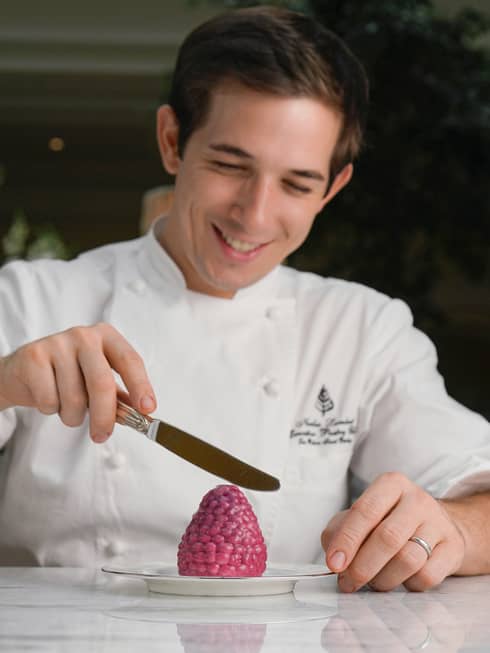 Executive Pastry Chef, Nicolas Lambert
While Lambert's masterpieces are a feast for the eyes (and camera lens), the magic happens when lips purse and eyes close. With a distinguishable flavour profile, Chef's pastries tend to deliver all of the textures and tastes in each bite. He is known for being a believer in simplicity, using a maximum of four textures and three flavours in each pastry. An abundance of chocolate balances with seasonal and local ingredients to captivate the taste buds.
"There is a story and emotion behind each of my creations. I have tried to capture beautiful moments from my life and communicate them the only way I know – pastries."