At the uppermost point of Four Seasons Resort Seychelles, far above Petite Anse Bay, Le Syel Spa celebrates earthly beauty and cultural bounty. Crowned by Mahe's most spectacular views, it reveals the heavenly potency of local ingredients while inviting an elevation of inner and outer self that will change your perspective on the meaning of wellbeing.
HOURS
Every Day

8:00 AM – 9:00 PM
Favourites
Hike to our hilltop for a scenically serene guided meditation. Submit to the surrounding stillness and rhythmic flow of the ocean below as you begin your journey within. Good level of fitness and hiking experience required.

A tribute to the many tales of love that the Coco de Mer has inspired throughout the ages, this sumptuous ritual encourages you to love yourself.

Details
Spa Services
Wellness Services
Align breathing and movement with our yoga experts to discover physical and spiritual relief.
The Team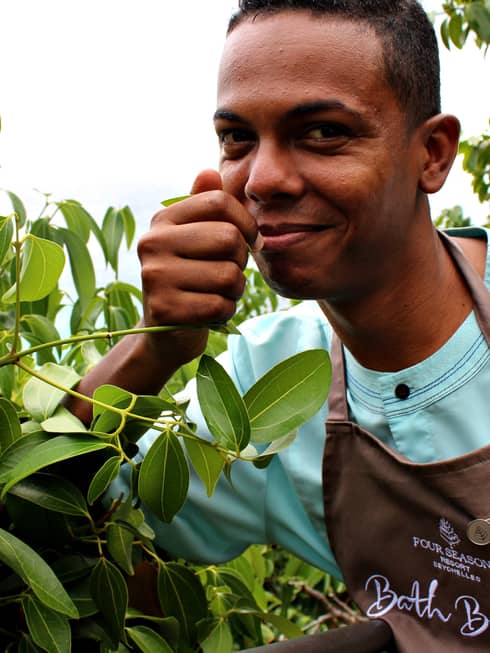 Bath Butler
George Monty
Born and raised in Seychelles, George knows better than anyone the power of nature. He grew up on Mahé Island, in neighbouring Baie Lazare, surrounded by fruit trees and spice plants, where his mother taught him the Creole secrets and recipes that he still draws on today. You'll often find him scouring the Resort's 170 acres (69 hectares) of jungle hillside, on the search for different ingredients and fresh inspiration.
"After a long day, my mother would prepare a bath made with fresh cinnamon and lemon tree leaves to help soothe and revive me. To prepare the same style of bath for our guests is very nostalgic."
Whether you're looking for a spiritual journey or are drawn by the power of the ocean, our holistic, multi-day spa journeys are tailor-made just for you.

Details

Let our dedicated Bath Butler draw you a bath to help cure whatever ails you – or simply to set the mood – in the comfort of your private villa.