At the uppermost point of Four Seasons Resort Seychelles, far above Petite Anse Bay, Le Syel Spa celebrates earthly beauty and cultural bounty. Crowned by Mahe's most spectacular views, it reveals the heavenly potency of local ingredients while inviting an elevation of inner and outer self that will change your perspective on the meaning of wellbeing.
HOURS
Every Day

8:00 AM – 9:00 PM
Favourites
Experience new heights of wellbeing at our Konekte Shack, a place to connect with yourself and others! Konekte, meaning "connect" in Creole, aims to celebrate local ingredients and sustainability through interactive workshops designed by our team.

Details

The perfect pairing to any treatment, NuCalm is a patented neuroscience technology clinically proven to lower stress and improve sleep quality without medication. Composed of five components, including an Apple iPod touch smart device, NuCalm provides three programs to choose from: recharge, reboot and rescue.

Details
Spa Services
Wellness Services
Meet The Team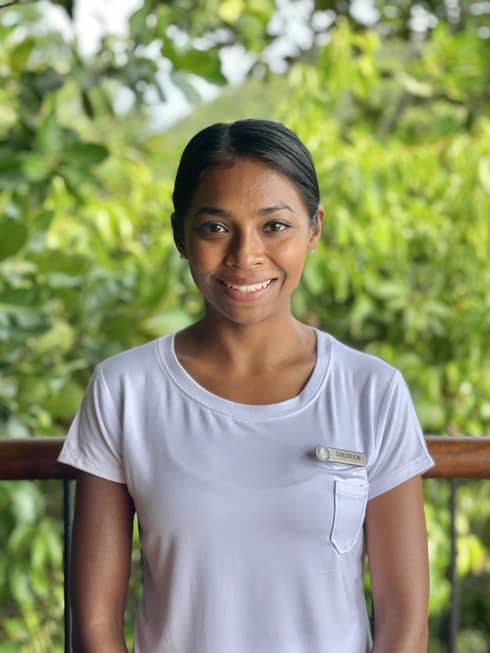 Shereen Adlina
Yogi
An advocate of mother nature, Shereen had a childhood that led her to practice and personalize yoga for the betterment of her health. She believes her experience with yoga was the most transformative in her life and now works with guests to create personalized wellness programs while incorporating elements of nature into her sessions. Her expertise lies in hatha yoga, restorative hot stone yoga, yin yoga and personalized workshops aimed at tackling medical and emotional issues.
"Yoga is confidence, connection, power and transformation – a personal journey through mind, body and soul."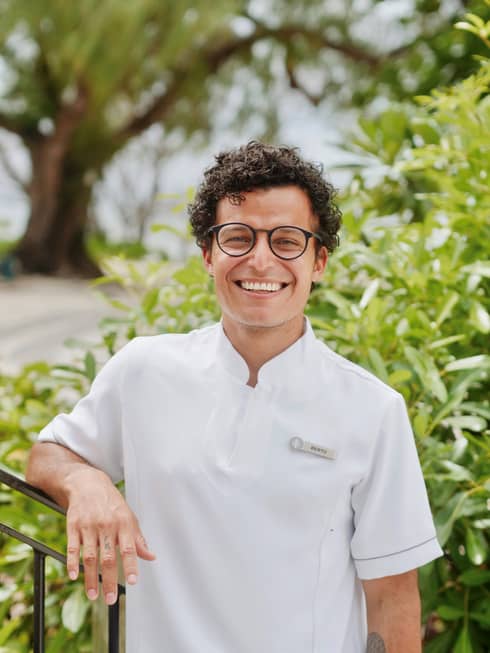 Heriberto "Berto" Peña
Wellness Practitioner
Having been immersed in the world of wellness and Ayurveda since age 12, Berto embodies the essence of a healer who will use a holistic approach to create experiences for each individual and setting. With a love for nature, health and helping others, he is committed to sharing his passion with anyone who crosses his path. His specialties include Ayurveda, reiki, sound healing therapy, meditation and shiatsu.
"There is depth in wellness, and it comes in many forms. It can be introduced as a complement to a treatment or be an experience in its own right."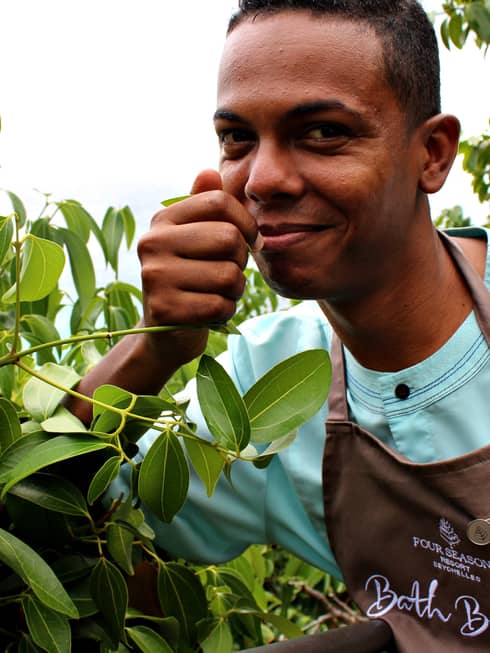 George Monty
Bath Curator
Born and raised in Seychelles, George knows better than anyone the power of nature. He grew up on Mahé Island, in neighbouring Baie Lazare, surrounded by fruit trees and spice plants, where his mother taught him the Creole secrets and recipes that he still draws on today. You'll often find him scouring the Resort's 170 acres (69 hectares) of jungle hillside, on the search for different ingredients and fresh inspiration.
"After a long day, my mother would prepare a bath made with fresh cinnamon and lemon tree leaves to help soothe and revive me. To prepare the same style of bath for our guests is very nostalgic."