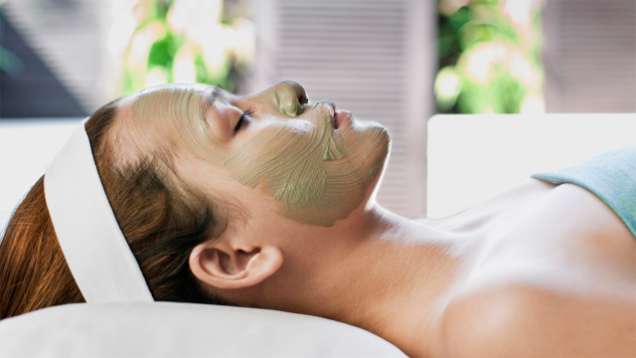 Samadara
The Samadara ultimate age-defying facial uses a sequence of timeless, anti-ageing techniques rooted in Ayurvedic healing traditions that are designed to reawaken the skin's natural healing energies. Turn back the hands of time and transform your skin with this intensely hydrating and nourishing treatment with Rose Quartz Crystal massage.

105 minutes

Thermal infusing
Experience an intensive boost of vitamins and minerals deep into the skin's layers with a warm mask tailored to either purify and cleanse, or nourish, hydrate and tone. Restoring elasticity and firmness, this is more than a facial – it's a natural facelift.
90 minutes

Rejuvenating facial for him
A Sodashi salt-therapy back massage relaxes the body in preparation for a cleansing facial, specially designed to balance the skin's oils and assist in preventing ingrown hairs. Soothing mists with woody aromas desensitize the skin, while a facial massage tones.
75 minutes

Marine Essence
Harnessing the remarkable power of marine plants, this facial is rich in spirulina and fucus extracts, bringing radiance and restoring elasticity. Combined with Sodashi's unique facial massage using the semi-precious gems of Rose Quartz, Green Aventurine and Carnelian, this facial promises a vibrant complexion and a deep sense of well-being
75 minutes
Pure radiance
Tailored to individual needs, this deeply relaxing and restorative facial begins with a warm aromatic compress designed to soften and exfoliate. A nurturing face mask, rich in herbal extracts, purifies and hydrates while a facial massage and Sodashi's plant essences leave the skin feeling fresh and revitalized.
75 minutes

Swiss Perfection Cellular Face Treatments
The Swiss Perfection high-tech and high-touch exclusive anti-aging facials are focused on immediate and lasting visible results. They include the unrivalled Cellular Active IRISA® technology combined with highly efficient plant extracts to effectively regenerate the skin and prevent premature aging. The production of new and healthy cells is stimulated, and the specific skin concerns are corrected. The perfect synergy between high quality formulas and high-tech devices included in signature treatments offers young and naturally radiant skin.
Cellular Exclusive Lift Concept
Inspired by anti-aging medical techniques, this five-step lifting treatment offers spectacular immediate effects. Specific and highly concentrated formulas work in symbiosis to target the loss of firmness, sagging and wrinkles. It acts as a natural lifting with long-term benefits.
60 minutes
Cellular Hydrating Rejuvenation
This unique, rejuvenating treatment targets wrinkles, loss of hydration and irregular skin texture. It leaves the skin smooth and rejuvenated. The wrinkles are visibly diminished and the optimal skin hydration level is preserved.
60 minutes
Cellular Brightening Radiance
This specific treatment works deeply in the skin, directly on the cells responsible of hyperpigmentation. This revolutionary facial is specifically designed to rapidly lighten dark spots, leaving you with an even and bright complexion.
60 minutes
Cellular Anti-Oxidant
Through the power of pure vitamin C, this highly active anti-oxidant facial stimulates collagen production, restores the skin's radiance and firmness. The skin is energized and renewed. This treatment is the perfect cure to fight premature signs of aging and environmental damages due to free radicals.
60 minutes
Treatment Enhancements
Available as add-on options for all Cellular Face Treatments or as individual spa experiences
Cellular Neck and Décolleté Treatment
This specific care rejuvenates and reshapes the neck and décolleté area. It targets wrinkles, skin sagging and loss of firmness. The skin of the décolleté is visibly rejuvenated and firmed.
20 — 45 minutes
Cellular Eye Contour Treatment
Focusing on the most delicate area of the face, this amazing treatment offers a rejuvenated and uplifted eye contour. Fine lines and wrinkles are smoothed and all signs of fatigue are erased. The skin is luminous and firmed.
20 — 45 minutes
Cellular Hand and Arm Treatment
This rejuvenating treatment will treat hyper-pigmentation and perfectly nourish the skin of the hands while fighting the loss of firmness of the upper arm.
20 — 45 minutes
Note: Prices and treatments are subject to change without notice. Prices are subject to applicable taxes and a 10% service charge. Should you wish to cancel or reschedule, please advise us at least four hours prior to your appointment time in order to avoid a 100% cancellation fee.
For in-villa treatments, 100% additional charge will be added to the regular price. Additional charges apply for treatments outside of usual spa opening hours. For full details and booking please contact the Spa.