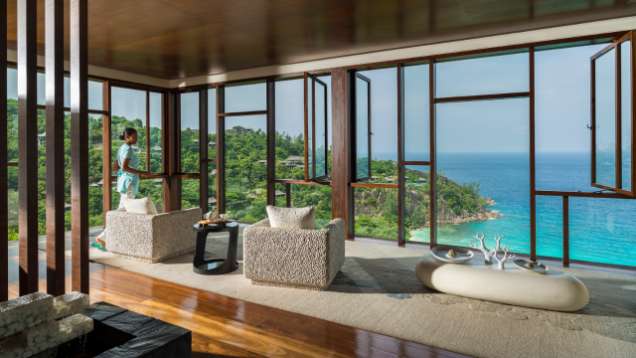 Hilltop fusion
Like the cultural heritage of the Seychelles, our signature massage draws on influences from around the world. Combining techniques from Europe and Asia and applied with medium to firm pressure, this unique massage eases muscular tension and induces a deep sense of well-being.
60/90 minutes

Kundalini
This back treatment balances the nervous system with soothing and strengthening oils and the application of Himalayan salt and marigold poultices to the chakras. Named after Kundala – the Hindu goddess of awareness who takes the form of a coiled snake – Kundalini is the dormant energy in the base of the spine. When awakened, this energy travels upwards to the third eye, increasing vitality and spiritual enlightenment.
75 minutes

Mahé
East meets West in this fusion treatment that combines European oil massage with Asian palm pressure and stretching. The addition of an herbal poultice of indigenous Seychellois ingredients soothes aches and tension.
90 minutes

Shell serenity
Enjoy the penetrating intensity of heated seashells along tired muscles, releasing knots and tension with medium to firm pressure. Filled with warm sea minerals, dried sea kelp and algae, the shells generate a soothing heat, increasing circulation and alleviating stress.
90 minutes

Signature earth
Combining the healing power of touch with Sodashi's unique techniques, this treatment uses slow, stroking movements to relieve emotional and physical tension. Incorporating natural wood-scented plant oils and essences, the massage increases lymphatic circulation and clears blockages in the body's energy channels. Deep rest is promoted, and body, mind and spirit are powerfully re-energised and balanced.
60/90 minutes

Therapeutic
This massage uses deeper pressure and a variety of targeted techniques to promote the recovery of injured or strained muscles and increase flexibility and range of movement. The treatment is also ideal after vigorous exercise or for massage aficionados seeking a more intense experience.
60/90 minutes

Traditional Thai Massage
Traditional Thai massage has been practiced for centuries, due to its ability to unblock the meridian line of the body to improve flexibility and boost energy. This healing treatment deeply penetrates by targeting specific areas with massage and gentle, assisted movements resulting in a feeling of both relaxation and invigoration.
60/90 minutes

Mother Care Massage
A pre-natal massage provided by our highly-trained therapists. Performed with the expectant mother in a comfortable position, laying side-on, it can be tailored to the needs of each trimester of pregnancy to include tension release and structural balancing techniques. This specialist treatment will ease any minor discomfort and promote relaxation.
90 minutes

THE SURFER'S MASSAGE
Only a surfer knows the feeling! After a satisfying surf session, treat your tired muscles to a Surfer's Massage at the hilltop Spa. This deep-pressure, full-body massage specifically targets the areas you use most when surfing, helping to relieve shoulder and upper body tension and relax your body after your time spent in the ocean. This dedicated massage is most effective straight after your surf session and is only available to surfers who have had a lesson with the Resort's TropicSurf instructor.
Available for either 60 or 90 minutes, this massage can be booked directlywith the Spa or via your TropicSurf instructor.
Note: Prices and treatments are subject to change without notice. Prices are subject to applicable taxes and a 10% service charge. Should you wish to cancel or reschedule, please advise us at least four hours prior to your appointment time in order to avoid a 100% cancellation fee.
For in-villa treatments, 100% additional charge will be added to the regular price. Additional charges apply for treatments outside of usual spa opening hours. For full details and booking please contact the Spa.