Look at the pattern of a fallen leaf. Or the organic silhouette of a towering ceiba tree. With beauty and intentionality, nature has long been an inspiration for impeccable design. From a tented resort in the seaside forests of Punta Mita, Mexico, to a Leadership in Energy & Environmental Design (LEED)–certified building in Boston, these six Four Seasons properties are practicing sustainability with style, leading the way in sustainable travel and luxury eco-design.
Sleep close to nature in Punta Mita
Nature meets nurture at Naviva, A Four Seasons Resort, Punta Mita, México, where on a private peninsula overlooking the Pacific Ocean, you'll relax in one of 15 eco-luxury tents surrounded by 48 acres (20 hectares) of lush tropical forest. The tents have not only open-air living rooms, but also bedrooms that open to a private plunge pool and a sun deck outfitted with upholstered lounge chairs, an outdoor shower and a hammock. The lines between indoors and out are purposely blurred.
Through biophilic design – a mindful architectural approach that aims to connect people with nature – you'll experience the natural world inside as well as out with the intentional use of textures and fabrics that mimic natural patterns. Other earth-friendly features at the Resort include rainwater capture; sun-powered hydro-panels to extract clean, pollutant-free drinking water from the air; and an unwavering commitment to community, with many of the property's furnishings and components sourced from local artisans.
Sleep under the stars in Punta Mita
A tradition of sustainability in Hualalai
In keeping with the centuries-old way of life in Hawaii known as "mālama honua" (to care for our earth), Four Seasons Resort Hualalai has created a sustainability program to benefit the surrounding ecosystem as well as its employees and guests. Salt pools and electric vehicle charging stations are among its elements. So is a zero-waste water filtration system for the entire Resort that features on-site micro-bottling technology and reusable aluminum bottles. The emphasis is on convenience as well as conservation.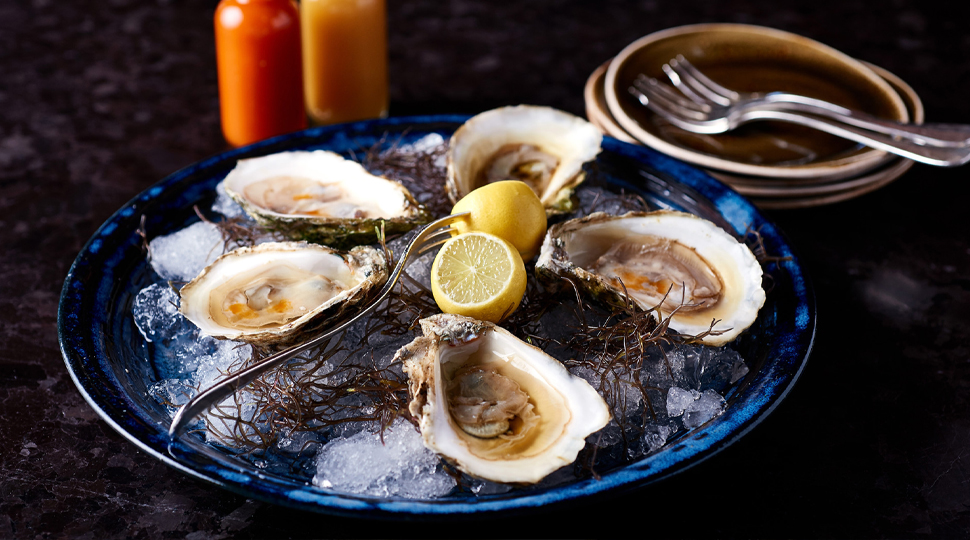 When you stay in Hualalai, sustainability is experiential. Here you can join in on periodic Resort-sponsored beach clean-ups. Or you can take a dip in the picturesque King's Pond, a swimmable aquarium that's home to more than 1,000 tropical fish and is overseen by a team of resident marine biologists. And there are plenty of opportunities to learn about ocean biodiversity, both at the on-site Kumu Kai Marine Center and from the Alaka'i Nalu, or "leaders of the waves" – they love to share their expert knowledge of the ocean and Hawaiian culture through water sports and seafaring adventures.
Even the food and drink you enjoy in Hualalai are helping to make a difference. More than 75% of the ingredients are sourced from local farmers and fishermen, and the Resort's Environmental Protection Agency–award-winning Lake Punawai is stocked with shrimp, amberjack and oysters that supply the on-site restaurants.
Take care of the ocean in Hawaii
Green building reaches new heights in Boston
From maintaining a fleet of bicycles for guests to pedal around downtown to sourcing renewable sources of energy, Four Seasons Hotel One Dalton Street, Boston, was always meant to enhance the lives and experiences of everyone who walks through its doors. Designed by legendary architect Henry Cobb and opened in 2019, the 61-storey Back Bay skyscraper is the third-tallest building in Boston. Its curved glass exterior transformed the city skyline, but its dedication to conservation and the betterment of the environment provides a valuable framework for what holistic green building can be.
Awarded the coveted Leadership in Energy & Environmental Design (LEED) Silver certification for Building Design and Construction, the Hotel continues to strive towards even greater sustainability with programs in place to reduce or eliminate its carbon footprint entirely. The Hotel keeps its use of natural resources in check by leaving no detail to chance. It has implemented water-efficient landscaping, elimination of single-use plastics, a recycling program and energy-saving guest room controls.
Explore an icon in the making in Boston
Thinking outside the hotel in Hampshire
Another important aspect of sustainability is stewardship of the land and the surrounding community, an idea that Four Seasons Hotel Hampshire has taken to heart. From providing bug hotels as habitats for important pollinators to its efforts to preserve native skylarks, owls, deer, hares, bees and wildflowers on its 500-acre estate, the Hotel's goal is to improve the quality of life for all who live there – no matter how small.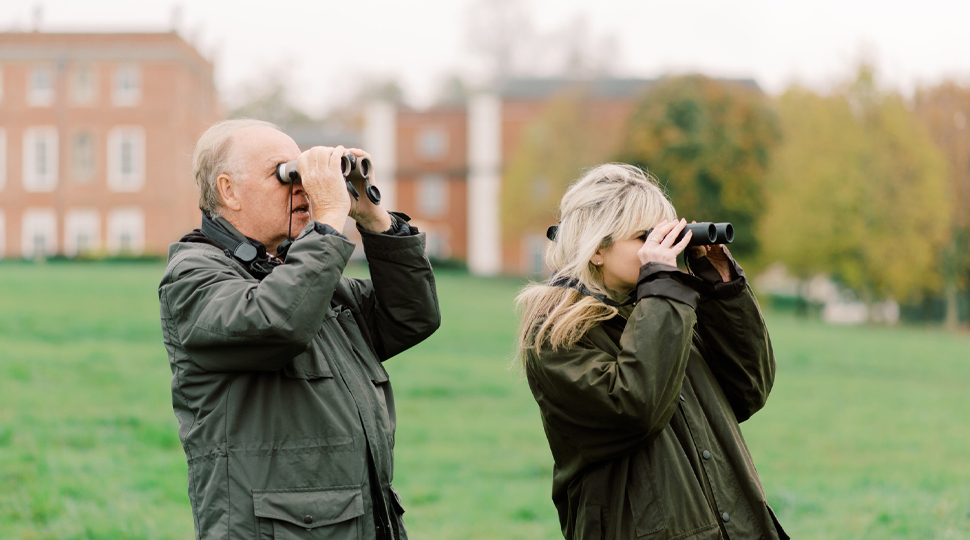 Take a moment to quietly connect with the local wildlife through educational birdwatching experiences led by expert guides. Or head to one of the Hotel restaurants, whose menus incorporate fruit from the estate's own 220-tree orchard along with sustainably sourced coffee and humanely raised protein. It's all part of a philosophy to keep the environmental impact as small and as local as possible. The Hotel also runs on a 100% renewable, carbon emissions-free electricity supply.
Responsible tourism in the Serengeti
Being located on the edge of a watering hole in Serengeti National Park comes with an inherent responsibility. This is, after all, where the wildlife that call the savannah home roam free. With this in mind, Four Seasons Safari Lodge Serengeti is committed to promoting responsible and sustainable tourism by doing all it can to conserve not only the Big Five – lion, leopard, buffalo, elephant and rhinoceros – but all those connected to this precious habitat.
This means proudly supporting local wildlife conservation efforts, including the Serengeti Rhino Conservation Project and the Serengeti De-Snaring Project, and helping to preserve the local Tanzanian community by sourcing nearly 75% of items at the Lodge from local suppliers. At the on-site Discovery Centre, you can learn about native wildlife and the history of the area and its people through a resident naturalist, local experts and Maasai guides. And with each wild game drive and walking safari, donations are made to community and wildlife projects around the Serengeti and to local non-profits that support those fleeing gender-based violence.
Help protect the Serengeti
Connect with natural rhythms in Bali
With on-site honey-producing beehives and rainwater harvested for irrigation, Four Seasons Resort Bali at Jimbaran Bay invites you to experience sustainability as something that's naturally part of life. Keeping it hyperlocal, you can drop a line with area fishermen in the morning, then cook your fresh catch at the Jala Cooking Academy later that day. Or imbibe in earth-friendly cocktails with the Sundara bar team at Telu, the Resort's aromatic herb and cocktail garden and workshop space, and learn how to make sustainable zero-waste drinks.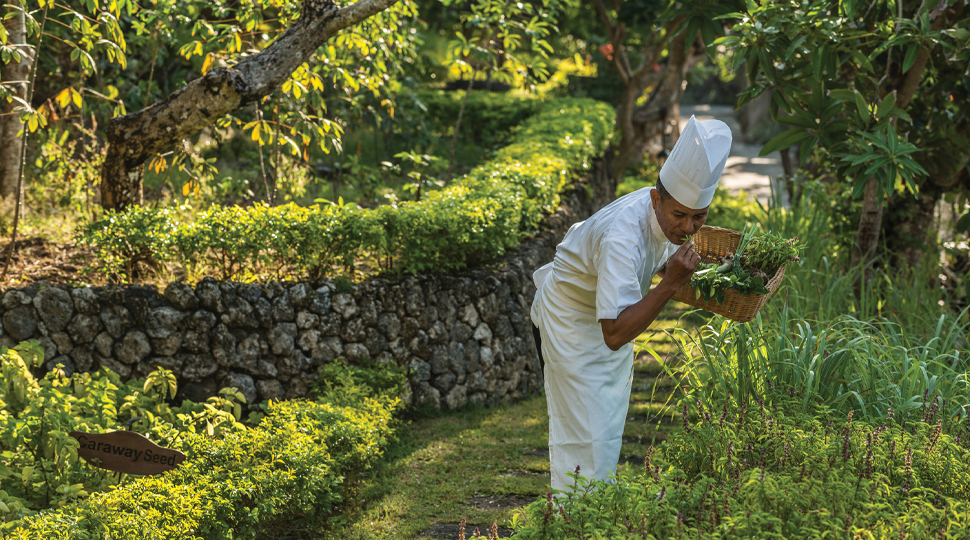 At the heart of sustainability is balance and continuity, and that often means repurposing or reusing items in helpful ways. At the Resort, used cooking oil is recycled into biodiesel through a partnership with local non-profit Lengis Hijau. Food waste is donated to local farmers to use for animal feed, and all organic waste is composted. There's even an innovative recycling program in place, created in partnership with ecoBali, that turns used Tetra Pak containers into cabinets and roofs.
YOUR JOURNEY BEGINS HERE
Where will you go to next?