Toasts of revelry. Toasts of remembrance. Toasts to mark the closing of one year and the beginning of a new one. No matter the reason you raise your glass, the moment – and the people you're sharing it with – should be honoured by a memorable libation. At Four Seasons, both the experiences and the beverages come in equally impressive measure. So drink to cherished time with your loved ones in one of these outstanding epicurean settings, and ring in the new year sipping like a sommelier.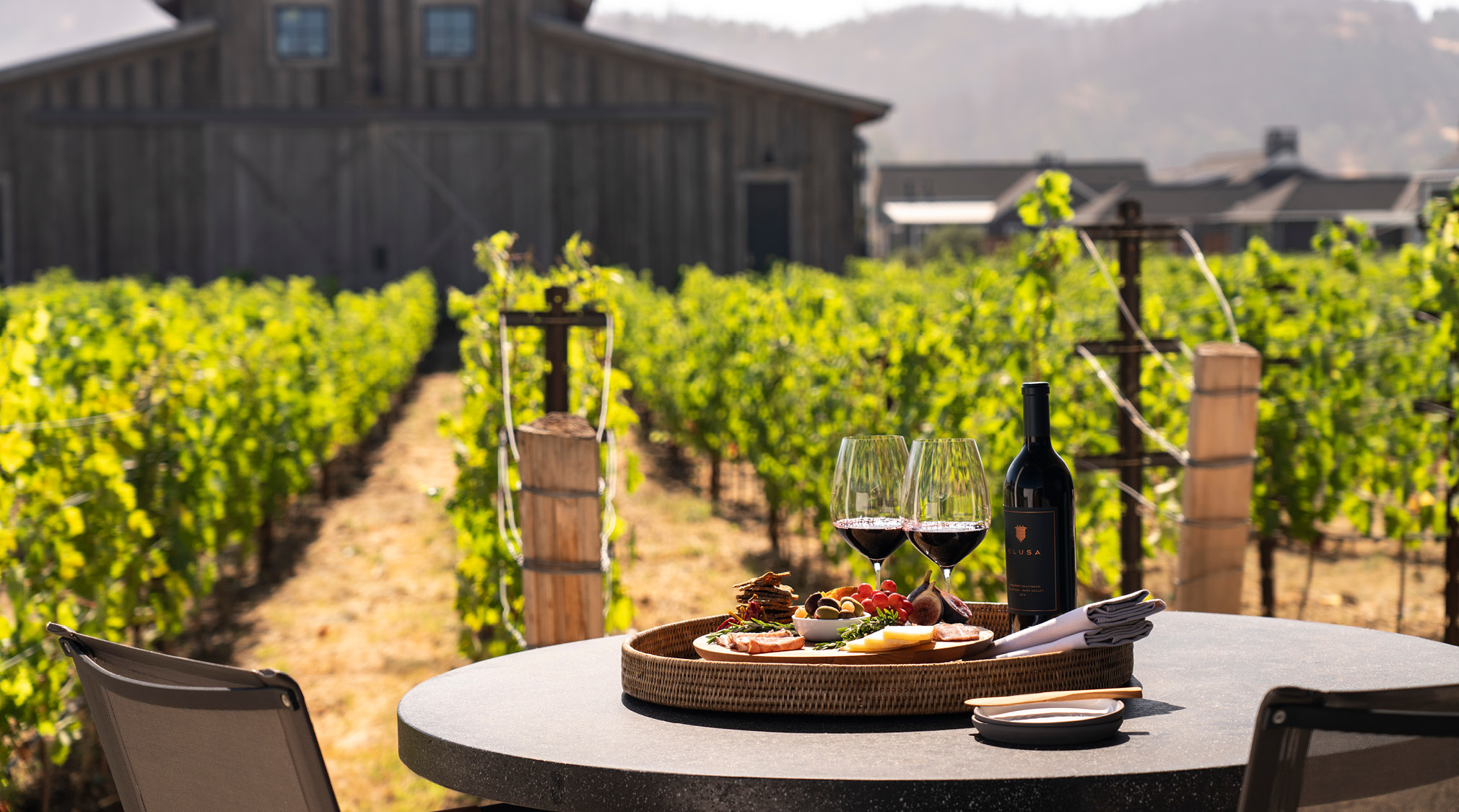 Experience the grape-to-glass process
Wine lovers and those still developing their palates will feel equally at home at the new Four Seasons Resort and Residences Napa Valley. In acres of rolling hills and scenic grapevines in historic Calistoga, you'll find yourself in the very heart of a working winery for a one-of-a-kind, immersive grape-to-glass experience. From harvesting to sorting to ageing to tasting, you'll have a front-row seat for the entire winemaking process at Elusa Winery, just steps from your guest room, suite or private villa.
Winemaker Thomas Rivers Brown takes a minimalist approach to crafting Elusa's bold Cabernet Sauvignons, which allows the unique terroir of the Calistoga American Viticultural Area to shine through in every sip. The same appreciation of terroir-driven wine can be seen throughout the Resort's curated wine list, including selections of everyone's festive favourite: Champagne. Morgan Gray, CMS Advanced Sommelier at the Resort, recommends a bottle of Pierre Gimonnet & Fils for your next féte. "Located in Cuis Premier Cru in the Côte de Blancs of the Champagne region in France, Pierre Gimonnet & Fils really focuses on the key grape of that subregion – Chardonnay. Precise, focused and incredibly expressive, it's the perfect Champagne to enjoy with a nice holiday meal or just relaxing by the fireplace," Gray says. "We also carry their 2014 Special Club, which is their top bottling from key sites only made in special vintages."
Explore Elusa Winery in Napa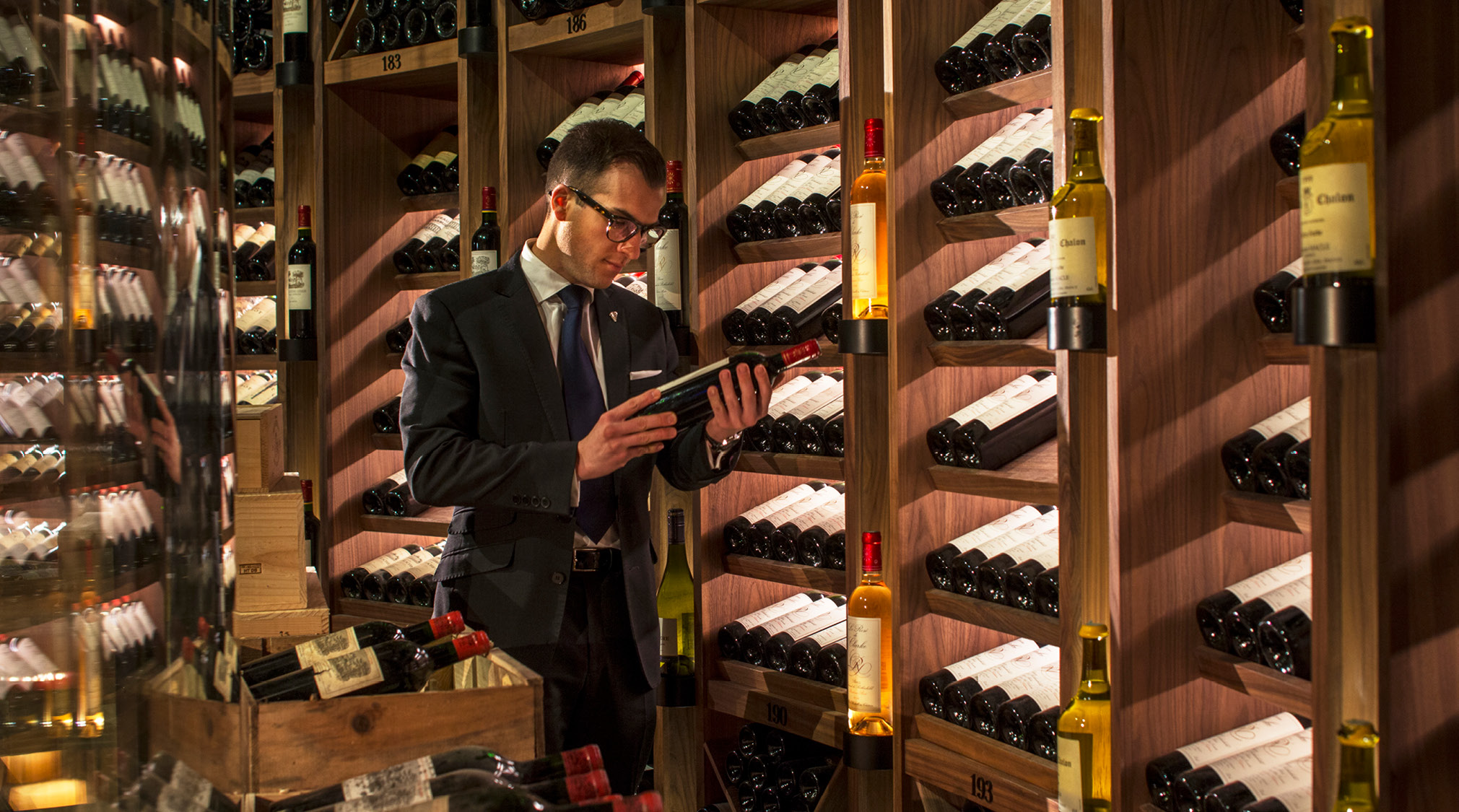 A secluded cellar in Megève
With its gabled chalets, medieval cobblestone streets and the snow-capped Mont d'Arbois front and centre, the charm factor in Megève is overwhelmingly high. But the delights of this picturesque French alpine village aren't limited to the great outdoors. At Four Seasons Hotel Megève, a glass-and-metal spiral staircase leads down to one of the most impressive wine collections in the Haute-Savoie region. Housing 15,000 bottles – including all the Edmond de Rothschild Heritage vintages, such as the legendary 1869, 1898 and 1920 vintages of Château Lafite – the Wine Cellar provides an exclusive and intimate setting for a wine tasting for you and your guests. Sample some of the finest wines from France and beyond, paired with the rich and unexpected flavours of Michelin-starred chef Annie-Sophie Pic's Savoyard menu at the Resort's newest restaurant, La Dame de Pic – Le 1920.
A seat beneath the Wine Cellar's glass chandelier can make any celebration feel extraordinary, and the perfect bottle for the occasion is likely within arm's reach. "One of my favourite party wines is a Château-Chalon with a few years in the bottle," says Paz Levinson, Head Executive Sommelier. "They are not only wines with aromas reminiscent of autumn and mushrooms, but they are also extraordinary to accompany festive dishes such as poultry, foie gras, truffles, Comté and Beaufort." When it comes to New Year's Eve, Levinson says you can't go wrong with a Champagne from Krug or Salón: "They both pair well with caviar, but also truffles, cheeses and oysters."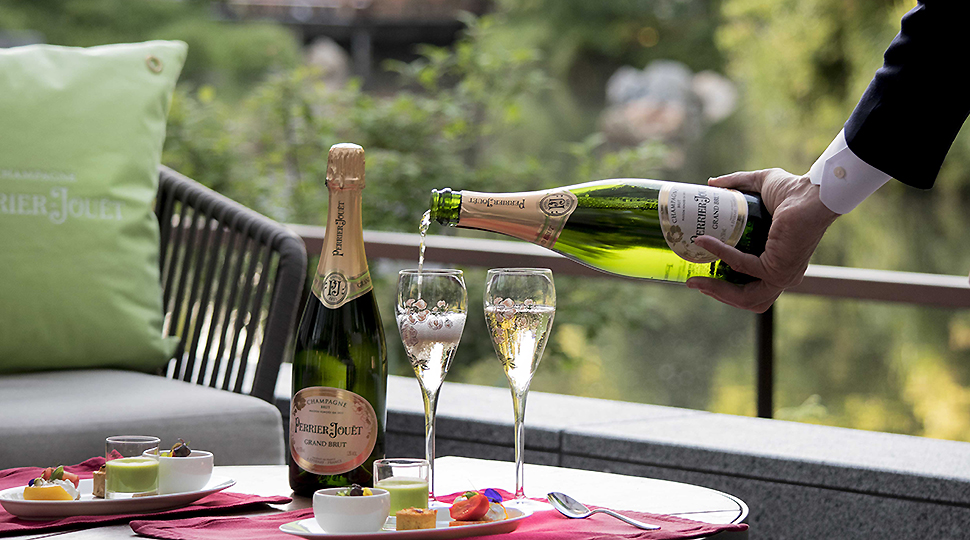 Certain flavours or aromas can transport us to a specific place and time. In a city like Kyoto, where buildings and traditions seem untouched by the passing of hundreds of years, the connection feels even closer. Sipping sake – a Japanese wine made from fermented rice – while looking out onto the same 12th-century Shakusui-en pond garden that was written about in the Japanese epic Tale of the Heiki, is one of those transportive moments. The sleek and airy Sukiya-style tea house and lounge at Four Seasons Hotel Kyoto sits within the Hotel's 800-year-old pond garden and serves local sweets, tea, Champagne and, of course, sake.
During the Heian Period – the same period when the pond garden was created – sake was consumed during ceremonies, celebrations and drinking games. Follow the pathway through the garden and cross the glass bridge to discover a modern take on that tradition at Fuju. Opt for the Kyoto Sake Tasting Trio to sample the smooth flavours of three local sakes selected by the Hotel's Sake Sommelier, or try a taste test to discover how the time-honoured beverage contrasts with the bubbly effervescence of Champagne, its Western counterpart.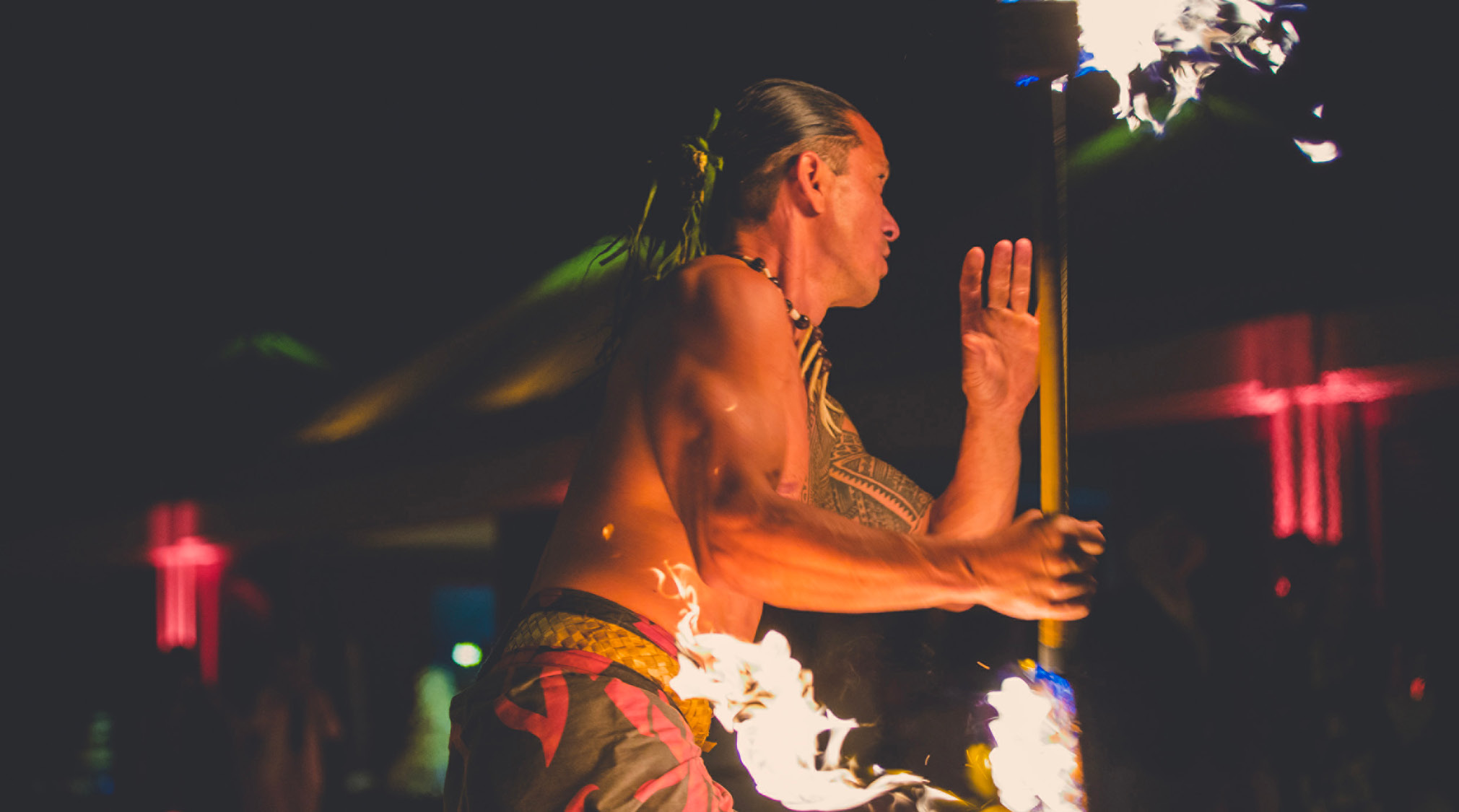 Unexpected experiences in Maui
Four Seasons Resort Maui at Wailea boasts an incredibly robust team of next-generation sommeliers – or somms, as they are often called – with nearly 20 introductory, certified and advanced sommeliers working across the property. Led by Resort Sommelier Brendan O'Leary, the team works to create emotional connections through wine experiences, providing guests with lifelong memories as they taste thoughtful and personalized selections both on-property as well as during unforgettable culinary outings – for example, the Fire & Wine experience pairs guest with Yeshua Goodman, an advanced sommelier and owner of Kiawe Outdoor, for a next-level tour of Maui's tastes and tales that includes a helicopter tour of the island; an exclusive visit to Haiku House, a former sugar plantation; and a locally sourced dinner cooked over an open flame by Goodman and paired with wines you discover during an interactive blind tasting.
The wine experiences continue for guests staying in the Resort's three Elite Suites, offering access to some of the world's most hard-to-find bottles through an in-suite wine bar featuring an exclusive wine list curated by Christian Navarro, president and principal of Wally's Wine & Spirits. O'Leary and his Resort team can also curate becspoke Ultimate Pairing Dinners, complete with menus tailored to each guest's personal wine preferences. As for O'Leary, his tastes tend to lean Italian: "If I had to pick one wine out of the hundreds that we carry, it's La Scolca Gavi dei Gavi Black Label," he says. "It's an amazing food wine with alpine acidity and minerality, but it's also a great stand-alone glass as well. The region of Piemonte, Italy, where Cortese (the grape in Gavi) is grown, produces my favourite reds as well – the Gaja Sperss Barolo is a great example."
For festive season, however, his current drink of choice might be a surprise – it isn't a glass of wine.
"We're rolling out a holiday cocktail called 'Harvest Moon.' It's a rye-based cocktail with chai tea, Cardamaro, fresh ginger, honey, lemon and fresh-pressed apple cider," he says. "It comes with an apple round garnish with star anise, making it look like a snowflake. All the flavours and aromas are holiday baking spices. The sensory experience reminds me of putting ornaments on the family tree growing up."
Find a new favourite in Maui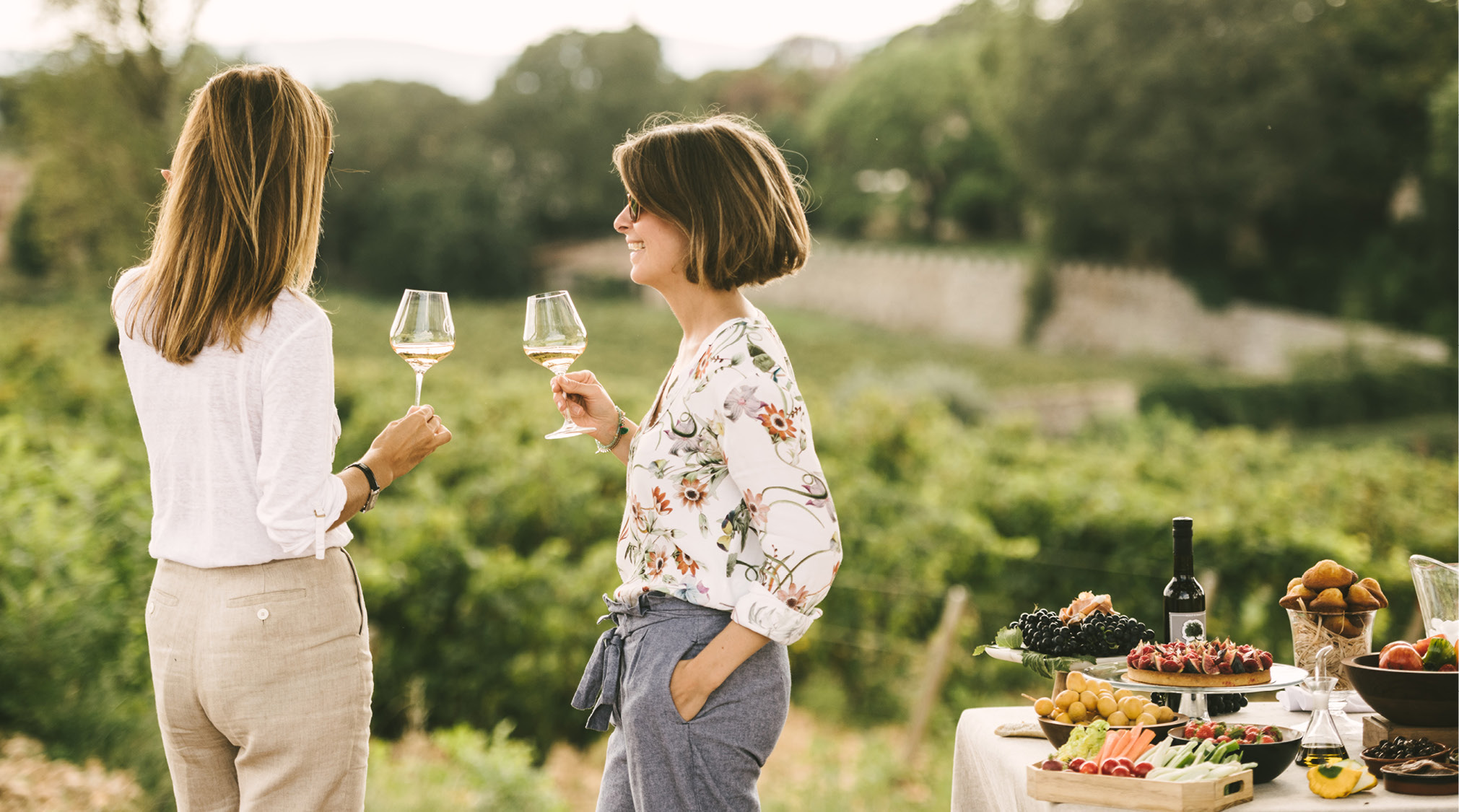 Rare rosé in French Riviera
Rosé may have become one of the trendiest wines over the last few years, but its origins are far from new. Many of the first wines ever recorded, in fact, were rosé, which gets its rosy hue when the skin of red grapes sit in contact with the juice for only a short period of time. At Grand-Hôtel du Cap-Ferrat, A Four Seasons Hotel, you'll enjoy rare access to one of the French Riviera's most prestigious producers, Domaines Ott. A helicopter will carry you to Château de Selle, one of the three storied estates of Domaines Ott, where you'll sip the vineyard's distinguished rosé as you learn about its history and join the winemakers for a behind-the-scenes look at the viniculture cycle. Depending on the time of year, you might even be able to help with the harvest. Stop by the tasting room to sample vintage rosés and red wines, then end your visit with a picnic prepared by the Hotel's Michelin-starred chef – and a limited-edition vintage from the Château de Selle to take home.
Looking for a rosé alternative? Head Sommelier Joël Rolland can mine the Hotel's 600-label collection for something to fit your mood and taste in a way that is decidedly French. "I'd say 99.9% of our wines are French," he says. "Creating a local wine experience is very important for our guests. They're arriving from all over the world, and they want to drink France." Some of Rolland's personal favourite wines of the region include whites from Burgundy and the Loire Valley and reds from Burgundy and the Rhône.
Toast vintage rosé in Cap-Ferrat
YOUR JOURNEY BEGINS HERE
Where will your next sip take you?