Our ESG programs are overseen by our Board's ESG Committee, which meets at least quarterly to review ESG progress and provide strategic guidance. In addition to our Board Committee, our ESG governance structure includes the following groups and teams.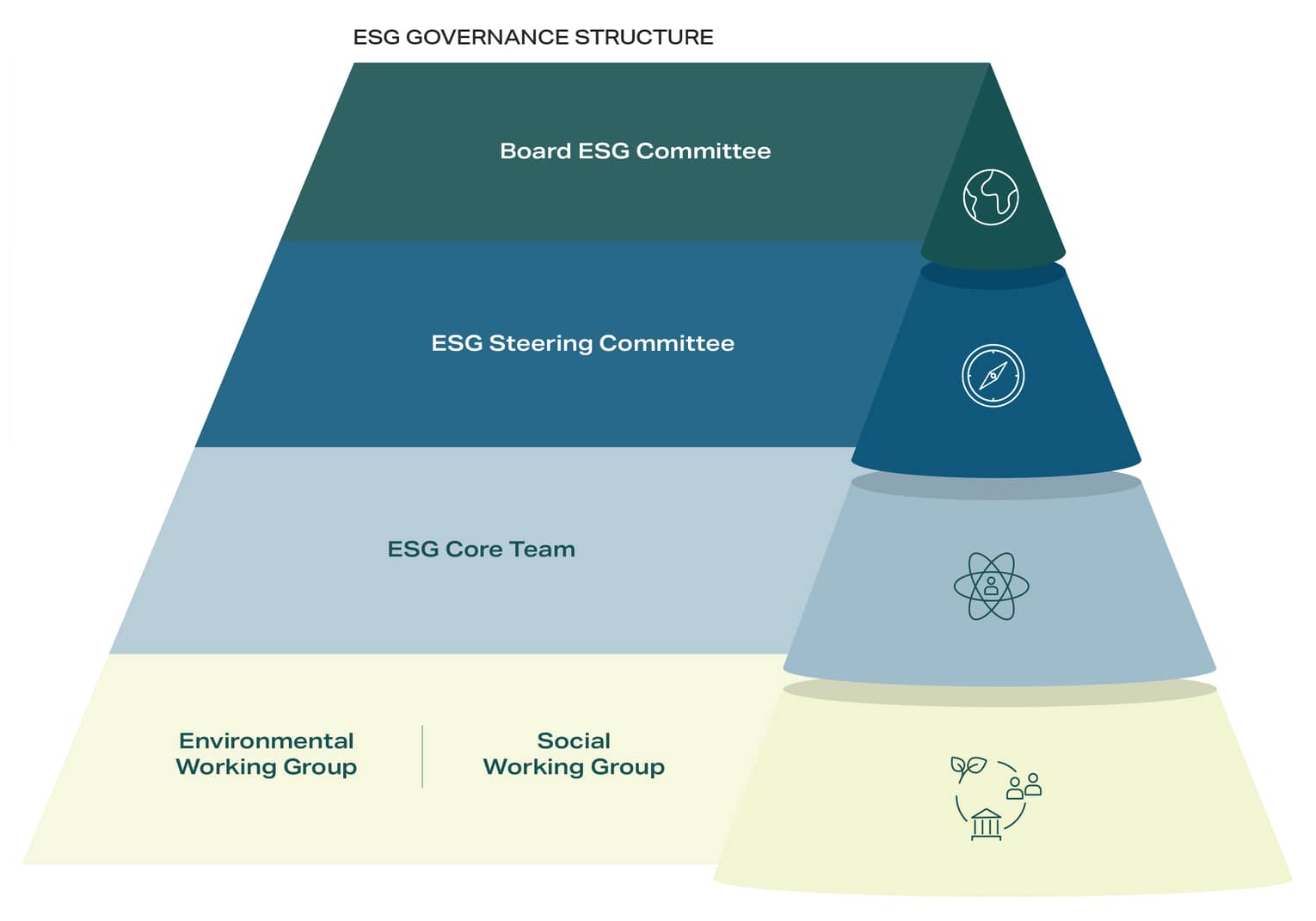 ESG Steering Committee

Comprised of our CEO and members of our Executive Leadership Team, this committee meets every six weeks to oversee our ESG strategy and ensure alignment with overall corporate strategy and operational needs.

ESG Core Team

Made up of departmental leaders responsible for developing our ESG strategy and guiding programs, this team meets regularly to track progress, troubleshoot and support the ongoing implementation of our strategy.

ESG working groups

We have two working groups, Environmental Impact and Social Impact, both of which include leaders responsible for implementing programs across our global operations. Each group is focused on one of our two ESG strategy pillars, People or Planet.
Across all levels of the business, leaders collaborate and are actively committed to the success of our ESG program. Senior leaders establish ESG objectives annually; these goals are then translated into property-level ESG goals and Key Performance Indicators. Progress against both the property-level and corporate-level goals is reviewed by Four Seasons leadership on a quarterly basis.
ETHICS, COMPLIANCE AND RISK MANAGEMENT

Four Seasons is committed to conducting business in a manner that complies with applicable laws and is consistent with the highest ethical standards. We're also committed to understanding the risks that may impact these standards and using all reasonable efforts to ensure that those who provide services to and for Four Seasons – including team members, contractors and agents – are aware of and share our commitment to an ethical culture.
Policies
The following policies, along with our Employee Code of Business Conduct and Ethics, establish our expectations that our employees, business partners and suppliers will adhere to the highest standards of conduct across our environmental and social efforts:
Environmental Policy

Our Environmental Policy governs environmental management across global operations.

Human Rights Policy

Our Human Rights Policy formalizes our commitment to respect human rights in every market where we operate, comply with the laws and regulations of those countries and jurisdictions and implement best practices for managing human rights risks in our operations and our supply chain.

Supplier Code of Conduct

Our Supplier Code of Conduct outlines Four Seasons expectations of all suppliers, including those related to human rights, environmental protection, animal welfare and other ESG factors.