Chef Daniel Boulud looked to his roots – and his grandmother's kitchen table in Lyon – to create an unmistakably French restaurant, complete with a gleaming rotisserie that serves up slow-cooked excellence.
HOURS
Breakfast

Daily

7:00 AM – 11:00 AM

Brunch

Saturday and Sunday

11:30 AM – 2:30 PM

Lunch

Monday – Friday

11:45 AM – 2:30 PM

Dinner

Monday – Saturday

5:30 PM – 10:00 PM
Signature Dishes
King Cole Rotisserie Duck | Cherry (Serves Two)

Whole rotisserie duck with cherry, spinach, turnip, duck confit salad and peppered duck jus

Roasted black cod with spinach subric, celeriac purée, salsify and marchand de vin

Seared Georgian Bay trout, confit potatoes, rapini, romesco sauce, caponata

Octopus with red Thai curry sauce, coconut crisp, fall squash soffritto, coriander and mint
I am grateful to assume the role of the many great chefs who I had the privilege of learning from. I look forward to guiding the menu and to leading this team that truly feels like a family.

Chef de Cuisine Colin Henderson
The Team
Daniel Boulud
Chef and Restaurateur
Raised on his family's farm in the village of Saint-Pierre-de-Chandieu, Chef Daniel Boulud infuses his many culinary endeavors with the traditional flavours of the French countryside. He is chef-owner of several award-winning restaurants as well as the Feast & Fêtes catering company. Never boring, Chef Daniel's menus feature seasonal highlights, locally sourced ingredients and one-of-a-kind style.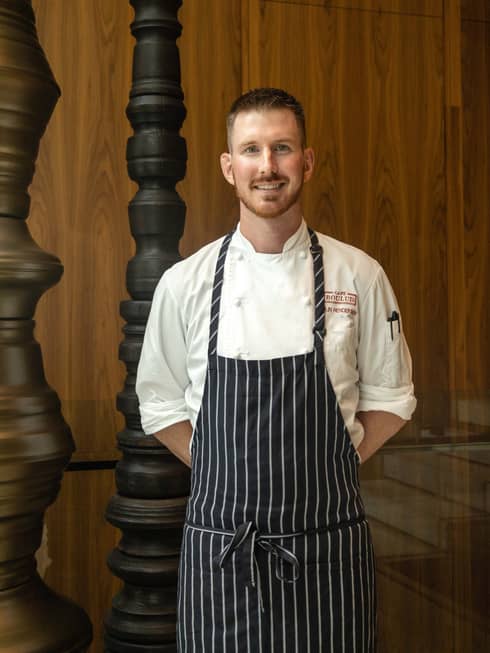 Colin Henderson
Chef de Cuisine
Chef Colin's interest for the culinary arts began at a young age and at fifteen years old he began working as a fry cook in a small local restaurant. This experience led into the enrollment and successful completion of Culinary Management School at Ottawa's Algonquin College. Prior to assuming his position at Café Boulud, Chef Colin joined Ottawa's Beckta Group as sous chef and later aided in the opening of Toronto restaurant Lena also in the position of sous chef. Colin had the unique opportunity to work closely with Chef Michael Tusk in his San Francisco three Michelin star restaurant Quince, learning the finer points of fresh pasta and perfecting the sophistication of food plating finesse.
Events
October 7 – 9

Thanksgiving at Café Boulud

This Thanksgiving weekend join us at Café Boulud for a three-course brunch or a three-course prix fixe meal. Chef de Cuisine Colin Henderson and his team have prepared a selection of featured menu items in addition to the classics.
THREE-COURSE BRUNCH: Saturday, October 7 and Sunday, October 8, 11:30 am to 2:30 pm
THREE-COURSE PRIX FIXE:
Sunday, October 8, 5:00pm to 10:00 and Monday, October 9, 12:00 noon to 10:00 pm

Reserve Now

Every Wednesday, 5:30 pm – 10:00 pm

Rotisserie Night at Café Boulud

Join us at Café Boulud for a midweek treat with our new Rotisserie Night offering. Available exclusively every Wednesday night, enjoy a delicious three-course rotisserie dinner for CAD 72 per person.

Reserve Now

Monday – Saturday, 5:30 pm – 10:00 pm

Five-Course Tasting Menu

Café Boulud invites you to revel in a five-course tasting menu featuring dishes dreamt up by Chef de Cuisine Colin Henderson. You can enjoy this special dinner offering alongside optional wine pairings carefully curated by Head Sommelier Anna Jarosz. Offered every Monday through Saturday during dinner service, this tasting menu is available for CAD 145 per person and CAD 220 per person with wine pairings.

Reserve Now