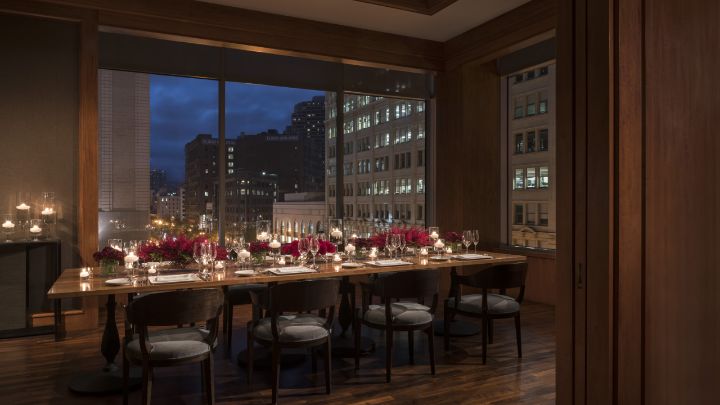 Within MKT Restaurant – Bar is Windows, an elegant fine dining space in an ideal setting near Union Square.
A Window on the City
Floor-to-ceiling windows afford dramatic views of Market and Grant Streets in downtown San Francisco.

Locally Inspired Cuisine
Special breakfast, lunch and dinner menus offer a range of dishes suited to your private event, and reflect Executive Chef Alexandare La Motte's reliance on the best seasonal and local ingredients.
Flexible and Accommodating
Plan a business meeting for up to 22 guests, a reception for 40 or an intimate dinner gathering for up to 30.
Seating
Reception
Conference/Boardroom
Banquet rounds

40
22
30

Location
5TH FLOOR LOBBY LEVEL (INSIDE MKT RESTAURANT AND BAR)
Size
Area
Dimensions
Height

36 m2 (388 sq.ft.)
5.5 x 7 m (17'8" x 23 ft.)
3 m (10 ft.)

Bathrooms
Accessible
Note: Height shown is actual clearance height.