With stunning Pacific views and a layout all on one floor, these condominium-style homes are perfect for guests of all ages.
Explore your retreats
From floor plans to maps, discover everything you need to know.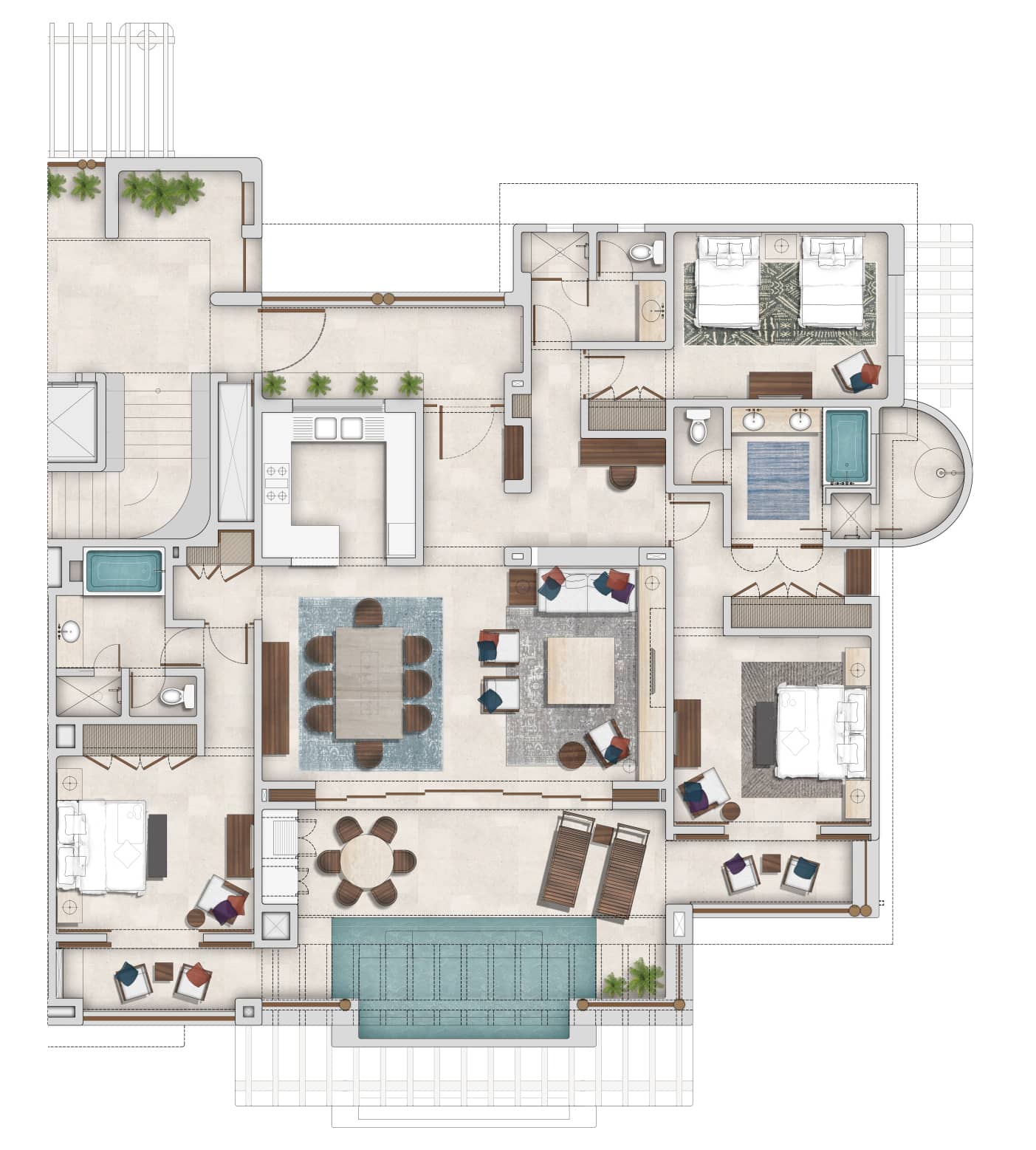 Beds

Master bedrooms: One king bed each
Additional bedroom: Two double beds
Bed types vary by home
One rollaway and/or crib per bedroom

Occupancy

6 guests, including up to 5 children

Size

287 m2 (3,090 sq.ft.) of indoor and outdoor space
Resort Gardens

Bathroom

Three full ensuite bathrooms; master outdoor shower

Views

Pacific coastline and Resort grounds

Decor

Contemporary Mexican coastal styling with regional art and furnishings

Unique Features

All under one roof and a five-minute walk to the Resort's amenities make this home ideal for easy living
Personal use of six-seat golf cart for easy transport
Please note: When an extra adult is occupying the room, an additional fee is applied to the room rate. Please enquire at time of booking.
Tailor your stay
Our dedicated Four Seasons team is on hand to customize your stay, ensuring every moment is distinctly yours.
Private chef dinners

Ask our expert chef to prepare a custom menu for you and your group in your private kitchen and savour authentic Mexican cuisine accompanied by privileged panoramas of the Pacific Ocean.

Kitchen stocking

Our dedicated team will make sure the pantry is fully-stocked on arrival and take care of the ordering and delivery of all requested items throughout the course of your stay.

Local Insights

From arranging personally tailored excursions, to bringing the best of the local area for you to enjoy in the comfort of your home, our team will ensure you experience all Punta Mita has to offer during your visit.