Check Our Available Services & Amenities
Pool Facilities & Services
Open - Treatments & Facilities
Resort Amenities
Families will love splashing around together in our Keiki Pool, located just steps from our lagoon and white sand beach, while our Adult Infinity Pool, new Ohana Pool and private Luxury Cabanas on the western side of the Resort offer a quiet retreat for sipping cocktails and watching Oahu's colourful sunsets. Prefer to get some laps in? Our Spa & Wellness Pool has you covered.

Details

Naupaka Spa & Wellness Centre

Treat yourself to a massage, facial or body treatment inspired by ancient Hawaiian healing traditions at our expansive, four-level day spa, where indoor and outdoor treatment rooms help nurture a constant connection to Hawaii's natural beauty and tranquillity.

Details

Join a group fitness class, meet with a personal trainer or put in some time on our cutting-edge strength or cardio machines at our Health Club in Naupaka Spa & Wellness Centre. Once your workout is done, wind down in our separate men's and women's wet rooms, each outfitted with a whirlpool, a sauna and a steam room, or out on the pool deck's whirlpool. Hours are 6:00 am – 6:00 pm.

Details

Located within Ko Olina Resort, the top-ranked, Ted Robinson-designed course features exceptional water features, multi-tier greens and large landing areas, ideal for both beginners and pros.

Details

You'll find our Tennis Centre up on the Naupaka Spa & Wellness Centre's sixth floor, where five, plexi-pave courts are surrounded by beautiful ocean and mountain views. Sign up for a lesson with one of our pros, or let us match you with someone with whom to play, based on your level of experience.

Details

Our complimentary keiki program takes advantage of our Resort's expansive grounds for memorable and educational experiences with a laid-back Hawaiian feel.

Details

#FSWAYFINDERS CULTURAL WORKSHOPS

Inspired by the ancient Polynesian navigational traditions of wayfinding -- to voyage and navigate canoes to unchartered areas, Four Seasons is pleased to showcase #FSWAYFINDERS, an ongoing weekly series featuring art, culture, history and in-depth workshops. Like an ancient voyage, discover first-hand a myriad of new experiences relating to Hawaii and the Pacific, weaving together traditions of the past with an occasional modern spin.

Artist-in-Residence: Nick Kuchar

Nick Kuchar is the Resort's latest Artist-in-Residence for the 2021-2022 residency. Kuchar, an admired Oahu-based artist, is renowned for his vintage-inspired surf and travel art. Kuchar's fine art exhibit features an open-space gallery. Tour the impressive collection of work and interact with the Kuchar during talk story.

View More Events

Greet the morning with a sunrise yoga session on the Ocean Lawn, surrounded by towering palm trees and unobstructed views of the Pacific Ocean.
More amenities
Five Restaurants and Lounges
Two On-site Boutiques
Arrival & Departure Lounge
Traditional lei greeting and welcome drink upon arrival
House Car
Business Centre
Ko Olina Marina
Beachside Services
Private-Dining and Event Spaces
Wedding Chapel
Portrait Photography Services
Our Services
Multilingual Concierge
Luxury transfers by limo, helicopter or yacht
Complimentary Camp Kohola, activities for children and teens
#FSWayFinders art and cultural workshops
Weddings and Honeymoons
Private tennis clinics and Daily Fitness Classes
Business Services
24-Hour In-Room Dining
Customizable private minibar
24-hour laundry, dry-cleaning and pressing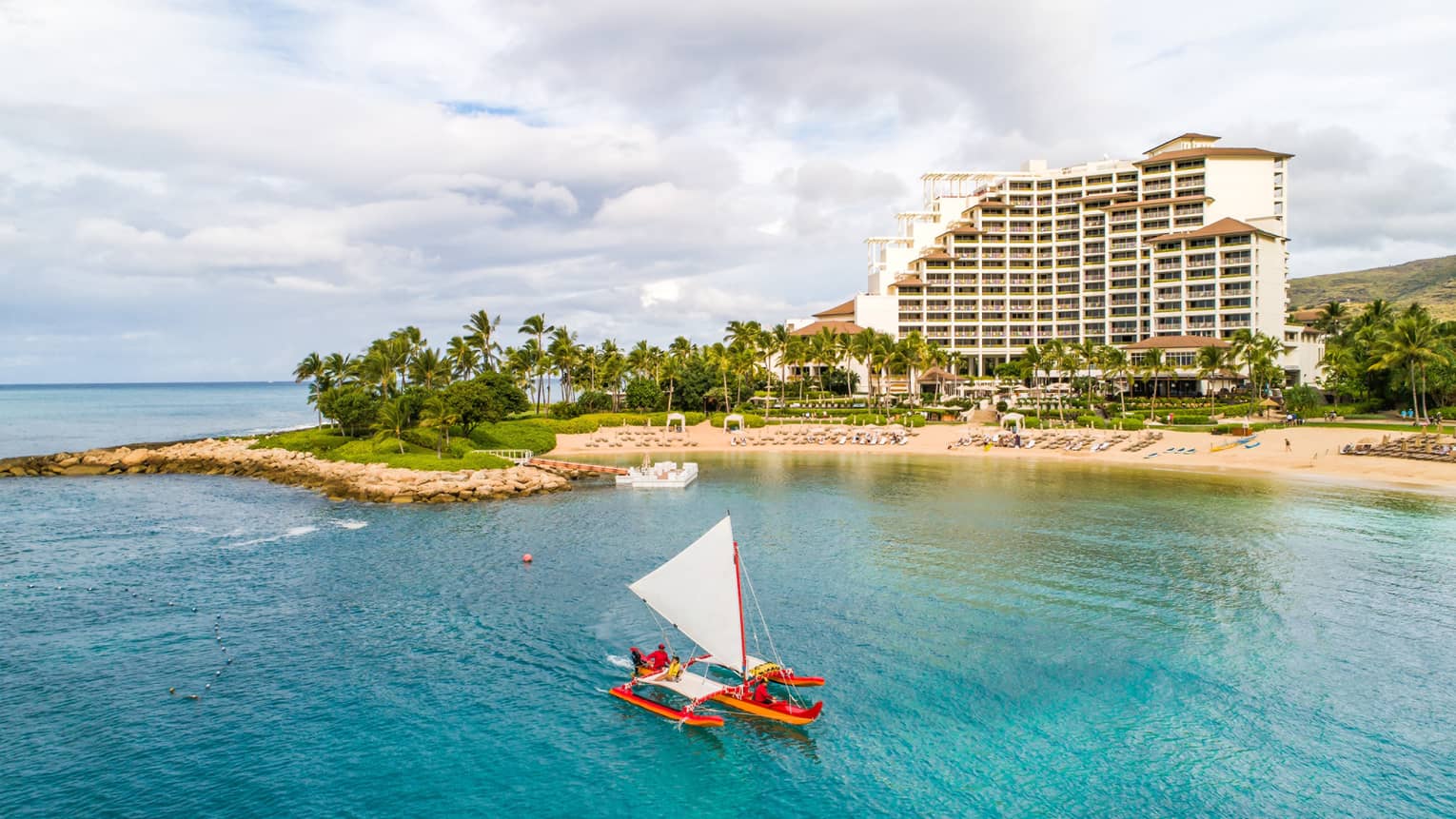 Come on in, the water's waiting
Try stand-up paddleboarding on our calm lagoon waters, take the family out on an outrigger sailing canoe, or embark on a whale-watching expedition. Oahu is filled with opportunities for ocean adventures, whether you're seeking a thrilling ride or just a lazy day lounging on the shore.
Details
More water sports
Canoe sailing
Stand-up paddleboarding
Scuba Diving
Deep-sea fishing
Snorkel sails
Sunset cruises
Catamaran sail tours
Complimentary services
Customizable Four Seasons Bed
Pillow Menu
Premium Wi-Fi
Overnight Shoeshine
International Newspapers
PressReader Access