Our intimate hideaway with an 800-year-old pond garden at its heart connects you to the beguiling secrets of ancient Kyoto. Hotel Manager and resident of Kyoto since 2016, Katsuyuki Takahashi shares his five sensory "souvenirs" to take away from your visit.
The Enchanting Tradition of Ozashiki Asobi
Kyoto is home to geiko and maiko – kimono-clad female entertainers who perform traditional song and dance at ozashiki asobi dinners. I recommend you head over to Gion, only five minutes from the Hotel, for some of the most authentic entertainment in the city. You might just feel like you are in an ancient machiya (a traditional Kyoto home).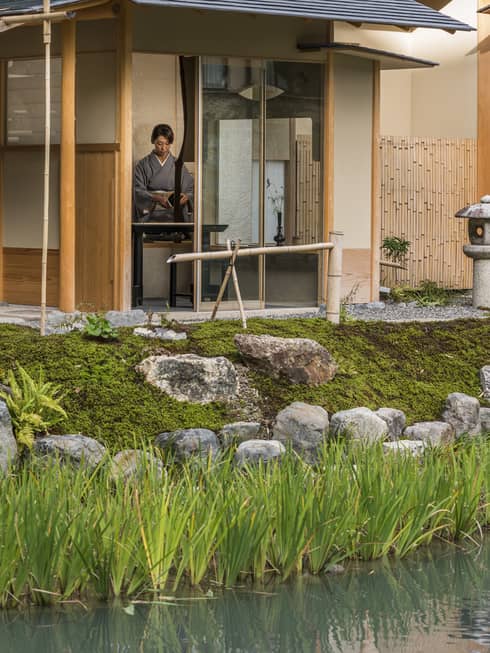 The Stillness of a Tea Ceremony in an 800-Year-Old Pond Garden
The ancient tradition of Japanese tea ceremonies began when Zen priests brought tea leaves from China to Kyoto. In the serenity of our 800-year-old ikeniwa (pond garden) and away from the city's bustle, you can watch our Tea Master complete the refined art of tea preparation – once used as a medicinal practise but now a cultural phenomenon. Join us in our quaint tea house, Shakusui-tei, to connect with Kyoto through the history of the ritual.
The Flavour of Sake and an Artful Meal
Sake is one of the best drinks in Kyoto. Our Concierge can recommend a sake brewery in Kyoto, or if you want to taste several kinds, come to Shakusui-tei to enjoy a tasting overlooking our garden. You should also try Kyo-kaiseki, a multi-course meal that features skillfully prepared seasonal ingredients – a feast for the stomach and the eyes. Just ask our Concierge for a Michelin-starred recommendation.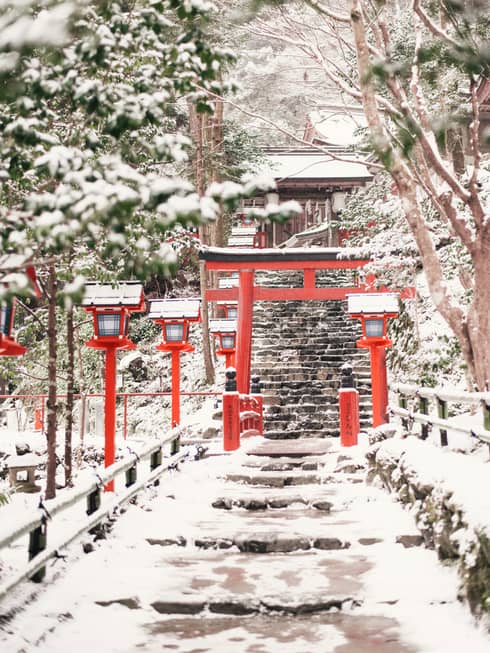 The Relaxing Aroma of Temple Cedarwood
I often head over to Kibune train station with my family and walk along the river. The area is dotted with bright crimson torii gates and fragrant cedar trees (cedarwood like the kind used at our Hotel's spa and gym). You should also dine at the kawadoko restaurants built just above the river, where the cuisine uses ingredients from the water below, and enjoy the cool air of the mountain. After your meal, you can take the two-hour hike through the cedars up to Kurama Temple, which has an incredible onsen (hot spring). The hot water feels great in the wintertime.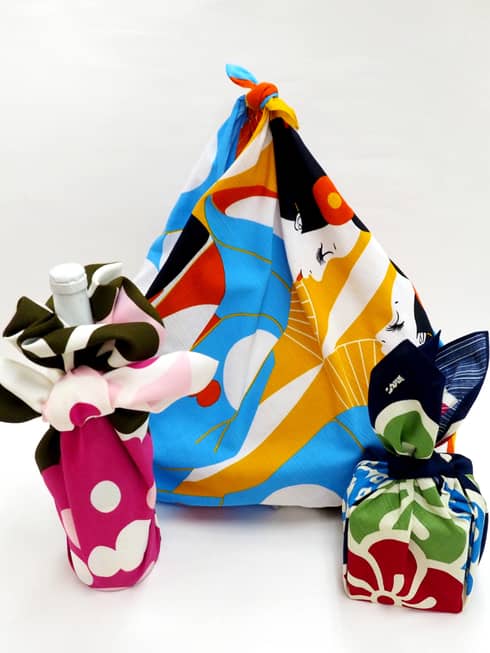 The Vibrant Patterns of a Practical Furoshiki
Furoshiki, a traditional Japanese wrapping cloth, is one of the most useful souvenirs you could take home. Furoshiki are eco-friendly, and their designs and uses are endless. Use one to wrap a wine bottle or a gift you're bringing home from one of the many shops in Kyoto, or partake in the Japanese tradition of tsutsumu – the wrapping of goods to respect and protect them. Head over to Karakusaya, a furoshiki specialty shop just a short train ride from the Hotel, where they occasionally hold wrapping classes.