Southern Thai cuisine gets a fresh look at this breezy spot perched on a palm-fringed hilltop. Gaze out to sea while sampling slow-cooked curries and superb local seafood.
HOURS
Breakfast

7:00 am – 11:00 am

Dinner

6:00 pm – 10:00 pm

Advance reservations are required.
Signature Dishes
Raw Tuna marinated with Thai Herbs, Cracked Rice, Chilli Powder

Slow-cooked Wagyu Beef Cheek, Southern-style Cardamom-scented Curry

Crispy Sea Bass Salad with Lemongrass, Shallots and Fresh Herbs
Meet the Team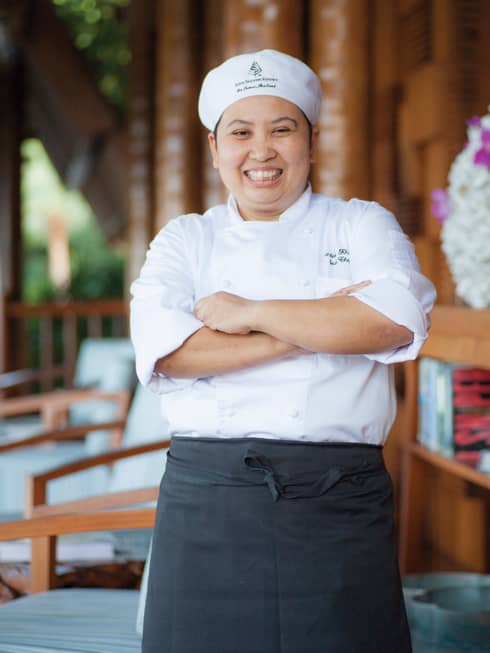 SUMALEE KHUNPET
CHEF DE CUISINE
Inspired by her sister, Chef Sumalee Khunpet began her professional journey as a kitchen assistant at a hotel in Koh Samui in 1991. Over the past 25 years, she has mastered French and Thai-fusion cuisine. Her family and friends are big fans of C her food, particularly her famous southern dry-chicken curry – which you can sample at KOH Thai Kitchen and Bar.
"I put my heart into every dish I make and, believe it or not, the results seem to be amazing every time!"
Events
Tuesdays, 7:00 pm – 10:00 pm

Bounty of Thailand

Take in stunning views while savouring the culinary treasures of Thailand, highlighted by live cooking stations, specialties from across the country and cultural entertainment. THB 3,200 per person (taxes and service charges not included).