SPA
Visiting Practitioners 2018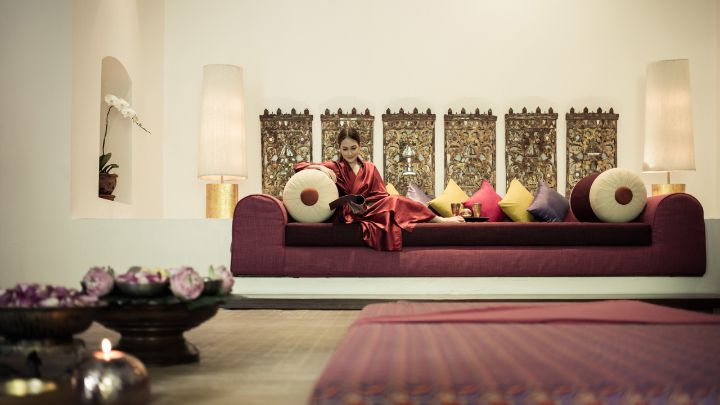 Four Seasons Resort Chiang Mai's annual Visiting Masters program spotlights some of the spa world's leaders: a rare opportunity for guests to benefit from private or group sessions with the industry's most sought-after teachers and facilitators.
SABINO MANZULLI – TOTAL EMOTIONAL RELEASE

JANUARY 26 – FEBUARY 7, 2018

Italian-born Sabino is a gifted and internationally renowned healer. He draws on a diverse range of modalities to achieve transformative, regenerative work for his clients, from traditional Hawaiian Huna to contemporary disciplines, including structural integration, neuromuscular therapy and advanced bioenergetic therapy.

A new form of therapy, Total Emotional Release, heals from a holistic vantage point – harmonizing mind, body and spirit, releasing stagnant energy and restoring wellbeing. Negative experiences create energy blockages; this stress decreases an individual's life force and weakens the immune system, which can lead to more serious illness. Energetic in nature, Total Emotional Release cleanses and heals, addressing the cause, not the symptom. The resultant effect decreases pain and muscle tension, balances the emotions and ignites the spirit.

AVAILABLE TREATMENTS INCLUDE:

The Sabino Manzulli Total Emotional Release Procedure includes:



A thorough holistic analysis to address your specific needs and objectives
A personalized therapeutic protocol that harmonizes the physical and emotional bodies

BENEFICIAL FOR:

Central nervous system disorders
Anxiety disorders or panic attacks
Depression, stress and stress-related conditions
Emotional difficulties or traumas
Chronic fatigue or insomnia
Cancer and post-cancer treatment
Body misalignment
Sports injuries
Back, neck and shoulder pain

RATES:

60-minute session: 7,500 THB
90-minute session: 10,000 THB
HOLLY SIDDALL – OSTEOPATHY AND MEDICAL ACUPUNCTURE

April 13 – 22, 2018

A Masters graduate of the British School of Osteopathy, Holly Siddall treats patients with a wide range of medical conditions in Kensington and Chelsea, London. An expert in postural-related pain and the effects of prolonged stress on the body, she also specializes in the treatment of musculoskeletal pain during pregnancy. Her holistic approach combines osteopathic, medical acupuncture and sports massage techniques to create a bespoke management plan for each individual.

AVAILABLE TREATMENTS INCLUDE:

Private Osteopathy and Medical Acupuncture

BENEFICIAL FOR:

Enabling the skeleton, muscles, ligaments and connective tissue to function smoothly together
Reducing muscle tension and pain
Improving local blood supply to promote healing
Identifying the source of each pain to eliminate underlying factors that might be responsible for future flare-ups

RATES:

60-minute private session: THB 7,200++ per person
90-minute private session: THB 9,600++ per person
SHAYLINI SOMANI – REIKI & CHAKRA BALANCING

NOVEMBER 2018

Shaylini – a gifted Reiki master and intuitive energy healer – will guide you to release emotional, mental and physical pain, imbalances and blockages, and support a shift in energy leading to peace and joy. Her heart-centred approach is grounded in a profound sense of reverence for the Sacred Self to help you feel inspired, balanced, free and – most importantly – happy. Experience the combined benefits of emotional body clearing, vibrational frequency rebalancing, karmic pattern and energy cleansing with Intuitive Reiki Healing. Replenish the body's life energy, right through to the cellular level, with Chakra Balancing. Open your body, mind and heart to renewal, growth and inner peace with Divinely Guided Meditation. Or join like-minded souls for Group Meditation at the Yoga Pavilion.

AVAILABLE TREATMENTS INCLUDE:

Intuitive Reiki Healing – Treatment of imbalances using emotional body clearing, vibrational frequency rebalancing, karmic pattern cleansing, chakra cleansing and balancing, and energy healing restoration
Chakra Balancing – Transformative techniques to replenish life energy from the chakras through to a cellular level, including release of depleted energies, disease elimination, and powerful healing and cleansing
Divinely Guided Meditation – Gently release emotional, physical and mental tensions to open body, mind and heart to growth renewal, and inner peace, cultivating a greater relationship with yourself and your thoughts (group session is 9:00 am daily at the Yoga Pavilion on a booking-only basis)

RATES:

Intuitive Reiki Healing: THB 6,200 per person (60 minutes)
Chakra Balancing: THB 6,200 per person (60 minutes)
Divinely Guided Meditation: THB 3,200 (group session), THB 4,200 (private) per person (45 minutes)
Prices are subject to tax and service charge.