Pavilions (4)
Set among tropical gardens and rice paddies, Pavilions are perfect for those who want to enjoy the landscape of the Resort from their private outdoor Thai sala or relax in the comfort of their room.
Villas (1)
Surrounded by water, our romantic Villas are perfect for couples who desire complete privacy and a connection with nature. Featuring a private pool and traditional outdoor Thai sala, unwind on your sundeck and enjoy endless opportunities for relaxation.
Private Residences (9)
Complete with kitchenette, private pool and expansive interiors, our luxury Private Residences are perfect for families and groups of friends seeking a space to be together. Relax or entertain in style, as your live-in butler takes care of every detail.
Featured Amenities
Complimentary premium Wi-Fi
Private Experiences
Our Private Residences come with exclusive amenities including a live-in personal attendant to your every need, buffet breakfast and much more.

Owner's Residence Package

Luxury takes on a whole new meaning at our Four-Bedroom Owner's Residence. In addition to your stay in to the villa's impressive amenities including a private pool, whirlpool and the most panoramic views in Mae Rim valley, our exclusive package supplies you with a personal housekeeper, Chef, airport transfer, complimentary Resort activities and more.

Details

20-Bedroom Private Resort Experience

With 20 bedrooms, five private swimming pools and five live-in butlers, this experience is the ideal choice for large groups seeking bespoke exclusivity, luxury and lifelong memories. This set of five Residence Villas, linked by a sheltered bamboo-lined pathway, comes with complimentary meals, a wine-tasting session and more.

Details
Your Personal Mae Baan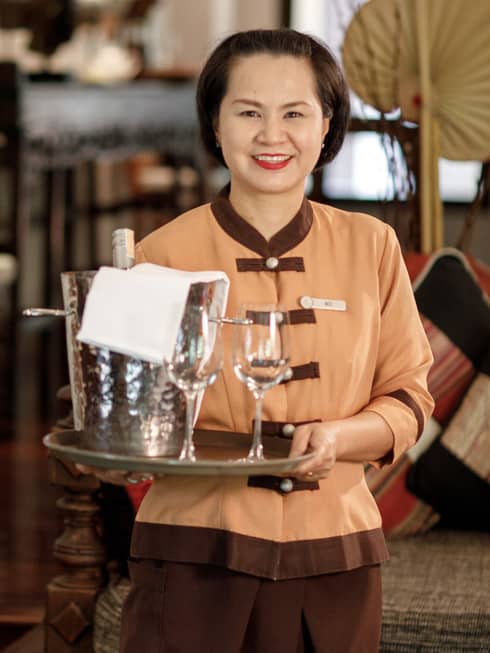 Miss Chaweewan Promma ("Miss Moo")
Mae Baan (Housekeeper)
Having joined the Four Seasons family as a housekeeper in 1996, just one year after the Resort opened, Miss Moo is one of our oldest staff members – and a favourite with guests, many of whom cite her warm service as their reason for coming back. Around here, Miss Moo is the undisputed expert at creating the feeling of a home away from home.
"I love to cook. I think my best dish is Thai omelet because my guests always ask for a second or third helping. Fruit carving is another specialty of mine – I believe presentation is as important as taste."