After a workout in our state-of-the-art Health Club, a Muay Thai lesson or a private yoga class in our Yoga Barn, reward yourself with a soak in our heated outdoor whirlpool, cold plunge pool or 20-metre (66-foot) infinity-edge swimming pool. Our Resort offers everything you need to feel your best.
Health Club Facilities

6:00 am – 9:00 pm
Fitness Services and Amenities
Weight-training and cardio equipment
Whirlpool
Sauna and steam room
Complimentary croquet
Private and group fitness classes
20-metre (66-foot) infinity-edge swimming pool
Fitness Activities and Classes
Self-Guided or Guided Biking Tours

Explore your surroundings with complimentary bikes for adults and children, complete with trail maps. Or, let our guide lead you through the Mae Rim district, visiting local temples and attractions along the way.

This three-day, fitness-oriented package challenges and pampers at the same time with exciting new health routines and customized diet plans.

Details

This traditional kickboxing practice works the entire body, increasing your strength, stamina, endurance and flexibility. Our expert instructor personalizes each lesson for you.

Find your natural rhythm, strengthen your core and grow in flexibility with Original Pilates. Personalized sessions take place in our well-equipped studio and make use of the Gratz apparatus and mat-work exercises.

Challenge the power of gravity during this workout, centered on core strength. Our TRX (Total-Body Resistance Training) program uses techniques developed by the U.S. Navy SEALS and involves exercising while suspended in the air.

This mashup of strength, cardio, speed, flexibility and stamina is set in the best gymnasium of all – the great outdoors. With a series of special fitness stations in place, you can try your hand at a variety of workouts, from kettle-bell exercises and jumping rope to Muay Thai and TRX (Total-Body Resistance Training).

Using a fit ball and free weights, this class comes with a triple focus, targeting your abdominals, buttocks and thighs.

Our resident yogi Dheeraj Singh Patwal customizes private and group yoga classes for all levels. Classes may be offered at the yoga barn or in the privacy of your villa.

Details
Need to Know
Private and Group Classes

Almost all of the fitness activities described above can be experienced in a private lesson or in a group/class setting. Please contact us for prices.
Meet The Team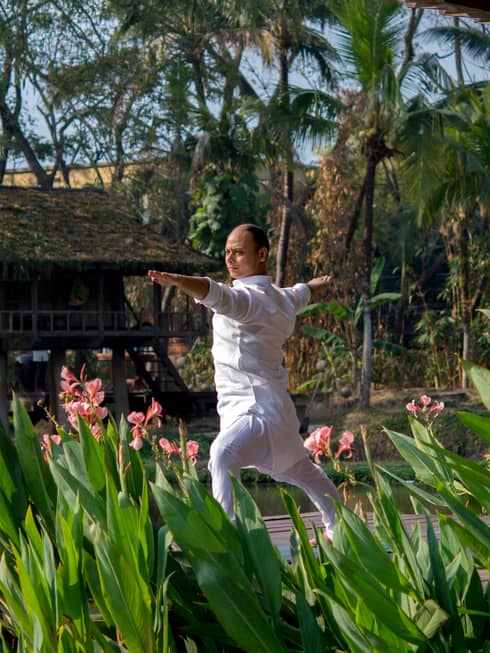 Dheeraj Patwal
Resident Yogi
Learning yoga as a child in Rishikesh, our resident yogi Dheeraj has trained with yoga masters all over the world. He's also a Romana Pilates-certified Pilates instructor – trained under the supervision of Cynthia Lochard, one of the four Pilates Grand Masters in the world – and Reiki master. Dheeraj draws on his wide knowledge of the body and different styles of yoga to help you grow, encouraging beginners and gently adjusting those with an established practice.
A Journey of Well-being

We are delighted to introduce the ultimate expert to craft your dream itinerary – you! Explore our bespoke activities and design your perfect stay, your way.

Discover More