My Four Seasons
Resident Buffalo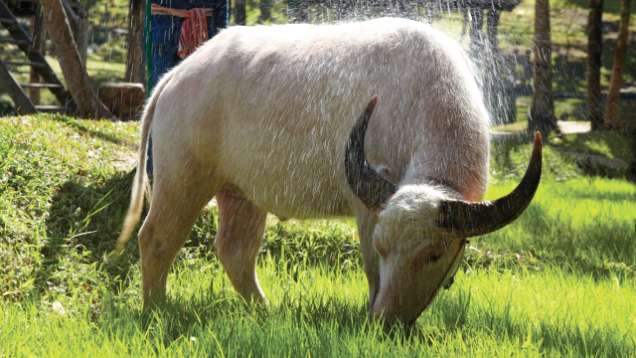 At Four Seasons Resort Chiang Mai, our most visible team member won't serve you food at Terraces restaurant or direct you to your pavilion on your arrival. Munching on grass by the Rice Barn, he's content to while his day away in the warm sun between cooling himself with frequent baths.

But no one could accuse him of laziness. Because Tong – our resident water buffalo and card-carrying staff member – has a different task: tending to the beautiful terraced rice paddy that surrounds the Resort.

With a name that means "gold" in Thai, Tong is a Chiang Mai native and the spiritual heart of the Resort. And while guests – especially kids – delight in following his every movement, sigh and flick of the tail, he also has a serious responsibility. Between entertaining guests and snacking, Tong and his team of water buffalo plough our rice fields regularly, providing a crucial service in bringing this essential grain, harvested every 40 days, from the rice paddy to the table.

And not just to the tables of our restaurants. Each year, the bounty from our paddies goes directly to feeding those less fortunate at a temple located not far from the Resort. We're delighted to be able to give back to our community, and guests are delighted to get to see a real, live Thai water buffalo in action in his native environment. So when joining us at Chaing Mai, be sure to thank Tong for the good karma – and the tangible nourishment provided to the less fortunate – whenever you see him tending our fields.
other four seasons stories