Function Rooms
Club Dauphin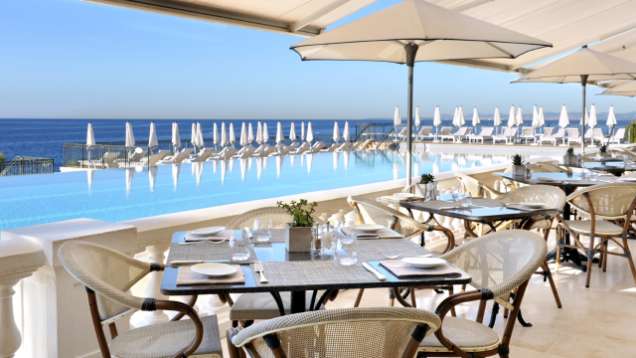 Perched at the very tip of Cap-Ferrat, the poolside Club Dauphin is ideal for private parties in a discreet setting. Entertainment for the evening might begin with a water ballet during aperitifs, and end with a spectacular fireworks display. Music may be played until 2:00 am.
Advanced Equipment
State-of-the-art audiovisual equipment is included for your event. Our Concierge would be happy to assist you with any special technology needs.
Dynamic View
Club Dauphin overlooks the Hotel's Olympic-sized swimming pool and the Mediterranean Sea.
Welcoming Space
Private dinner guests will love the outdoor atmosphere of Club Dauphin.
Seating
Banquet rounds
Reception
Conference/Boardroom

120
200
64

Room Features
Private events from 9:00 pm
Music for private events until 2:00 am

Location
OUTDOOR
Size
Area
Dimensions
Height

272 m2 (892 sq.ft.)
34 x 8 m (112 x 26 ft.)
5.8 m (19 ft.)

Reception setup is cocktail-style. Furnishings must be rented in order to set up for a conference-style event.