Savour the finest cuts of meat at our Brazilian grill, also serving appetizers and fresh salads with bright South American flavours, and enjoy Brazilian-inspired cocktails shaken to perfection – all aboard the First Nile Boat.
Hours
Dinner

Monday – Thursday

6:00 pm – 12:00 midnight

Friday and Saturday

2:00 pm – 12:00 midnight
Events
Monday – Thursday, 6:00 pm – 11:00 pm | Friday – Saturday, 2:00 pm – 11:00 pm

Churrascaria barbecue

Join us at XODÓ for a culinary carnival unlike any other in Cairo. Our Chef Guilherme will prepare and serve the finest churrasco – premium meat cuts and traditional Brazilian flavours – for a dazzling family-style fiesta Churrascaria barbecue by the Nile.
Signature Dishes & Drink
Salada de Horta com Camaraõ

Fajita marinated prawns, field greens, goat cheese crumbles, red onions and caramelized walnuts with raspberry vinaigrette

Beef carpaccio with wild arugula, Parmesan flakes, fried capers, balsamic reduction and whole grain mustard

Linguiça de Carne com Queijo

Australian veal spiral sausage with cuiabana cheese (for two)

Pudim de Leite Condensado

Brazilian home-made condensed milk flan

Rum, tomato juice, lemon, passion fruit, Worcestershire and hot sauce
The Team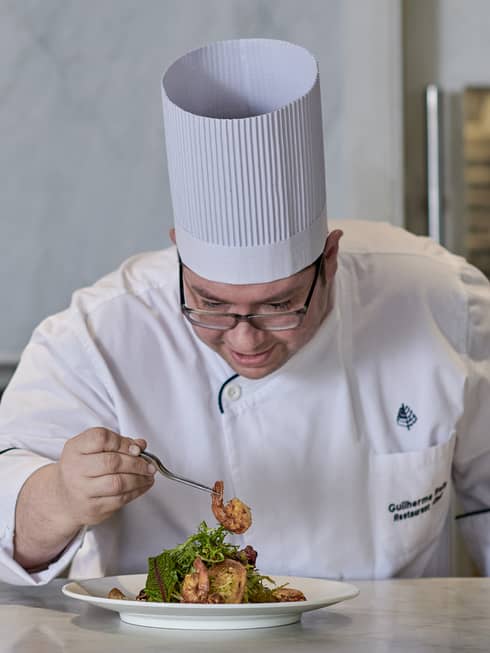 Guilherme Reis
Xodó Head Chef
Growing up in the quiet countryside outside Sao Paulo, Chef Guilherme is a master of "churrascaria," or Brazilian grilling, perfecting his craft for nearly fifteen years not only in Brazil but also in Bahrain. Here at Xodò's, Chef Guilherme has crafted an impressive carnivore-based menu as well as non-meat options for guests.
"I grew up in a humble environment where simple ingredients were used in every home, so I learned over the years to use these ingredients and elevate them to renowned five star signature dishes. Coming from a traditional Brazilian family, most of our celebrations are centred on food, herbs and spices."