All Food and Drink
Meet the Team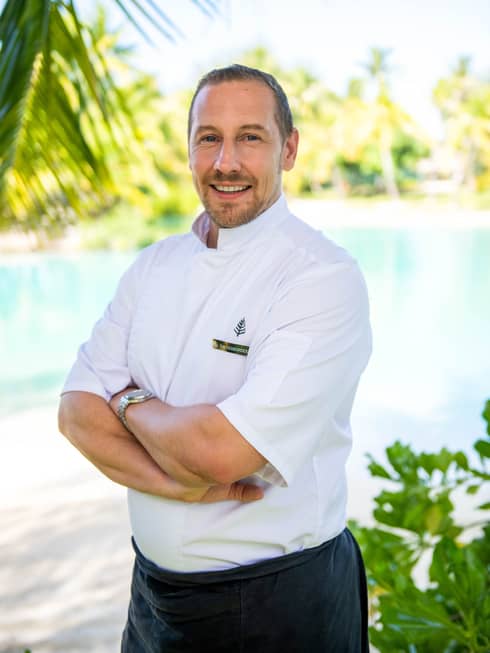 Eric Desbordes
Executive Chef
A native of Thiais, France, Eric has built an impressive career of international experience and awards, all driven by his passion for creating exceptional culinary experiences. Inspired by home cooking, he has worked in some of the world's finest restaurants and hotels alongside Michelin-starred chefs, including Four Seasons Hotel George V, Paris, La Table de Joël Robuchon, and Eden Rock Hotel. Desbordes speaks English and French and enjoys jet skiing, travel and music.
"There's great joy in creating memorable dining experiences, knowing that they'll be recalled with pleasure for years to come."
Events
Monday Nights, 6:30 pm

Oro'a Night – Tahitian Celebration

Join us for a feast for all senses. Enjoy a family-style dinner while Polynesian performers sing, dance, and play music. End the evening with a spectacular fire dance performance. 9,800 XPF

Daily, 5:00 pm – 6:00 pm

Sunset Chill Happy Hour

Start your evening with sunset views at Vaimiti and enjoy 25% off select cocktails, wines by the glass and beers.

Daily, 6:00 pm – 9:30 pm

Fish House at Fare Hoa

A Tahitian fish house dining experience combining the seafood bounty direct from the South Pacific's clear waters.
Discover your local Masterdish

Created with artistry, driven by taste and enriched by connection. Reunite with loved ones over our Poisson Cru – a culinary Masterdish developed by Executive Chef Eric Desbordes. Available at Fare Hoa Beach Bar & Grill, Poisson Cru is French Polynesia's most famous dish, using the freshest ingredients from land and sea.

A meal you'll always remember

Board a canoe to a private white-sand motu, where we'll greet you with Champagne followed by a personalized dinner for two as the sun sets into the water. Romantic meals may also be arranged on a private section of our beach or in your bungalow.

Details

Start your day with room service you'll only find in Bora Bora: breakfast delivered to the private deck of your overwater bungalow in a ceremonial Polynesian canoe.