All Food and Drink
Mediterranean classics

Arii Moana

Arii Moana offers a casually elegant dining experience, featuring classics from the Mediterranean region. Enjoy clean and crisp presentations of beloved dishes that pay tribute to this chic and lively waterside setting. Exceptional local and imported ingredients come together through the creative vision of our culinary team, while the beverage program offers a thoughtful selection of emerging boutique crus, acclaimed Mediterranean labels and a refreshing cocktail selection.

Grilled favourites, seafood and steak

Faré Hoa Beach Bar & Grill

Set on the sandy shore of the lagoon, Faré Hoa Beach Bar & Grill is an open-air restaurant with toes-in-the-sand charm. Featuring a modern grill concept, Faré Hoa serves fresh local fish, a fine selection of steaks, and an array of starters and side dishes. A creative cocktail list and wine program are complemented by the warm Polynesian breeze.

Breakfast and themed dinners

Tere Nui

Breakfast and weekly themed dinners are served with a fresh sea breeze at our open-air restaurant overlooking Mount Otemanu.

Vaimiti offers an idyllic overwater setting for eclectic Asian cuisine and sunset cocktails.

In-Bungalow Dining

Breakfast delivered by a Polynesian canoe, a romantic dinner on your private deck or a midnight snack overlooking the water – room service is available anytime you like.
Embark on a true Tahitian adventure to please your palate and awaken your taste buds. Our immersive culinary experiences allow you to discover the best of Bora Bora's cuisine fueled by fresh, local ingredients.
Featured Culinary Experience
Private Dinner on the Motu

Board an outrigger canoe to a private white-sand motu (islet), where you'll be greeted with champagne, followed by a gourmet dinner at sunset.

Learn More
Events
Mondays, 6:00 pm – 8:00 pm

Oro'a Night – Tahitian Celebration

Join us for a feast for all senses at Tere Nui. Enjoy a buffet dinner while Polynesian performers sing, dance and play music. End the evening with a fire dance performance. XPF 14,500.

View menu

Daily, 5:00 pm – 7:00 pm

Sunset Chill at Vaimiti

Begin your evening with Bora Bora's most magical sunset views, and enjoy delicious cocktails, wines and beers in a stunning overwater setting.
MEET THE TEAM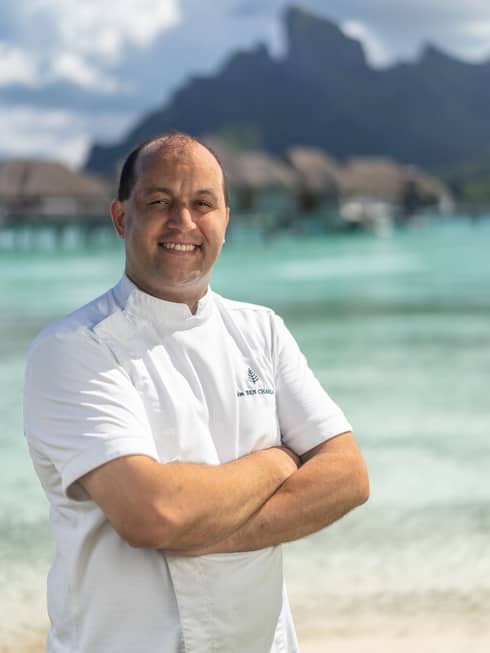 SLIM BEN CHAHLA
Executive Sous Chef
A native of Hautes-Alpes, Gap, France, Executive Chef Slim Ben Chahla grew up cooking with his mother and still draws inspiration from her. Chahla earned his culinary skills working as an apprentice, kitchen helper and station chef at some of France's and Monaco's best restaurants, under the direction of many a Michelin-distinguished chefs. He first joined Four Seasons in 2017 at the newly opened Four Seasons Hotel Tunis, then rejoined in 2019 as Executive Sous Chef at our Resort, where his talents and creativity shine as bright as the Polynesian sun. When not working, he enjoys reading, cooking, and playing volleyball and handball.