Experience the best of this port city by exploring its generous offerings of museums, theatre, culture and, of course, seafood. To help plan your next Baltimore visit, we asked the concierge team at Four Seasons Hotel Baltimore to share recommendations for the top things to see and do in Baltimore – from must-see museums and landmarks to where to find the best Maryland crab cakes.
Only in Baltimore
Star-shaped Fort McHenry was the star of the War of 1812. During the Battle of Baltimore, the fort's troops successfully staved off the British invasion of Baltimore Harbor and inspired the writing of the U.S. national anthem, "The Star-Spangled Banner." During the summer months, you can see the guard performing drill, musket and artillery demonstrations, or take in one of the daily ranger talks.
Aquarium adventure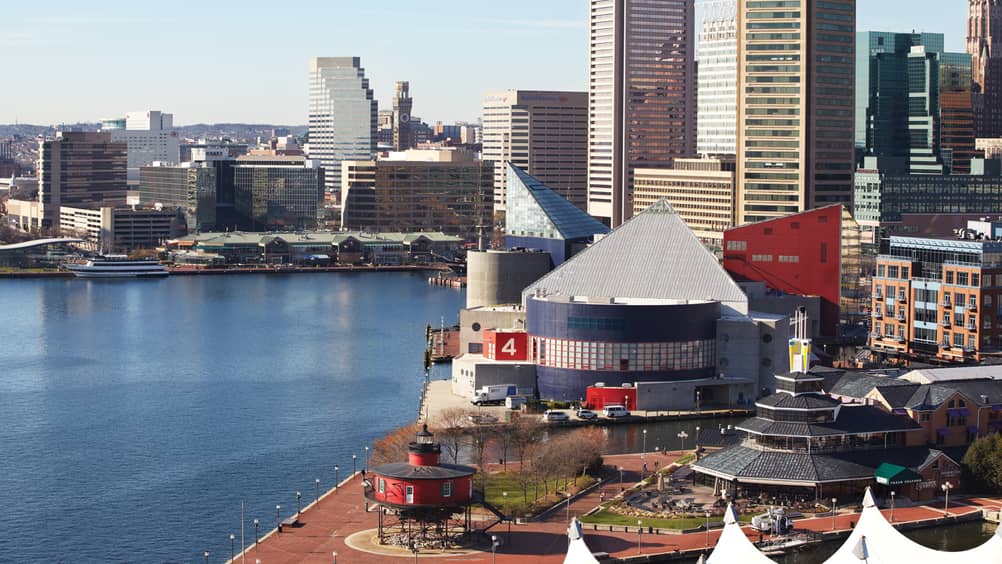 Photography Mimi Is Wonderful / Thinkstock
The National Aquarium, one of Baltimore's most famous destinations, is just a short walk from the Hotel. It's home to more than 16,000 animals, including sharks, birds, frogs, dolphins, turtles and jellies. Spend an afternoon making your way through one of the many exhibitions, from the Upland Tropical Rain Forest to the Dolphin Discovery and Jellies Invasion. An Immersion Tour with an aquarium guide will take you behind the scenes—and even into the water when you schedule a personal training session with the resident dolphins.
Market fresh
Another treasure found only in Baltimore is Lexington Market. Take your time exploring the shops, and make sure you stop by Faidley Seafood, one of the oldest and best-known purveyors of fresh and prepared seafood in the Chesapeake region. The award-winning lump crab cakes are a must-try.
All about crab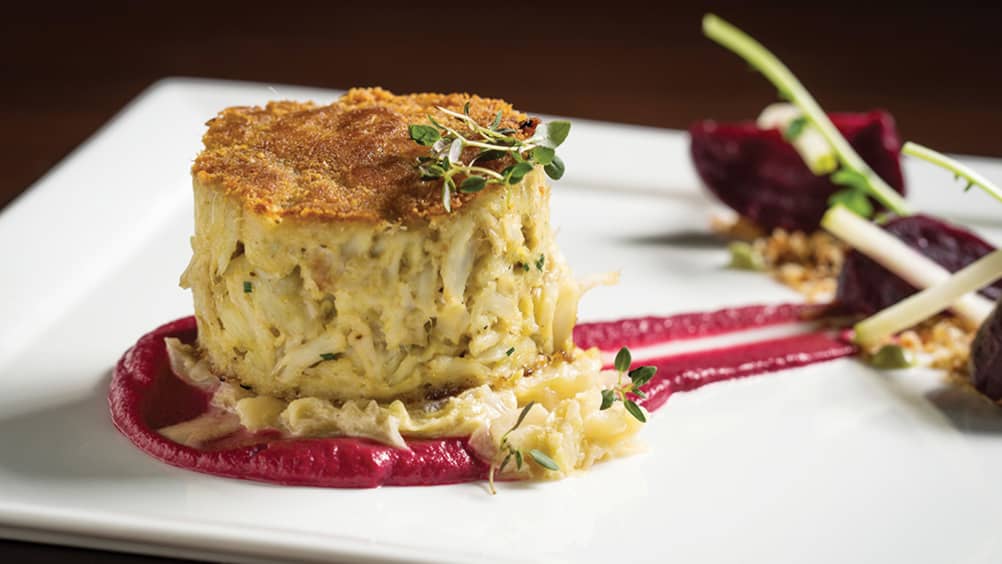 Photography courtesy Four Seasons Hotels and Resorts
It's no surprise that Baltimore is known for its superb seafood, considering that it is the largest seaport in the mid-Atlantic U.S. A water taxi across the Inner Harbor will carry you to Captain James Crabhouse. Sit inside or out on the deck at picnic tables. With mallet in hand, you can crack your crabs any way you want to. Shellfish towers and lobster poutine are a signature Loch Bar. Or, try the House-Made Mornin' Cocktails and Benne Seed Chicken 'N Waffles for brunch at Miss Shirley's Café. And don't forget that you can have Faidley's send their award-winning lump crab cakes from the Lexington Market shop right to your home.
Dine in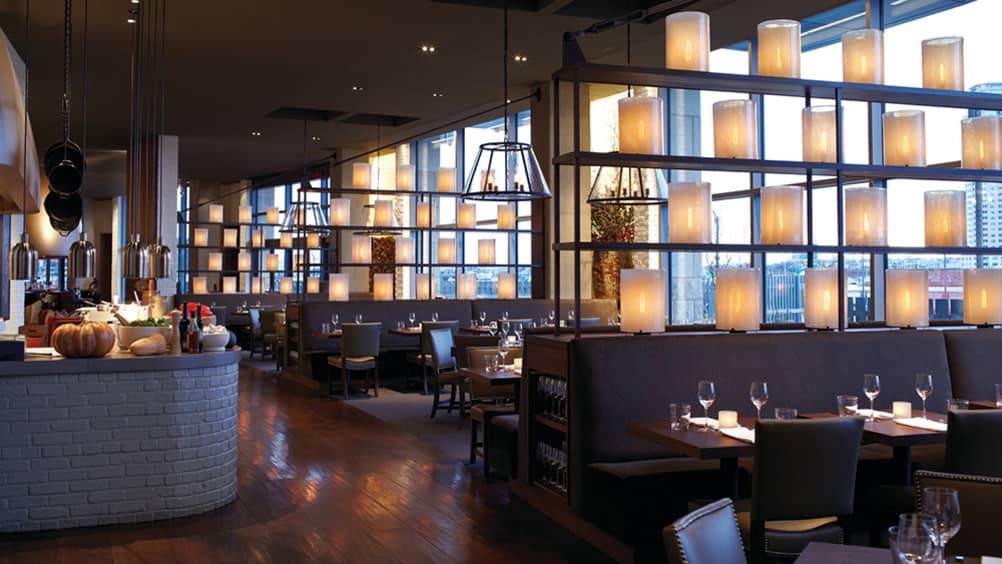 Photography courtesy Four Seasons Hotels and Resorts
For dining close to home, look no further than Wit & Wisdom, a cosy tavern created by celebrity chef Michael Mina. Located inside Four Seasons Hotel Baltimore, the restaurant offers comfort food with a contemporary Eastern Seaboard twist. Try the Sticky Wicket, a popular bourbon cocktail that is a modern take on the Old Fashioned.
Art and culture
The Baltimore Museum of Art has one of the most diverse collections of African art in the U.S. Its more than 2,000 objects span Africa from ancient Egypt to modern Zimbabwe. The museum's Contemporary Art Wing is a highlight that includes video and digital art, as well as works on canvas. Baltimore celebrates America's self-taught artists at the American Visionary Art Museum—calling it "folk art" doesn't begin to describe the creations inside these walls.
Take in the view
Federal Hill offers the best view of the Inner Harbor and downtown skyline. The site was named in 1788 when some 4,000 patriots, celebrating Maryland's ratification of the U.S. Constitution, climbed to the top of the hill for a picnic and fireworks. Today, the park remains the perfect spot for an afternoon picnic.
For night owls
For those with a nocturnal lifestyle, there is a wide variety of bars and lounges with all kinds of atmospheres. If you're looking for a great beer in a casual setting, check out Heavy Seas Alehouse, a locally owned brewery just a few blocks from the Hotel. For Baltimore's best craft cocktails, look no further than Bookmakers Cocktail Club.
Shopping in style
Baltimore's best shopping can be found in neighbourhoods throughout the city. Whatever your style need or shopping mood, you'll find a district to suit. Harbor East is home to Sassanova, which specialises in weekend and resort-style clothing, as well as Su Casa, a great stop for home décor. Men looking for tailor-made pieces will find the city's best at Christopher Schafer in Fells Point. Schafer's high-quality custom suits can be delivered directly to the Hotel.
Take the kids
If you are travelling with children (or still feel like a kid), your trip to Baltimore must include a stop at Geppi's Entertainment Museum, located right next to another key destination, Camden Yards. Geppi's is a museum dedicated to American popular culture and born from the personal collection of one of Baltimore's self-made millionaires. You'll find comic books, movie posters, toys, lunch boxes, trading cards and much more—and part of the collection is available for purchase in the museum store. Also consult the concierge's must-see list of 6 Things to Do with Kids in Baltimore.
Performing Arts
The Baltimore Symphony Orchestra, Hippodrome and Centre Stage, the official state theater of Maryland, provide ample opportunities to enjoy music and live performances.
Historic Ships in Baltimore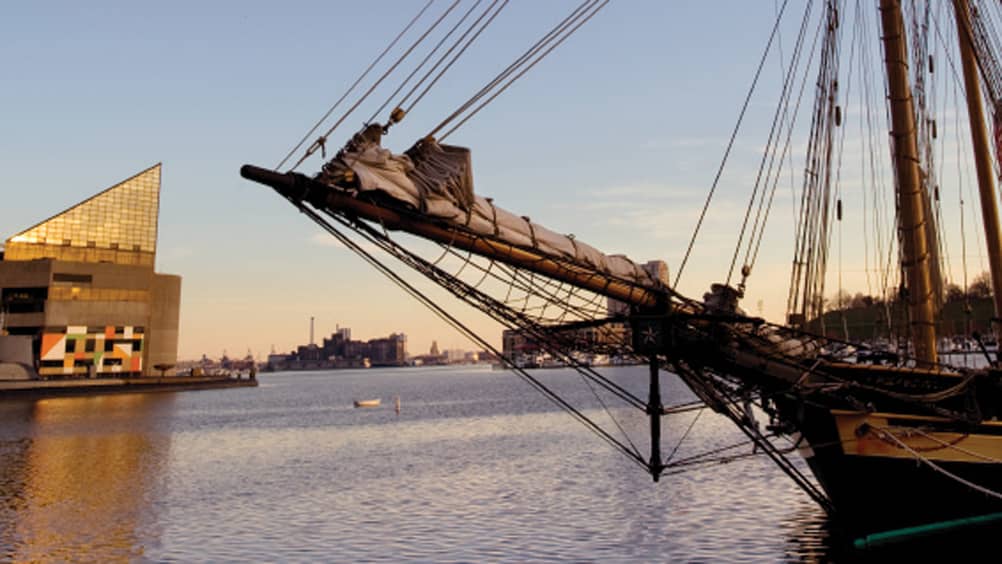 Located in the heart of the city's inner Harbour, the Historic Ships in Baltimore are incredibly preserved pieces of American history! Board the USS Constellation, Lightship 116 Chesapeake, the USCGC Taney and the USS Torsk, and visit the Seven Foot Knoll Lighthouse. Enjoy learning the stories of the thousands of people who lived and served on these historic treasures.
Four Seasons Hotel Baltimore