Impress your guests with innovative Caribbean cuisine. Our talented culinary team will take your event to the next level with creative food and beverage experiences – everything from in-villa barbecue feasts to live bands in our Sunset Lounge and extraordinary gala dinners. Our chefs leverage their relationships with nearby suppliers to deliver the highest quality seafood, reflecting the freshest local flavours. We love the challenge of customizing menus for your group.
EVERYTHING YOU NEED
Anguilla's reputation as the culinary capital of the Caribbean can be seen (and tasted) throughout our menus. Choose from dishes such as Jamaican Jerk-Rubbed Chicken Breast and Windward Mahimahi Filet with Creole Sauce, or let us put a personalized twist on a classic island recipe to make it all your own.

Take your pick from four on-site options for dining and drinks. Head to SALT., our signature restaurant, for fresh breakfasts and vibrant seafood dinners, or host a one-of-a-kind party just steps from the sand at Half Shell Beach Bar or Bamboo Bar and Grill.

Details

Each of our bars and restaurants can accommodate private events and dinners, whether you're looking for an intimate beach bash or fine dining atop a scenic bluff.

Your guess can sip vintage rums or refreshing frozen cocktails at Sunset Lounge – voted best bar in the Caribbean by CaribJournal – without ever having to leave the waters of our infinity pool.
Our Team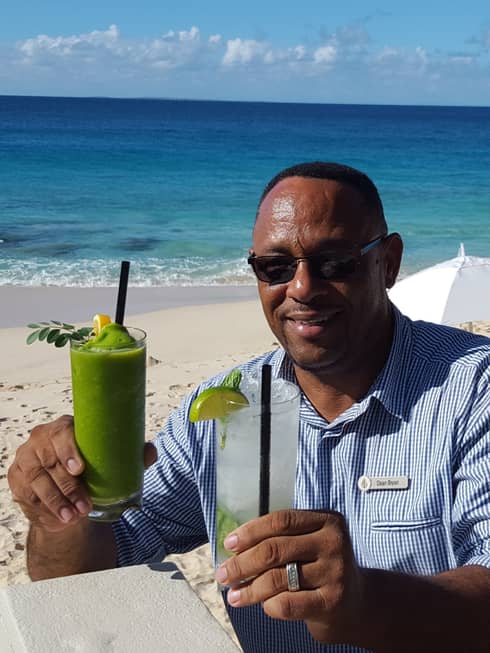 Dean Bryan
Assistant Manager, Half Shell Beach Bar
As a manager of our popular Half Shell Beach Bar, Dean is always looking for ways to add an interesting local twist on beverages both alcoholic and non-. Ask him about his latest creation, Dean's Green Supreme, made with bananas, orange juice and mango puree as well as fresh moringa leaves cultivated from his personal at-home tree.
"Guests love learning about making drinks using a local super food plant called 'moringa.' It's very healthy, but can be made a little guilty if we add rum!"