Superlative Cantonese dishes are the highlight of this elegant destination restaurant, which offers 10 exclusive private-dining rooms for special events.
HOURS
Lunch

11:30 am – 2:30 pm

Dinner

5:30 pm – 10:30 pm
Signature Dishes
Stuffed with glutinous rice and osmanthus

With rice, shrimp, roasted pork and chives
EVENTS
Daily, 11:30 am – 2:30 pm, 5:30 pm – 10:30 pm

Dim Sum Set

Join Chinese Executive Chef Ting Wai Wan at One-diamond Black Pearl restaurant, Zhuo Yue Xuan. Enjoy Chef's set menu offerings of delicate morsels of dim sum or roast meats to nutritious double-boiled soups, and sample signatures and staples of authentic Cantonese cuisine.

Daily, 11:30 am – 2:30 pm, 5:30 pm – 10:30 pm

A Private Event

An exclusive dining experience in any one of our 10 private dining rooms will ensure that you get ultimate privacy, while you enjoy Cantonese cuisine and fine wines.
Meet the Team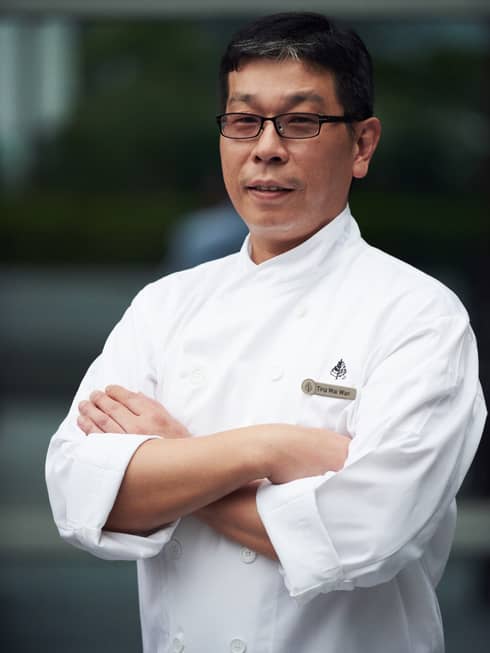 Ting Wai Wan
Executive Chef for Chinese Cuisine
Born and raised in Hong Kong, Ting was apprenticed to Hong Kong celebrity chef Kwong Wai Keung before embarking on a series of chef positions that garnered him multiple awards. At Four Seasons Hotel Shenzhen, Ting's love for Chinese culinary techniques and the finest ingredients is evident in every dish.
"A great dining experience takes the guest through a culinary journey of wonderful layers of tastes and amazing textures, fond memories of traditional dishes, excitement over new innovations and visual pleasure in presentation."
FOO

Book an outdoor table by the waterfall or enjoy the bright and welcoming interior of this all-day restaurant, where you'll find extravagant breakfast buffets, gourmet-set lunches and elegant dinners.

Details

In-Room Dining

Order midnight dim sum, a tea-time chocolate cake or a breakfast of green juice and fresh baguettes: Our in-room dining is available 24 hours a day.

Details

Yi Bar & Lounge

Enjoy afternoon tea on the terrace or evening cocktails with friends in our chic lounge, which is open all afternoon and evening for tempting light bites.

Details