Executive Chef Marco Veneruso and his team invite you to experience refined Italian cuisine artfully created with locally sourced seasonal ingredients. Dine with a view in our vibrant restaurant with a seasonal outdoor terrace on the bank of the Vltava River.
HOURS
Breakfast

Every Day

7:00 am – 11:00 am

Lunch and Dinner

Every Day

12:00 Noon – 3:00 pm

5:30 pm – 10:30 pm (Last order 10:00 pm)
Signature Dishes
Tartare, Lemon-Honey, Dill Oil

Fennel, Orange, Bagna Cauda

Local Goat Cheese, Thyme, Roasted Seeds

Winter Truffle, Parmantier

Black Pepper, Pecorino Cheese Cream, Oscetra Caviar

Pecorino, Rose, Champagne

Duck Confit Croquette, Apricot, Foie Gras

Vanilla Cream, Tonka Bean Sorbet

Crunchy Honeycomb, Pumpkin and Nutmeg Sorbet
Events
December, Daily, 5:30 pm – 8:30 pm, and Saturday & Sunday, 12:00 noon – 2:30 pm

White Truffle Dégustation Menu

Indulge in the exquisite flavours of the season throughout December with our daily White Truffle Dégustation Menu, exclusively at CottoCrudo. Elevate your dining experience with the rich and aromatic delights of this special menu, curated to delight your palate. Call us to book your table at +420 221 426 880.
The Team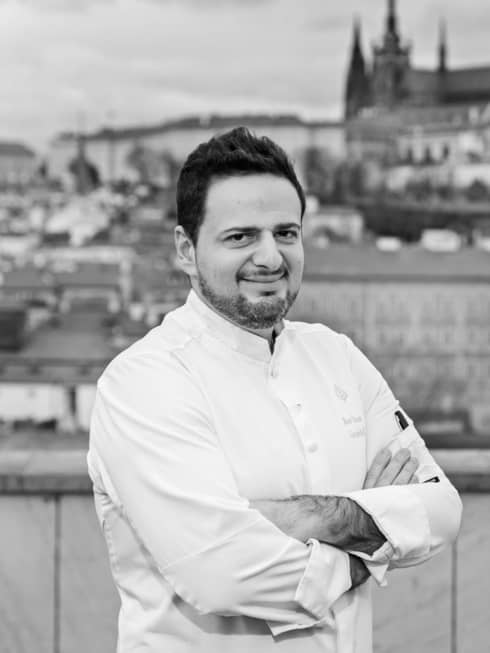 MARCO VENERUSO
EXECUTIVE CHEF
Chef Marco became enamored with Italian cuisine during his childhood, which he spent helping at his grandparents' farm in the region of Campania. For a decade, he worked across Italy mastering his extensive culinary skills before heading to Beijing, China, where his restaurant was awarded a Michelin star in 2019.
"I want to create dishes the Italian way, using the best products I can find and turning traditions into unexpected experiences. Italian food is so much more than carpaccio and gnocchi. I want our guests to be brave."