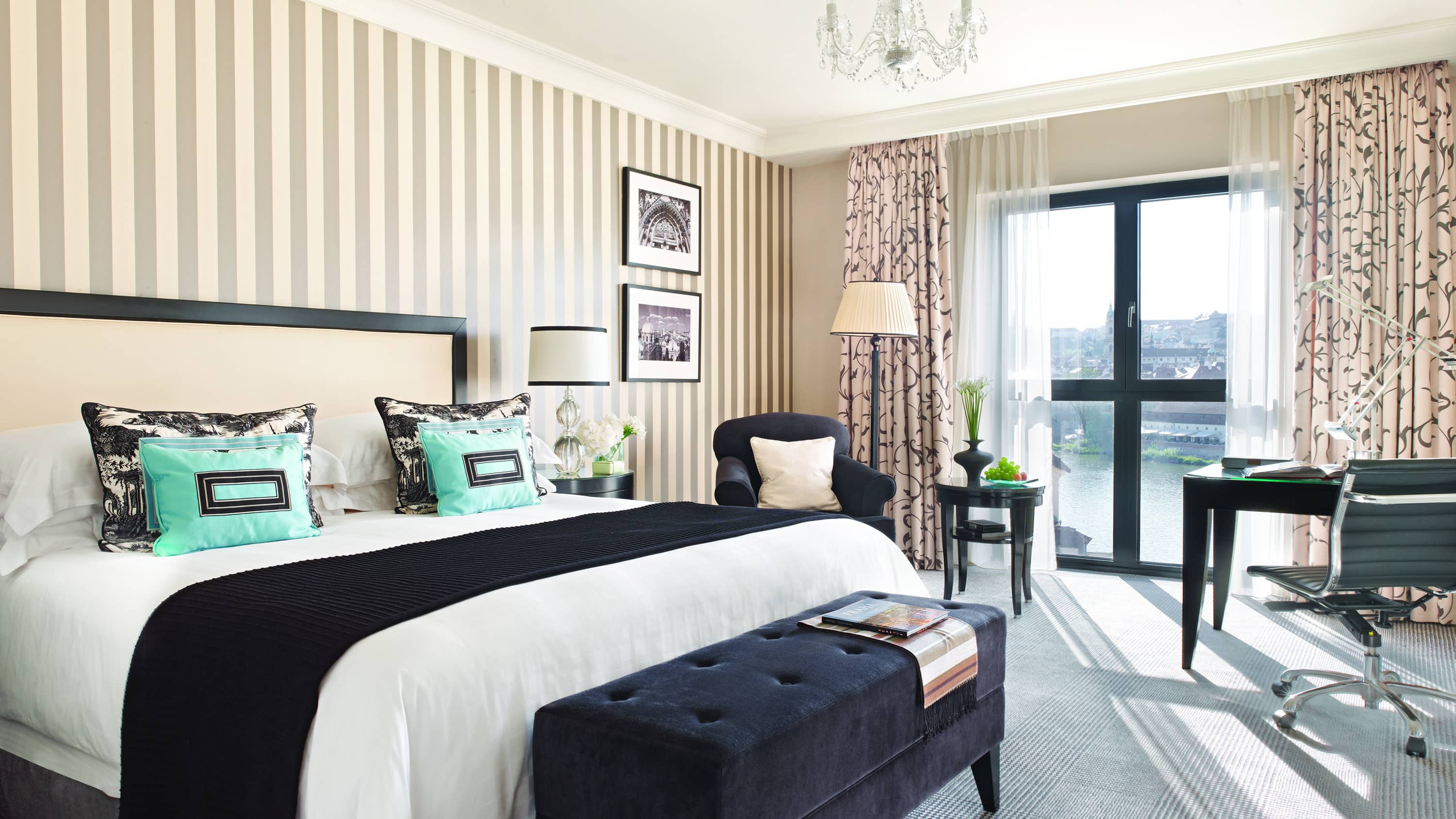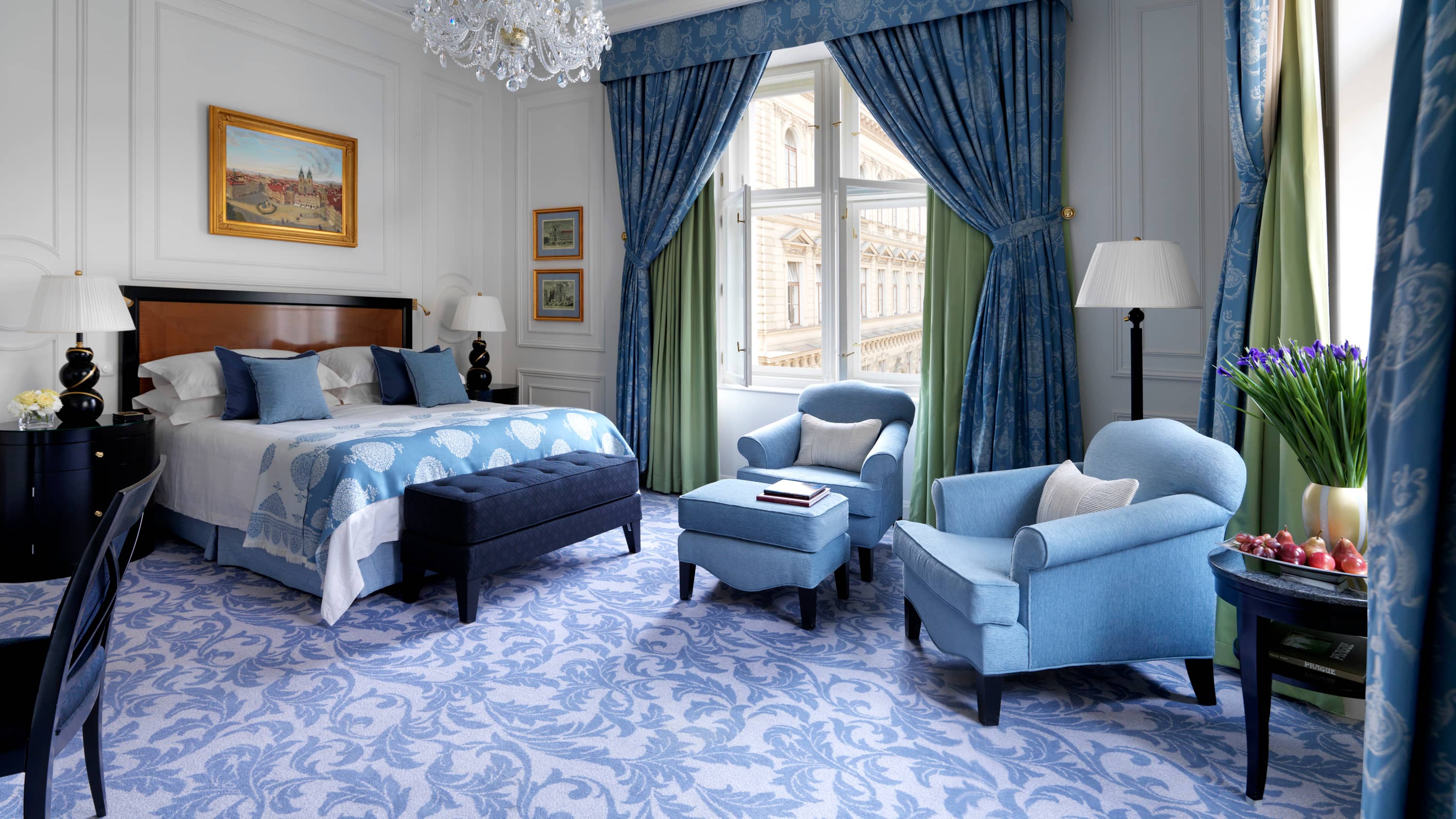 Grand Renaissance Room
One king bed, One rollaway or one crib

40 – 47 m2 (430 – 503 sq.ft.)

3 adults, or 2 adults and 1 child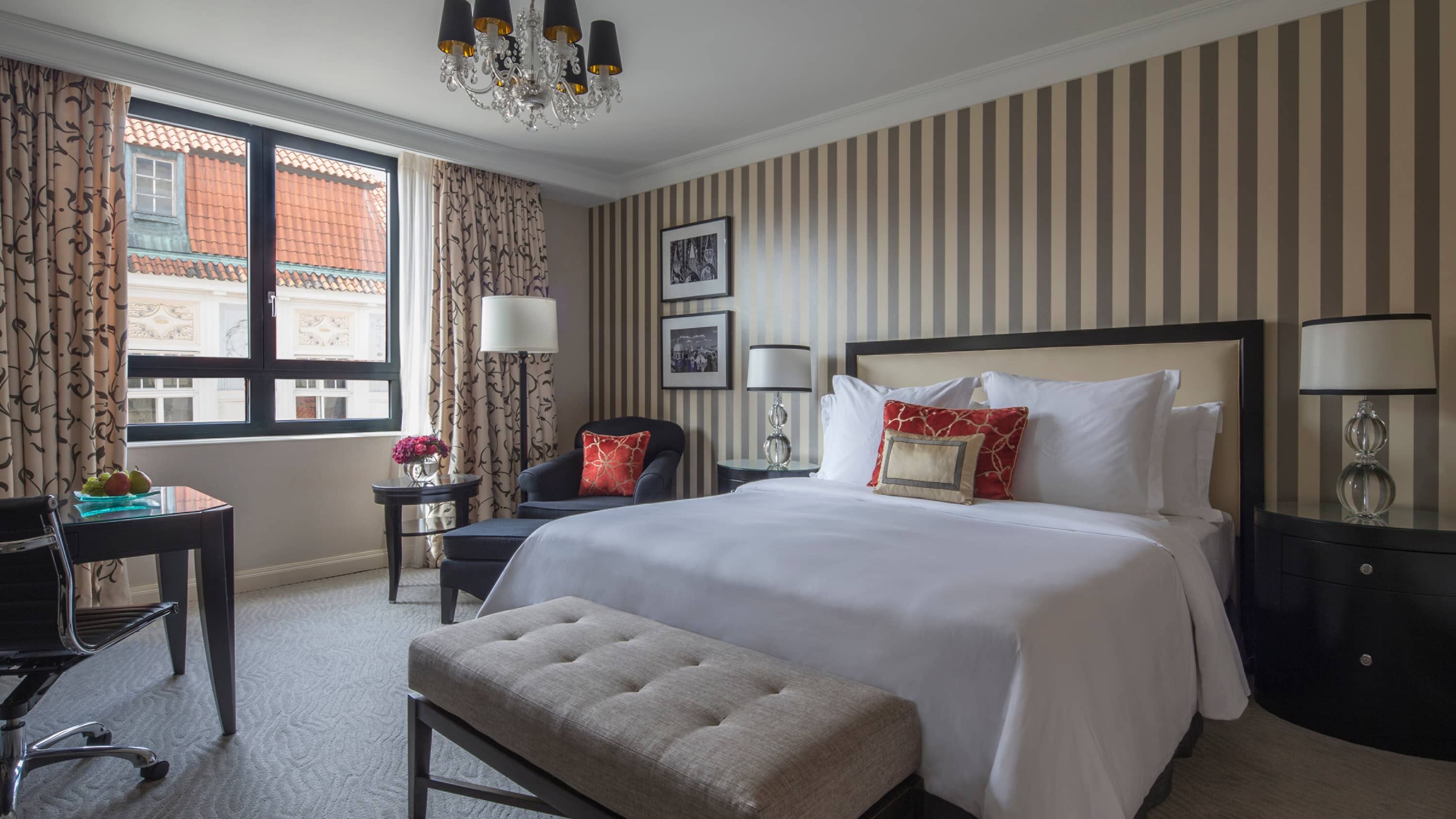 Deluxe Room
One king bed or two twin beds, One rollaway or one crib

40 m2 (430 sq.ft.)

3 adults, or 2 adults and 1 child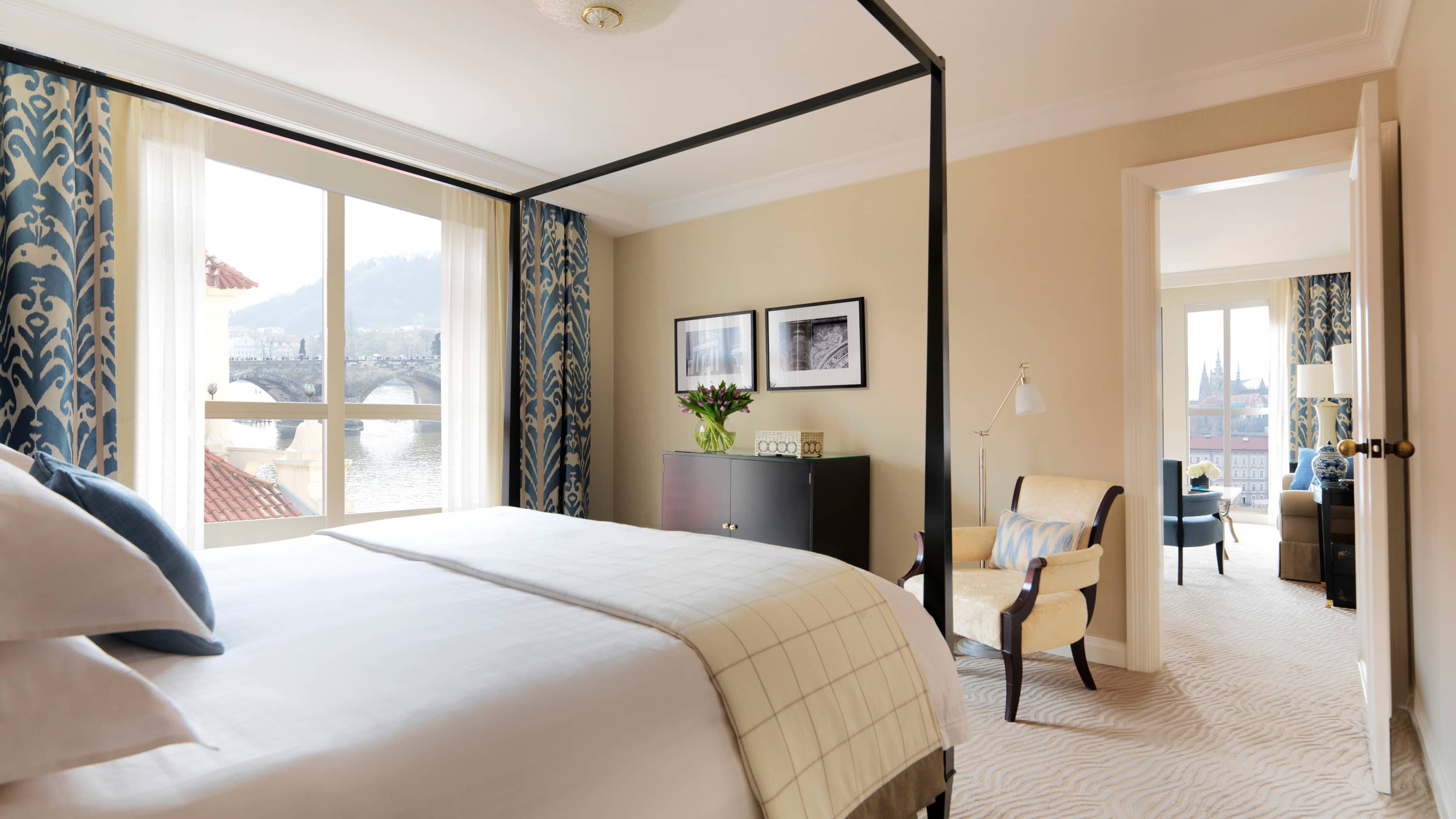 River Suite
One king bed, One rollaway or one crib

75 m2 (807 sq.ft.)

3 adults, or 2 adults and 1 child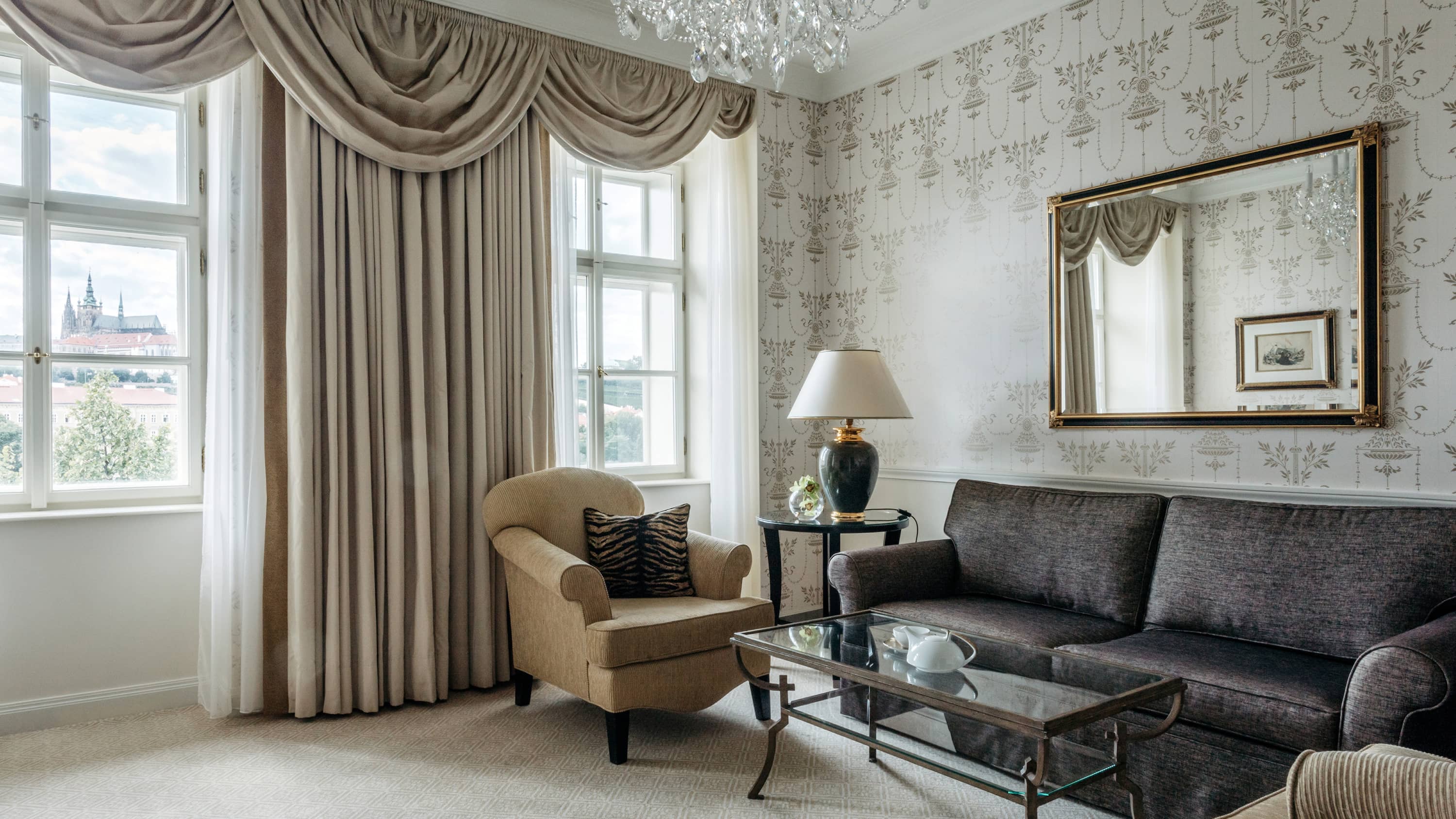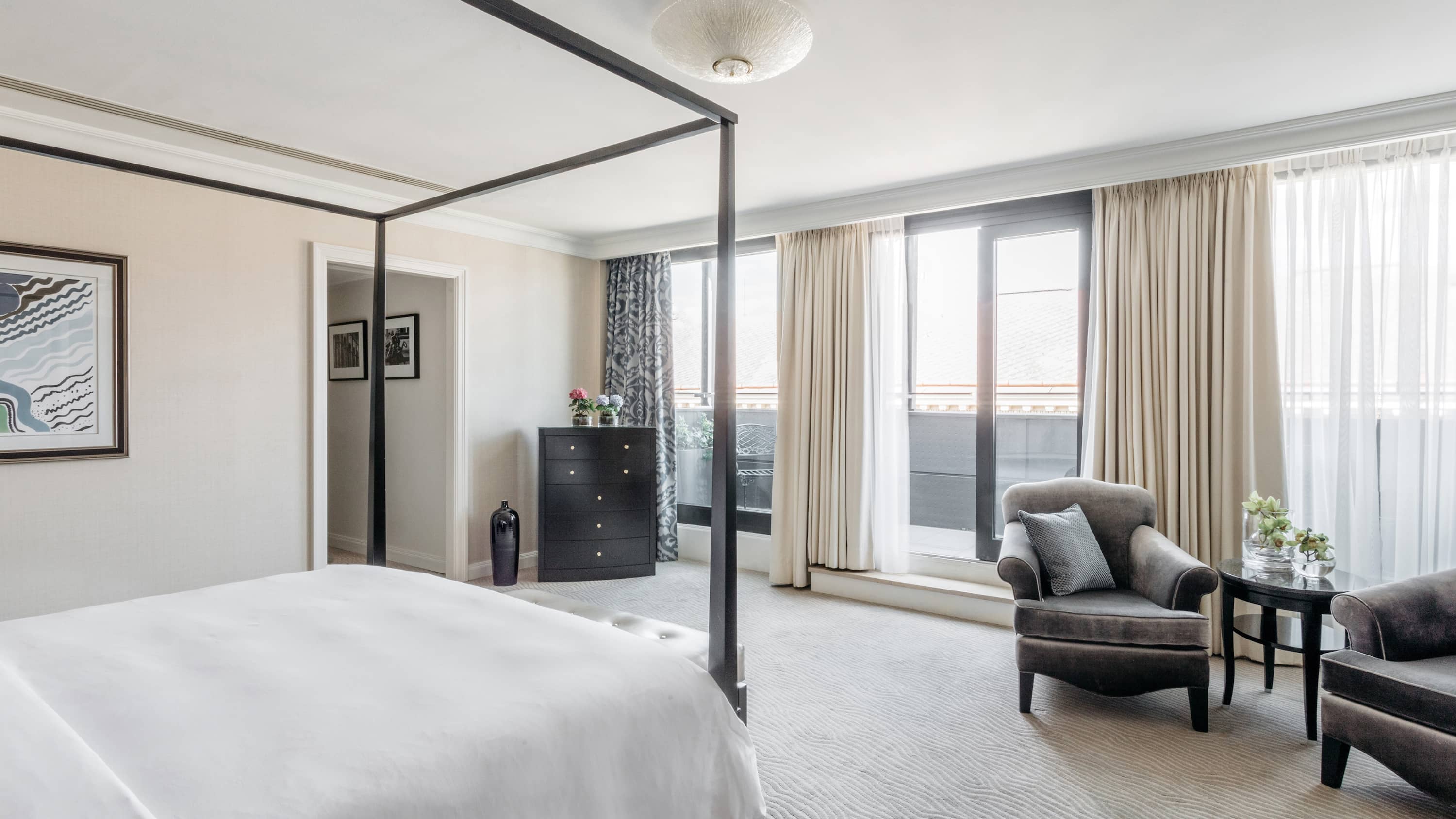 Duplex Suite With Balcony
One king bed, One sofabed or one crib

79 m2 (845 sq.ft.)

3 adults, or 2 adults and 1 child, or 1 adult and 2 children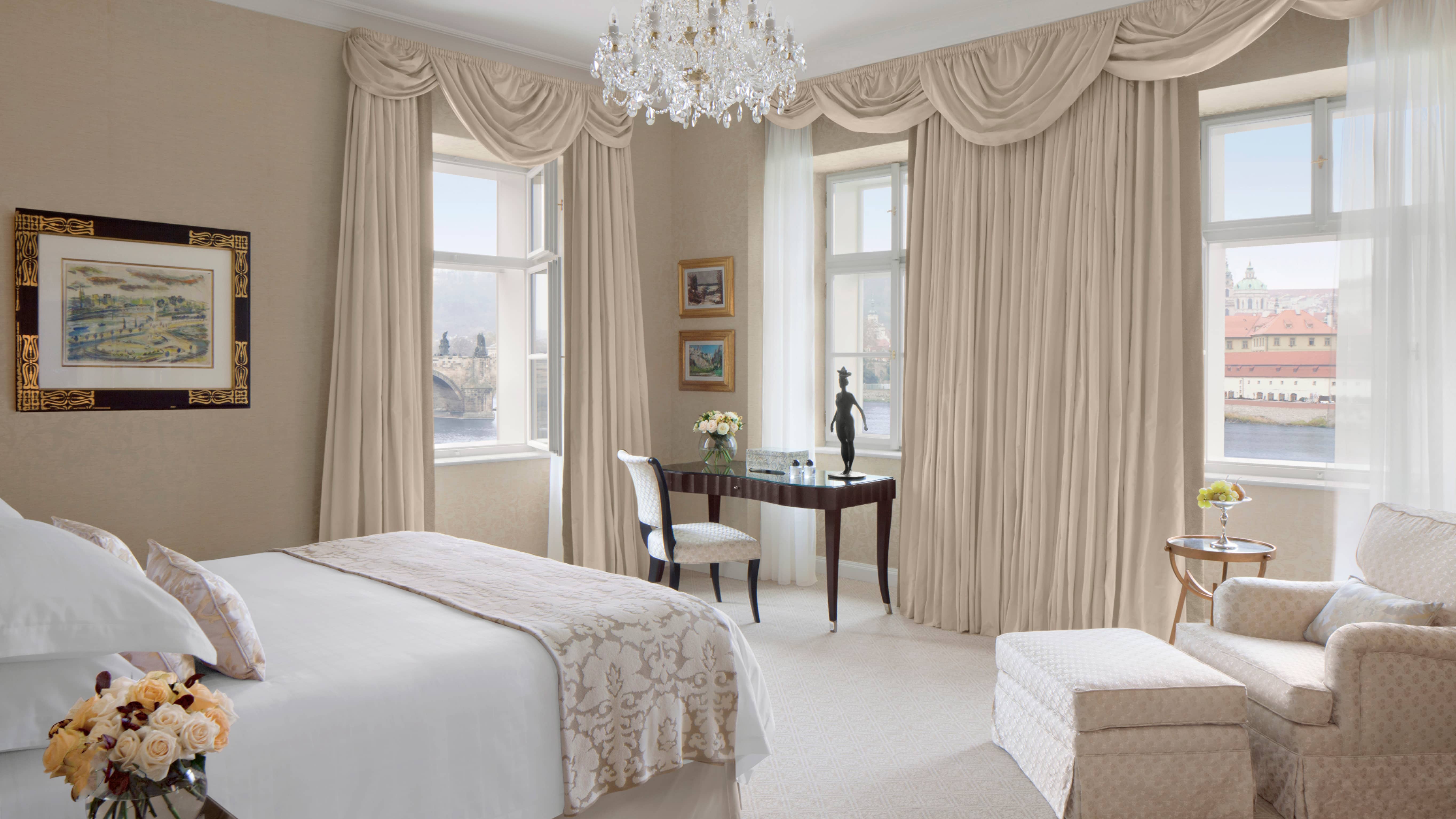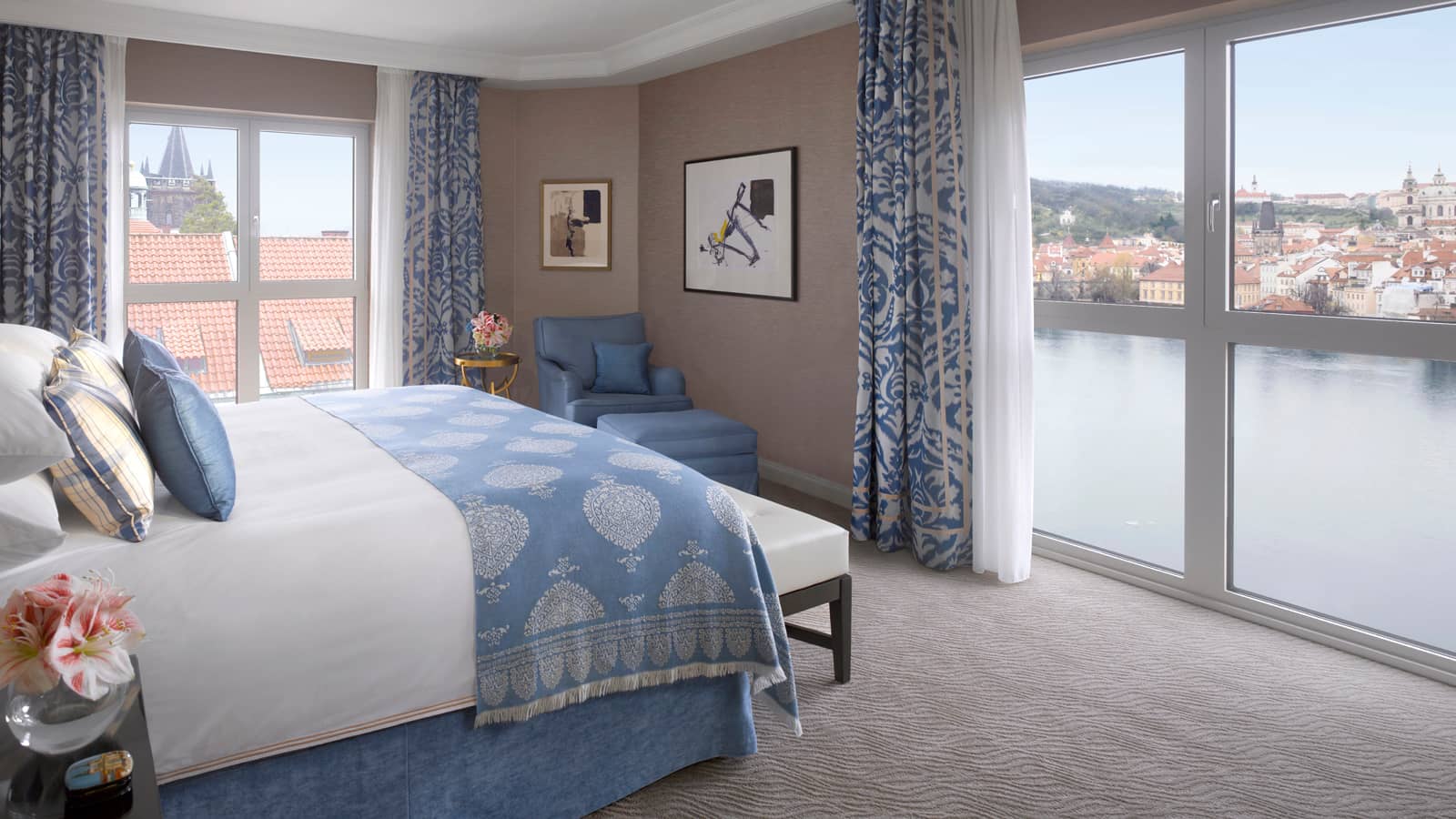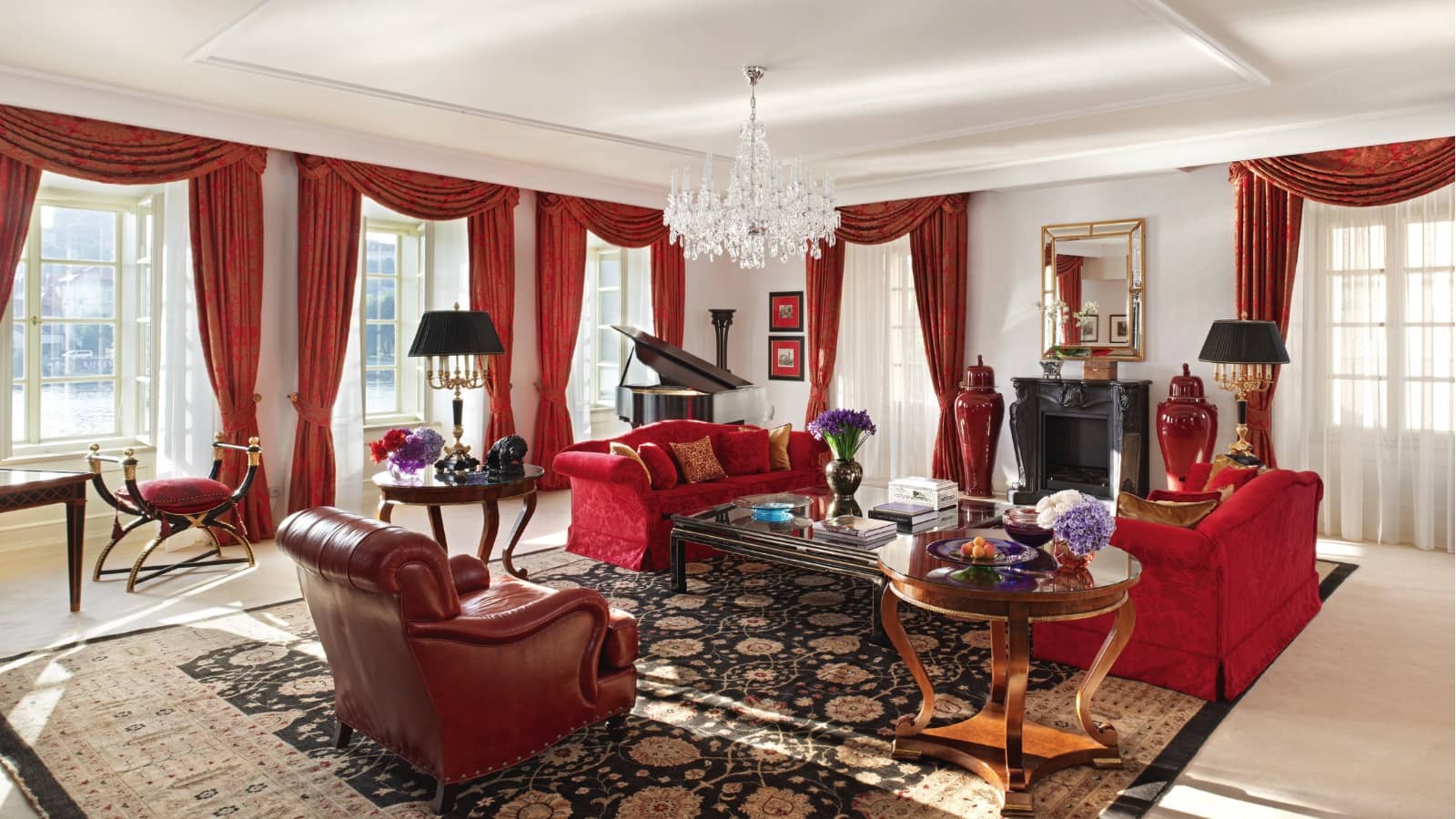 Royal Suite
One bedroom: One king bed. Two bedroom: Two king beds. Four bedroom: Four king beds., One rollaway or one crib per bedroom (except connecting Superior Room)

200 – 372 m2 (2,152 – 4,000 sq.ft.)

One bedroom: 3 adults, or 2 adults and 1 child. Two bedroom: 5 adults, or 4 adults and 1 child. Four bedroom: 9 adults, or 8 adults and 1 child.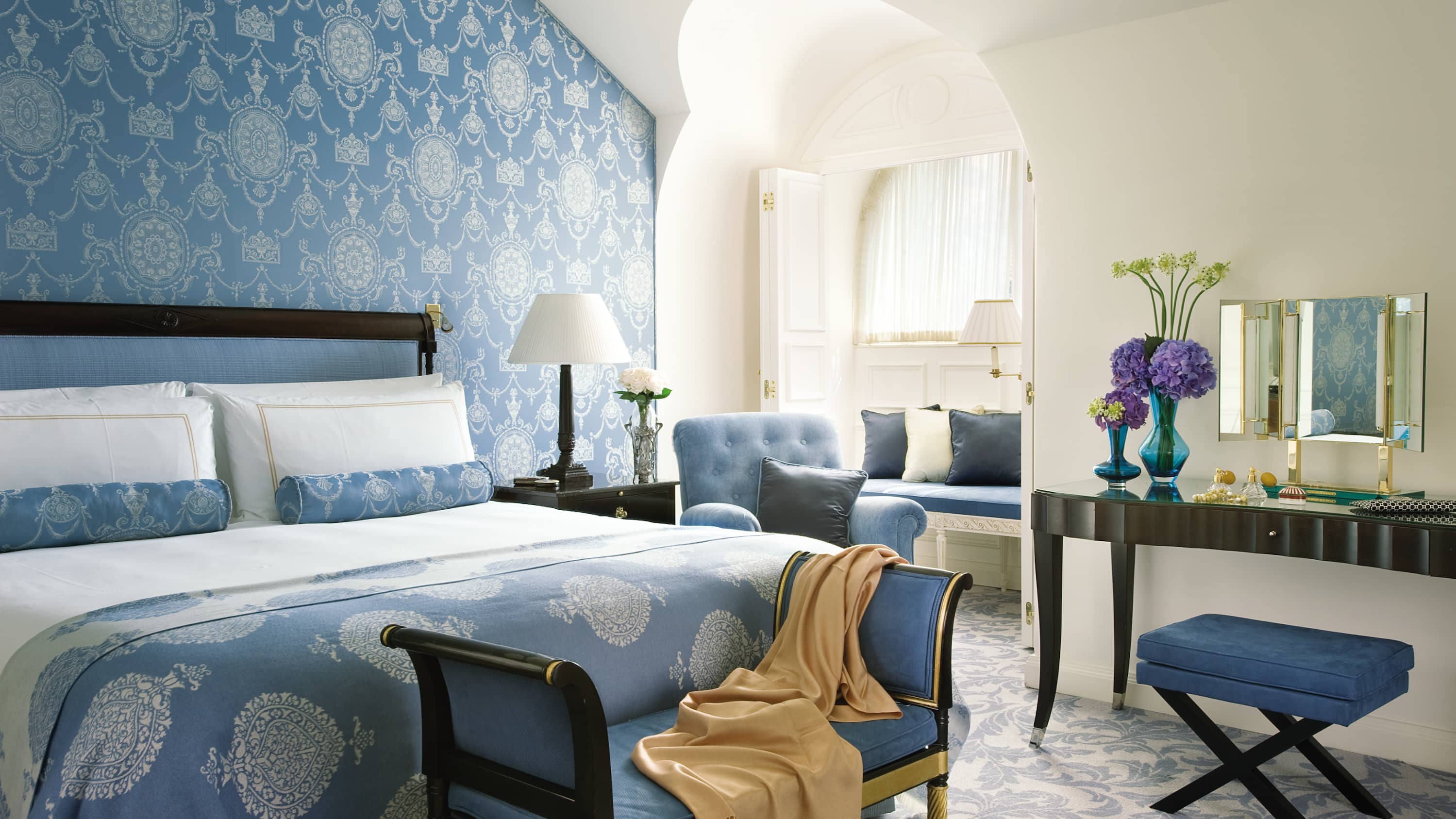 Renaissance Suite
One king bed, One rollaway or one crib

86 m2 (926 sq.ft.)

3 adults, or 2 adults and 1 child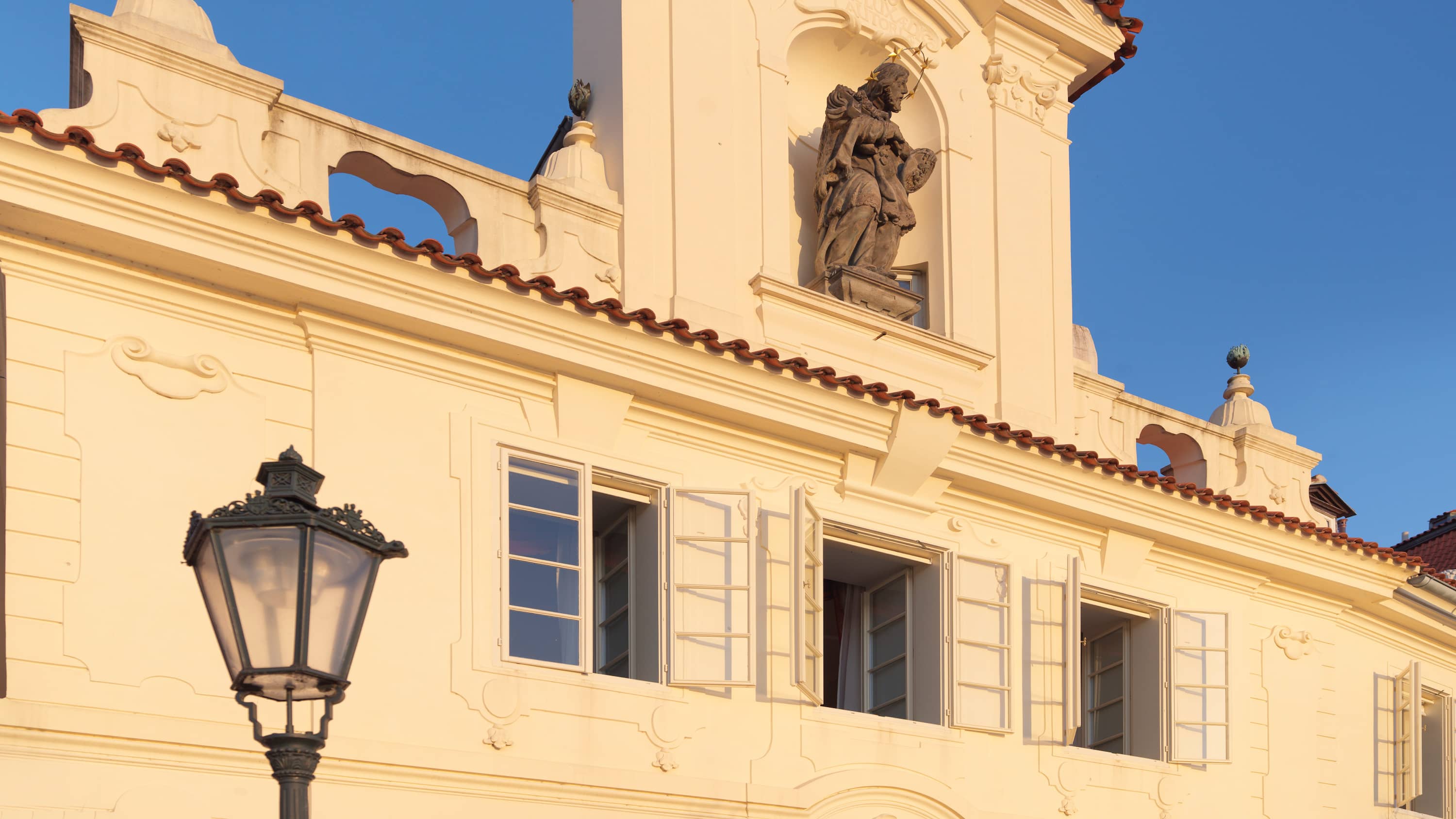 Baroque Suite
One king bed, One rollaway or one crib

65 m2 (700 sq.ft.)

3 adults, or 2 adults and 1 child
Architecture and Artistry
A contemporary main building seamlessly unites three historic structures from the Baroque, Classical and Renaissance periods.
Four Seasons Hotel Prague, by Design
The Neo-Renaissance House

Originally commissioned in 1883 by a fish merchant named Podhorsky as an apartment house with on-site shops, this building features domes topped by a double-sloping roof. The original, richly embellished façade was meticulously restored.

Dating back to 1827, this building began as a factory designed by J. Ripota, was then converted into apartments in 1846, and office space in the 1960s, which resulted in major changes to the original layout. Today, only the northern and western façades remain, along with the walls' original elegant cornices and fine flat plaster details. Throughout the building's rooms and suites, windows and fixtures were restored where possible, or replaced with original-style replicas.
The great challenge was to preserve the individuality of each building, creating harmony in the overall design, and reflecting the character of the surrounding Old Town, a city neighbourhood known for the grandeur and elegance of its architecture.

Petr Brzobohatý

Architect, Dům a Město
Built in 1568 along the bank of the River Vltava, our Baroque building originally sat behind the abbey of the Knights of the Cross within the Old Town walls. Witness the restored sandstone statue of St. John of Nepomuk, which faces the riverbank, as well as original cross-vaulting, stone architraves and masonry vaults, wooden doors and hand-forged ironmongery.

The unifying building of our Hotel combines delicately hued ochre sandstone from a Czech quarry and pale plaster façades with dark roofing to ensure a stylish synchronization with the historic buildings, while allowing each of the Hotel's structures to retain its individual personality.
Policies
Check-in Time: 3:00 PM Check-out Time: 12:00 PM

If you expect to arrive early in the day and would like immediate access to your room, we recommend booking the room for the prior night to guarantee immediate access. Similarly, for late departures, reserving an additional night will guarantee access to your guest room until you depart. If you choose not to reserve, we will be glad to store your bags and make our fitness facilities available for you to freshen up.

American Express, Visa, MasterCard, Diners Club, JCB, China UnionPay

Four Seasons charges no additional fee for children 18 years of age and younger occupying the same guest room as their parents or guardians (space permitting). Special rates may be available for two adults and two children 18 years of age and younger occupying two rooms, subject to availability. Age limits for children occupying parents' or guardians' guest rooms at no additional charge may vary at some properties. For reservations and information, please contact the Hotel directly.