Four Seasons Hotel Philadelphia invites you to pack light and plan big for Philly, named by Condé Nast Traveler as one of the Best Destinations in the World. From walking beneath a canopy of cherry blossom trees in springtime to ice skating under a scene of falling snowflakes in Center City in wintertime, you'll find so much to do and discover in our iconic American city, any time of year.
History
In 2015, Philadelphia joined the Organization of World Heritage Cities, thereby becoming the first World Heritage City in the United States. Home to landmarks such as Independence Hall and the Liberty Bell, Philadelphia is characterized by a rich array of historic buildings and cultural sites, 67 of which have been named National Historic Landmarks.

Details

Constitutional Walking Tour

Step back in time to 1776 to discover the birthplace of our nation on a private walking tour through Independence National Historical Park. There, learn about the ideals that set the foundation for our current government. You'll explore over 20 historic sites on this 75-minute, 1.25-mile (2-kilometre) outdoor walking tour.

Details

Footsteps of our Founding Fathers Bike Route

Cycle the city on a Four Seasons Hotel Philadelphia curated route to discover the sites, monuments and museums dedicated to preserving the country's rich history. Journey down idyllic tree-lined streets to Philadelphia's historic district and experience the city through the eyes of a local. Available upon request, April – November.

Venture to Elfreth's Alley to stroll along the cobblestone path that lines the nation's oldest continuously inhabited residential street. Once home to the 18th-century artisans and tradespeople, this National Historic Landmark offers a quaint escape from the hustle and bustle of the city and serves as one of the city's most photogenic walkways.

Details
Dining
Spend an afternoon getting lost among the stalls of vendors in one of the Nation's oldest and largest public markets, operating since 1893. This National Historic Landmark offers visitors a true taste of Philadelphia with locally grown produce and freshly prepared food from the City's favourite vendors, all under one roof.

The quintessential Philadelphia eponymous sandwich can be found and savoured throughout the city. From private tours to recommendations of local favourites, allow the Concierge team to curate your cheesesteak experience.

Award-Winning Restaurants

Escape to Philadelphia's ever-growing culinary scene that allows diners a moment of respite as they immerse themselves in cuisines with roots from all over the world. Begin the day with a Parisian breakfast at Rittenhouse Square's famed Parc before taking a stroll to lunch at James Beard Award Winning Chef Michael Solomonov's Israeli Café, then for dinner Chef Nok takes diners on an adventure to Thailand at her renowned BYOB restaurant, Kalaya.

Breweries, Distilleries & Vineyards

The Philadelphia region is home to a vast number of breweries, distilleries and vineyards. Venture around the corner to experience Victory Brewing Co.'s selection of locally inspired IPAs. Spend the day in the Fishtown neighbourhood to taste America's first dry gin or escape to Philadelphia's countryside to sip on wine as you gaze upon the rolling hills.

In Philadelphia, many restaurants offer the opportunity to bring your own wine or spirits. Allow our Concierge to assist in securing the perfect bottle to accompany your meal with a wide range of wines and liquors available for purchase.
Hotel Highlights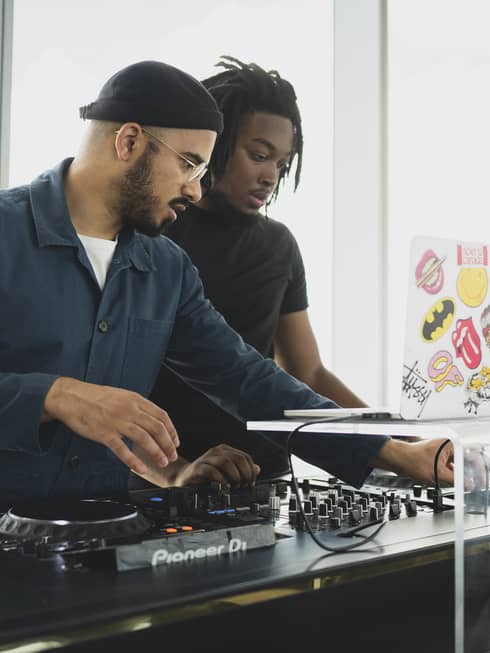 Elevated Sound
In partnership with BELLOSOUND, JG SkyHigh presents Elevated Sound: a music residency pioneering a vibe and spirit equal to the space and scene. Feel the soul of Philadelphia through jazzy tunes performed by local DJs, musicians and up-and-coming student artists each Monday, Friday and Saturday evening.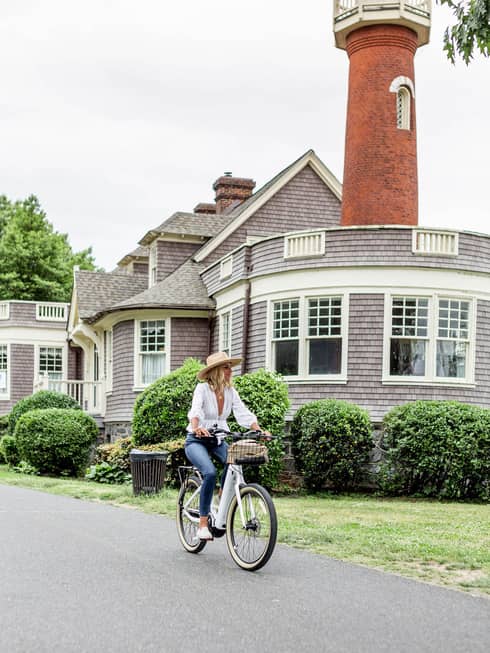 Complimentary Electric Bicycles
There's no better way to explore Philadelphia than cycling the city. Enjoy complimentary electric bicycles provided by local retailer Cadence Bicycles to experience the 200-plus miles of bike-friendly lanes and trails. The team has curated journeys with preset routes and highlighted points of interest for you to discover along the way. Available upon request, April – November.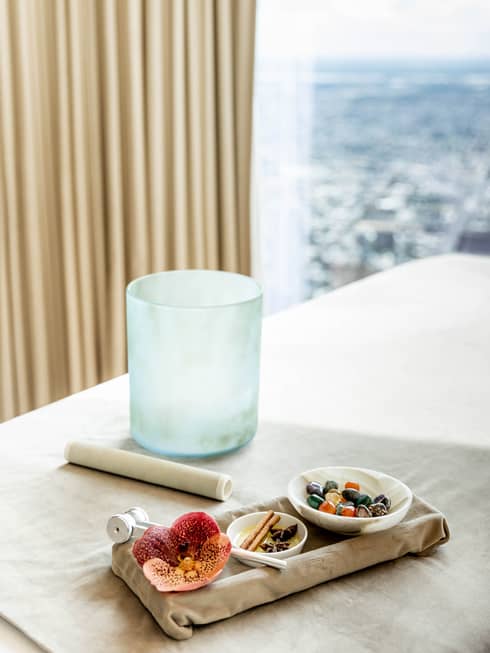 Seasons of Chakras
The ancient practice of chakra balancing meets modern needs with Seasons of Chakras – a holistic massage for body, mind and spirit. Seasons of Chakras Sensorial Journey is inspired by the seven chakras, targeting key areas of the body with gentle pressure, along with seasonal essential oils to stimulate and open each chakra. Retreat to a deep sense of calm while savouring familiar aromas, rotated seasonally – all while taking in unparalleled views of Philadelphia.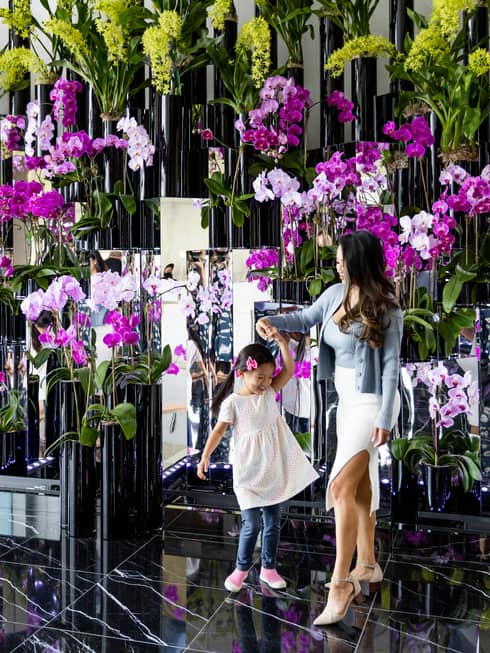 Jeff Leatham Floral Moments
Upon entering the Sky Lobby, we welcome you with a vibrant array of florals created by Artistic Director Jeff Leatham. The floral installations change seasonally and are a reflection of the beautiful skyline below. A visit to Four Seasons Hotel Philadelphia would be incomplete without striking a pose with these floral blooms.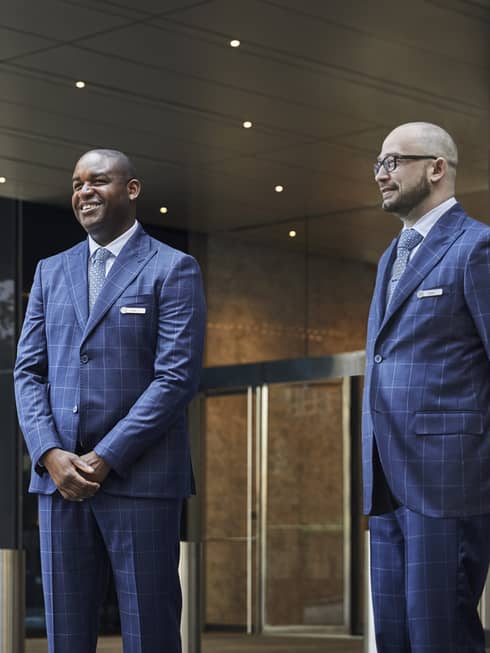 House Car
Experience all that Philadelphia has to offer by way of our complimentary Tesla Model X house car, which can transport you to local attractions for a sleek and stylish arrival.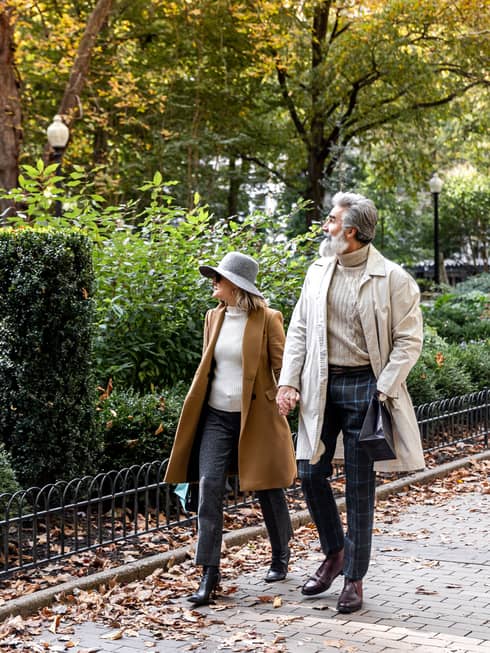 Unpacking List
The most treasured getaways are less about the physical items you pack in your suitcase and more about the connections you feel and the memories you make. Here, Chef Concierge Siham Harradi recommends five sensory "souvenirs" to take away from your visit.
Valid for Selected Dates Between

Jun 6 2023 – Dec 31 2023




Offers are subject to availability at time of booking. Blackout dates and other restrictions may apply.

minimum stay:

2 nights
included
USD 200 credit towards Hotel food and beverage charges or treatments in the Spa
Overnight parking for one vehicle
more details