Fun meets learning at Four Seasons Hotel Tokyo at Otemachi. This experiential program invites kids to explore hotel jobs through a series of interactive activities. Young guests can put on their favourite uniform, take photographs and learn about different careers at our Hotel.
Rent-a-uniform
PIGNETO Chef, Door Attendant or Housekeeper? Wear your favourite hotel uniform and take pictures with our staff. This daily opportunity is a great way for kids to feel like a member of the Four Seasons team. Uniforms are available in sizes 120 cm to 160 cm.*
The Chef at PIGNETO runs the kitchen, tasked with doing the final taste testing, checking the presentation of each dish before it's served to guests, choosing ingredients and creating new menus. The Chef's goal is to create happiness through cooking.

Our Door Attendants welcome and see off guests at the hotel entrance. They're also in charge of arranging taxis and helping with luggage, so that guests can enjoy a worry-free experience.

Our Housekeepers clean the guest rooms and prepare them with everything a guest needs, including a perfectly made bed. They also respond to various guest requests to ensure a comfortable stay.
*Uniforms such as pants, skirts and shoes are not available for rental.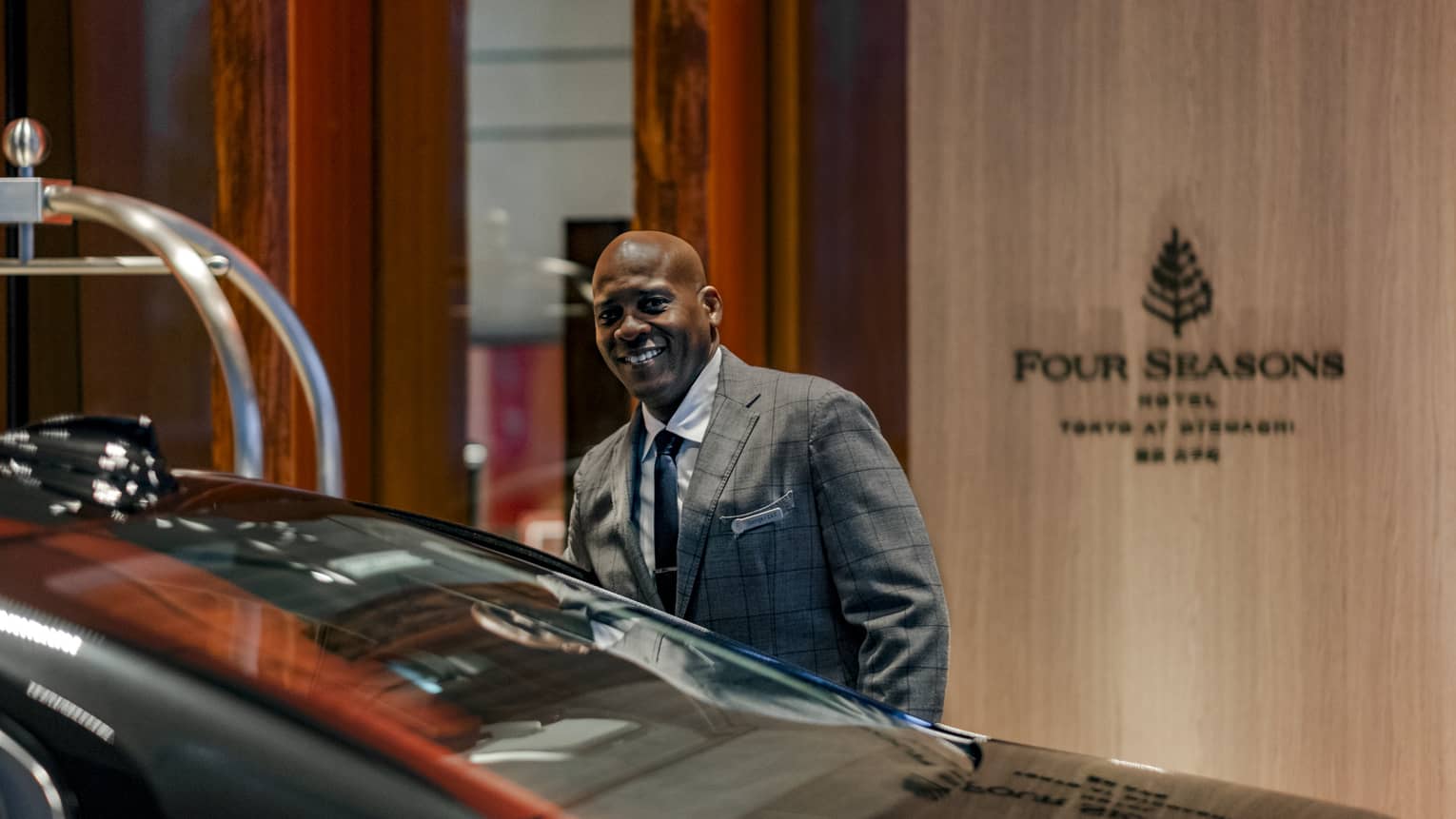 Job Cards
Learn about a specific hotel job, answer questions and get your job card stamped by the hotel staffs. Kids who complete all three job cards will receive a surprise gift.
Learning Activities
Kids can don their favourite uniform and learn about different careers through fun activities organized by our staff. Thirty-minute sessions are held each Sunday between 10:00 am and 12:00 noon. Advance reservations are required.
Be a Doorman

Greet guests at the hotel entrance and escort them to the elevator.

Be a Housekeeper

Help our staff make the bed perfectly and prepare the room for a guest's arrival.
Additional Activities
Kids can wear their favourite uniform and have their picture taken in the Hotel's public areas.

Kids can pretend to be a member of the hotel team and use their imagination for fun role play with their families.
Terms & Conditions
If you would like to rent a uniform and/or participate in the learning activities, please contact the Reservations team at least 5 days before check-in.
This program is available for in-house guests only.
This program is available only to guests who have made a reservation directly at Four Seasons Hotel Tokyo at Otemachi.
Only one type of uniform, job card and learning activity is available per stay.
This program is only available depending on the reservation status.
Please take care not to disturb other guests during the program. Failure to comply may result in termination of your participation in the program.
Damaged or lost uniforms may be billed for after check-out.
Other terms and conditions may apply.