| | |
| --- | --- |
| 18 | Treatment Rooms |
| 4 | Couples' suites |
| 2 | Waterside spa bungalows |
| 1 | Salon |
Every day

8:00 am – 9:00 pm
Please note: For full page functionality, please ensure your browser is out of compatibility mode.
Nestled in the idyllic, luxurious enclave of Golden Oak, the Spa at Four Seasons Resort Orlando at Walt Disney World® Resort is an oasis of serenity. The 13,000-square-foot (1,208-square-metre) sanctuary is inspired by the natural palette and imagery of the Florida Everglades. Contemporary design complements indigenous sensibility and provides an unmatched environment in which to experience unparalleled spa services.

A comprehensive collection of remarkably effective and exclusive therapies are performed by the most talented team of spa professionals in the Sunshine State. The Spa offers advanced aesthetic services, beautiful body therapies and fitness programs all designed to help you look and feel your best. In the Salon, expert hair and nail care are available, and Magical Moments delight little princesses and knights alike. We look forward to welcoming you to the Spa at Four Seasons Resort Orlando at Walt Disney World® Resort.
Enhancements
Take your Spa treatment to a truly personalized level with these enhancements designed to customize your therapy. All enhancements are USD 25. Enhancements do not increase the duration of your treatment, rather they are layered in to tailor your service as you desire.

Choose from: Hand or Foot Paraffin, Scalp Escape, Muscle Relief, Sun Indulged, Exfoliation, Sinus Relief, Bright Eyes, Luscious Lips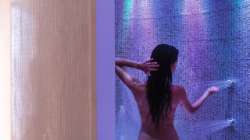 Spa Etiquette
Stress reduction is a major contributor to good health, and the Spa at Four Seasons Resort Orlando is here to help you relax. Our spa services are designed to ease what ails you and guide you to optimal comfort and well-being. Home care programs and products are also available.
Treatments For Two
The perfect way to spend quality time with someone you love, from couple's massages to mom and daughter facials. Most of our treatments can be paired in combinations of your choice either in our spa couples' suites or our private spa bungalows. Let our spa experts help you find the best treatment selections for the two of you.
Pricing is determined by the treatment selected.
Book A Treatment
Close
Select a date and time to Reserve
Pregnancy and Age restrictions may apply.
Please arrive at the spa 15 minutes prior to your appointment start time.
Add to Cart