Function Rooms
Grand Ballroom
Welcoming and incredibly spacious, the Grand Ballroom offers 14,000 square feet (1,300 square metres) of impeccably designed space for a most memorable occasion. It is conveniently located on the Lobby Level and can host up to 895 reception or banquet guests. Those booking the entire Ballroom gain private access to the Central Foyer for their event. This beautiful space also comes equipped with four in-ceiling projectors with four dropdown 10- by 16-foot (33- by 52-metre) screens.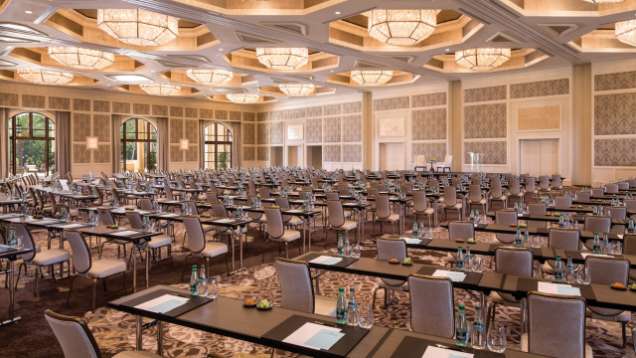 Why You'll Love It
Versatile Elegance
The room can be easily divided to create three spaces, and offers three sets of moveable air walls to further configure the area.

Outdoor Style
Two adjacent covered terraces offer the option of outdoor socializing.

High Ceiling
The ceiling soars 21 feet (6.4 metres) high.

Seating
Classroom
Hollow Square
U-shape
Theatre
Reception
Banquet rounds

895
180
129
895
895
895

Room Features
Wired or wireless high-speed email and Internet access
Breakout room available
Pre-function space available

Location
Lobby Level
Size
Area
Dimensions
Height

1300 m2 (14000 sq.ft.)
42.6 x 30 m (140 x 99 ft.)
6.4 m (21 ft.)