For decades, the Indian maharajas, their country's original aficionados of luxury, looked West to houses like Cartier, Van Cleef & Arpels and Harry Winston when it came to buying jewellery. In 1928, Paris jeweller Cartier created its single most spectacular commission to date for Bhupinder Singh. His Patiala necklace was encrusted with nearly 3,000 diamonds.
The maharajas may have been stripped of their titles and privileges, and many of those heirloom pieces sold, but they have left a jewellery legacy nonetheless—a tradition of appreciating and owning top-quality fine jewellery. Today, the new ruling elite in the country—think society doyennes, politicos and couture-clad Bollywood stars—no longer have to look far when it comes to building their own treasure chests.
The current generation of fine jewellers in India brings together traditional techniques, influences from architectural and design movements, and the rarest of stones. Visitors planning on some jewellery shopping in Mumbai may not know where to begin. Many have heard of the elusive and exclusive Viren Bhagat, who produces only 60 to 70 pieces a year and is often compared to legendary Paris-based jeweller JAR. But there are other names you should know in Mumbai, whether the object of your attention is solid 22-karat gold, classic jadau (where stones are embedded in softened gold), uncut diamonds, traditional Basra pearls from the Arabian gulf or a statement gem. For the ultimate in luxury, you can create your own bespoke commission. With the proper ornamentation, anyone can feel like royalty.
Nirav Modi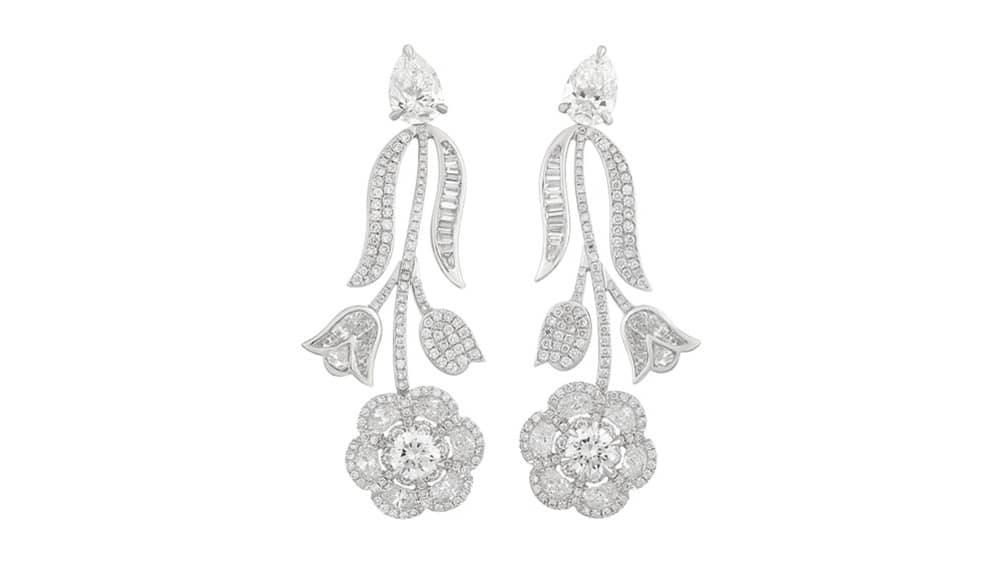 Photography courtesy Nirav Modi
Trade Point Buiding (2nd floor), Kamala Mills, Lower Parel, Mumbai, 91 22/6752-2000

Belgium-raised Nirav Modi may have come from a family of diamantaires, but for the longest time, his name was just a whisper in the most rarefied circles. Now, the designer has become a go-to for the country's elite—as well as the first Indian jeweller to have a piece featured on the cover of the Christie's catalogue. (His Golconda Necklace fetched US$3.5 million at auction.)
Besides the resplendent jewels, his atelier in Mumbai displays beautiful art—works from S.H. Raza, M.F. Husain and Francis Newton Souza line the walls. In a country of excess, Modi stands out for his clean lines and minimal use of metal. "The lustre of the diamonds should be undisturbed," he says. His patented cuts include the Endless Cut, which creates a seamless halo of diamonds, and his most recent Mughal Cut (above), recreating the floral motif of the Mughal era. Modi's Front Back earring features another hallmark of the brand—it can be worn two ways for different looks.
Heeramaneck and Son
Readymoney Building, Battery Street, Colaba, Mumbai, 91 22/2288-1794

This antiques-and-more store in a quiet by-lane of Mumbai's Colaba is one of the city's best-kept secrets. Those in the know swear by the owners' refined taste, keen eye for highly collectible silver and objets d'art, and exquisitely designed jewellery. The pieces here suggest luxury with sophisticated designs and head-turning stones. Although the business dates back to 1892, the jewellery manufacturing facility is only a few decades old. But, since the 1980s, Mehernosh Heeramaneck, grandson of the founder, and his partner Nilesh Ghatlia have been bejewelling some of the country's most bold-face names, including Twinkle Khanna, an interior designer and wife of Bollywood star Akshay Kumar, and the first family of Indian film, the Bachchans. But Heeramaneck and Ghatlia prefer to let their stones take the spotlight: "Our jewellery is often influenced by the Art Deco movement of the 1930s. But the gemstones we source are the stars."
Gem Palace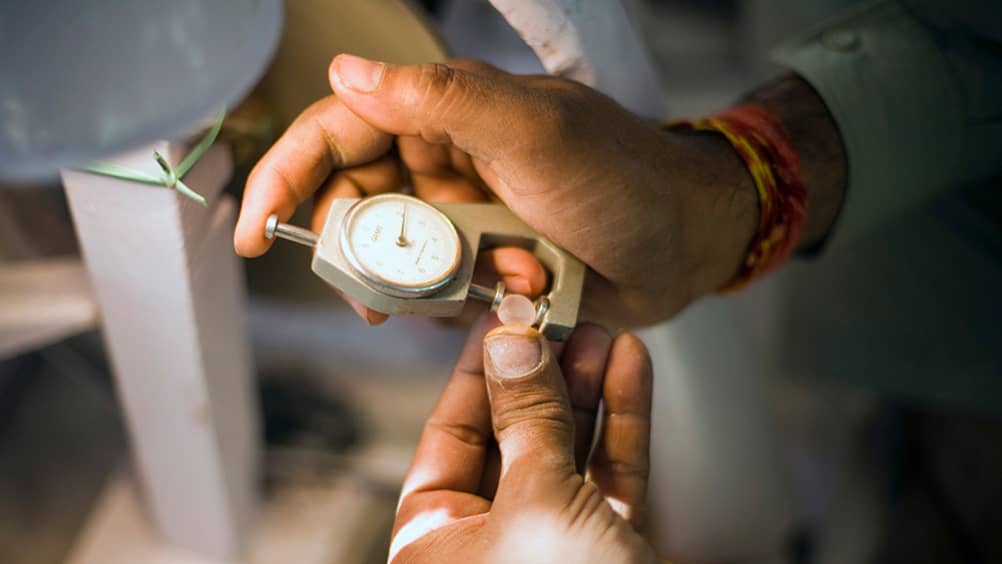 Photography Ruby / Alamy Stock Photo
The Courtyard, S.P. Centre, 41/44 Minoo Desai Marg, Colaba, Mumbai, 91 22/6638-5484

Arguably India's most famous jewellery brand, Gem Palace maintains a Jaipur haveli (mansion) that has been visited by notables from the late Princess Diana to Oprah Winfrey and Dame Judi Dench. Walk through rooms housing cabinets overflowing with magical designs for complete visual overload. If Rajasthan isn't on your travel itinerary, the smaller Mumbai store is also suitable for a bejewelled pick-me-up. Established in 1852 by the Kasliwal family, who served as the crown jewellers, Gem Palace is known for its charm and its Old World designs—pieces in the traditional Indian jadau style (uncut diamonds or stones embedded in gold, the preferred choice for most Indian weddings); enamelled meenakari work; and jali, or latticework. The designs here are inspired by Indian and Russian nobility, by nature, and by local traditions. A standout in the current Indo-Russian collection is a triple diamond pendant necklace with a round diamond chain.
Rose
Hormuz Mansion (3rd floor), 72 B. Desai Road, Breach Candy, Mumbai, 91 22/2368-5287-90

Visit Mumbai's famed Marine Drive on any given day, and chances are you will be greeted by billboards for popular jeweller Rose, which has stores in South Mumbai and New Delhi. The family-run jeweller is also known for its selection of international watch brands, but for the last 33 years, under the creative direction of Biren Vaidya, it has focused on diamonds, coloured stones and pearls, using contemporary designs to create a modern Indian sensibility. Pieces work well with both Indian wear and more global silhouettes.
"All our pieces are creatively quite different, but the highlights are the unique gemstones we acquire," Vaidya says. Two recent designs that made headlines were the Empress of Rose necklace, created around a 290-carat, pear-shaped Colombian emerald, and La Reina, a 781-carat Baroque tumbled emerald necklace. "You will be hard-pressed to find pieces one-third of the weight and quality of La Reina," Vaidya says proudly.
Shopping beyond Mumbai? Be sure to visit these gems.
Jaipur
Amrapali

In three decades, this accessible brand has moved from tribal silver to a collaboration with maverick designer Manish Arora and to regional designs that have been embraced by celebrities such as Jennifer Lopez and Sandra Bullock.
New Delhi
Bharany's

Established in 1906, this brand has gained a following for unique pieces worth handing down through generations. Previously dealing only in antique Indian pieces, today the designers create new interpretations of Mughal-inspired jewellery.
Kolkata
Raj Mahtani

This irrepressible fifth-generation jeweller admits to a fascination with the Mughal empire and describes his work as Euro-Medieval-Mughal. His aim is to transform Indian traditions into captivating, cutting-edge designs.
Hyderabad
Krishnadas & Company

The jewels of the Nizam—sovereigns who ruled here from 1713 to 1948—are considered some of the richest in the world. It's no surprise, then, that this century-old brand has an exquisite arsenal of emeralds, Basra pearls and in-depth technical skill.
Four Seasons Hotel Mumbai