A gem in the Indian Ocean, Mauritius is an island retreat where natural beauty and vibrant culture coincide in harmony, with charming colonial structures taking their place amid breathtaking mountain vistas and lush sugar cane fields.
| | |
| --- | --- |
| 9+ | Direct flights from major cities |
| 24°C | Average temperature from July to September |
| 28°C | Average temperature from October to June |
| 60 | Minutes from financial district |
Skirted by coral islets, white-sand beaches and safe crystal-blue lagoons, this ancient volcanic island has long been a dream destination for travellers.
Things to Do in Mauritius
Culture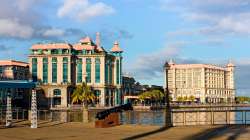 Port Louis
Discover a picturesque harbourfront, delicious dishes in Chinatown, the hustle and bustle of Central Market and panoramic views of the capital city from the citadel-like structure of Fort Adelaide.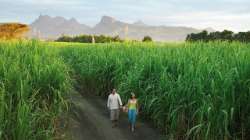 The Sugar Adventure
You know it for its delicious properties, but where does sugar cane come from and how is it grown? The Sugar Adventure is an interactive exhibition in the heart of an old mill. After your tour, sample special unrefined sugars and local rum.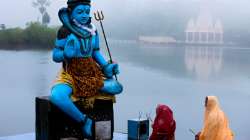 Grand Bassin
Found 1800 feet (550 metres) above sea level, this natural volcanic lake is considered one of the most sacred Hindu places in Mauritius. The lake is also home to the largest annual Hindu festival outside of India, Maha Shivaratree.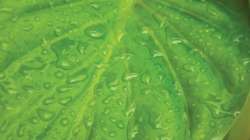 Natural History Museum
Found in the heart of Port Louis, this museum is rich in history, showcasing the flora, fauna and birds of Mauritius and the Mascarene Islands.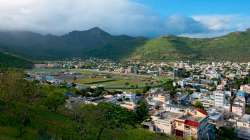 Champ de Mars
If you fancy your luck, then there is no better place to visit than Champ de Mars Racecourse, the oldest horseracing track in the southern hemisphere. A popular pastime with the locals, feel the buzz of the racetrack every Saturday or Sunday between March and December.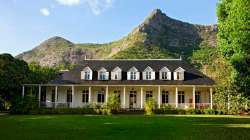 Eureka
This beautifully preserved residence offers a look back in time to the colonial era. The house is framed by a mountain skyline and its garden pathways lead down to a hidden treasure of wide, flowing waterfalls.
Aapravasi Ghat
Almost half a million indentured labourers from India arrived in Mauritius between 1834 and 1920, and the UNESCO World Heritage Site of Aapravasi Ghat pays tribute to these people, who went on to form a large portion of the island's population.
Blue Penny Museum
Home to two of the world's rarest and most valuable stamps – the Red one penny and the Blue two pence – this museum also recollects the fascinating history of Mauritius in a beautiful display of photographs, maps and historical artefacts.
Triolet Shivala
Admire the intricate design and beautiful colours of the largest Hindu temple in Mauritius, which was built in 1819 in honour of the Gods Shiva, Krishna, Vishnu, Muruga, Brahma and Ganesha.
Jummah Masjid Mosque
A visit to Jummah Masjid Mosque is a must for anyone interested in architecture. The building's construction combined Indian, Mauritian Creole and Islamic design elements for a captivating result that contributed to the mosque becoming the most important on the island.
Didus Art Gallery
The artists of Mauritius run the gamut from contemporary to traditional, abstract to realist. Make an afternoon of it and visit the Didus Art Gallery. Our Concierge can help you with arrangements.
Red Chapel at Cap Malheureux – Notre Dame Auxiliatrice Church
Situated in Cap Malheureux, a fishing village located at the Northern tip of Mauritius, the Red Chapel is a popular tourist destination and is a famous Roman Catholic Church, which overlooks the turquoise waters of Gunner's Quoin Island (Coin De Mire).
Château Labourdonnais
A privately owned Estate, Château de Labourdonnais (founded in 1774) is surrounded by beautiful orchards which offer different varieties of tropical fruits. This historical mansion was recently restored and converted into a museum that invites visitors to discover the nineteenth century lifestyle in Mauritius.
Fort Adelaide (La Citadelle)
Fort Adelaide offers a stunning view over Port Louis, the capital city of Mauritius. At 240 feet above sea level, Fort Adelaide was built by the British in a strategic location to look out for any incoming enemy vessels.
Photography Museum (Port Louis)
Take a walk through the history of photography in Mauritius. The museum has a rich collection of cameras, projectors, scripts and photos dating back as far as 1840.
Naval Museum (Mahébourg)
A visit to the Naval Museum of Mauritius is like travelling through the memory lane of Mauritius' colonial history. Situated at Mahébourg on the bank of River La Chaux, the museum exhibits objects (canons, mortars, part of hulk, bottles) retrieved from shipwrecks as well as furniture, ceramics and artefacts belonging to the East India Company.
Curious Corner of Chamarel
Located opposite the Seven Coloured Earth entrance in Chamarel village, in the centre of the island, this house is filled with a variety of astounding, optical illusions, providing great fun for all ages.
Nature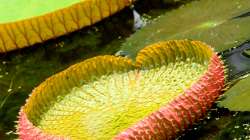 Pamplemousses Botanical Gardens
Created in 1750, the oldest botanical garden in the southern hemisphere has over 650 varieties of plants, including its famous giant Victoria amazonica water lilies.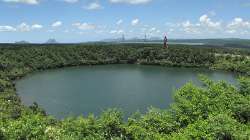 Trou aux Cerfs
Head to Trou aux Cerfs, located in the centre of Mauritius, to take in some of the best views of the island's mountain ranges and surrounding districts. Here, soak up the sights atop a crater that's 85 metres (280 feet) deep and filled by a volcanic lake.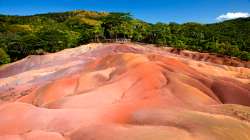 Seven Coloured Earth, Chamarel
Were the multicoloured, rolling dunes at Chamarel formed by volcanic ash cooling at different speeds or varying metal oxide presences? The unique site of these coloured mounds is the perfect place to weigh in on the mystery of their formation.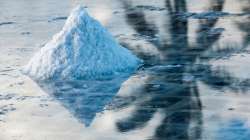 Tamarin Salt Pans
Capitalizing on Mauritius' rich supply of sea water and year-round sunny climate, the island's basalt-rock salt pans are able to produce salt in just a few days. Tamarin is at the heart of the island's production.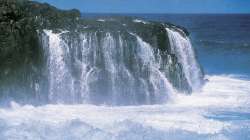 Gris Gris
What would Mauritius be like without the protection of its coral reef? Find out at Gris Gris, the island's most southern point, where unlike the calm lagoon waters found on 90% of the island's coastline, waves splash high into the air as they crash against the rocks.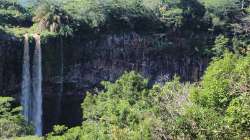 Black River Gorges National Park
Discover even more of the island's natural beauty at Black River Gorges National Park, which is home to over 300 species of flowering plants that are unique to Mauritius. Don't miss the viewing point at Alexandra Falls for a picture-perfect scene of the south coast, cut through the mountain valleys.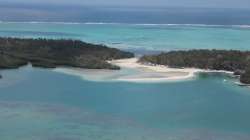 Ile aux Cerfs
Endless stretches of white-sand coves edge Le Touessrok's Bernhard Langer golf course on this island, which can be reached on the Resort's complimentary boat shuttle. It's an ideal excursion for sunbathers and golfers alike.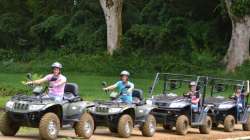 Domaine de l'Etoile
A former private hunting reserve, Domaine de l'Etoile is one of the most beautifully preserved regions in Mauritius. Wild animals and indigenous plants are found in abundance here – all you have to do is choose your preferred method of exploration: quad bike, buggy, horseback, mountain bike or your own two feet!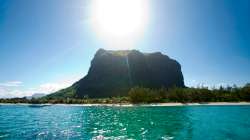 Le Morne Brabant
This iconic mountain, which is now listed as a UNESCO World Heritage Site, once offered shelter to runaway slaves. Nowadays it's popular for its distinctive outline. Le Morne's peninsula is also a favourite spot for kitesurfers.
Kestrel Valley
Offering an array of hiking trails, this location provides a rare opportunity to see the protected Mauritian kestrel, the only bird of prey in Mauritius to have been saved from extinction.
Blue Bay Marine Park
Rich blue lagoon waters hold a vibrant selection of tropical marine life at Blue Bay Marine Park, making it a perfect spot for snorkelling excursions or a glass-bottom boat outing.
Grand River South East
Take a boat trip up to the mouth of the longest river in Mauritius, which joins the lagoon waters by a picturesque waterfall that is surrounded by rich forest.
Baie du Cap - Macondé Scenic Road
Located on the south western tip of Mauritius, the Macondé Scenic Road offers spectacular views of Mauritius. The road, having a sharp U-turn, links Le Morne and Baie du Cap.
The Valley de Ferney
The Valley de Ferney is a forest and wildlife reserve situated in the Bambou mountains at the north of Mahébourg. The 200-hectare natural area provides a safe haven for a great variety of indigenous species.
Frederica Nature Reserve
Frédérica Nature Reserve is nestled in the Domaine de Bel Ombre, which is home to unique and protected fauna and flora. Its mountainous topography offers breathtaking views over vast plains with stags and impressive waterfalls.

Bras D'Eau Nature Reserve
Bras d'Eau National Park is one of the three national parks in Mauritius. Located on the north-east side of the island, it is a natural sanctuary for certain migratory birds flying away from the northern hemisphere's harsh winters. Walk the three-kilometre trail through the Bras d'Eau forest and discover the rare endemic plants and birds such as the Mascarene Paradise-flycatcher.
Rochester Falls
Rochester Falls, situated in the Savanne district, is the widest waterfall in Mauritius. It is popular for its lava cliffs that have been formed over decades of erosion that has led to the formation of rectangular blocks that have since stuck together.
Shopping
Bagatelle
This modern mall houses over 130 outlets, a cinema and a choice of restaurants. Located close to the capital of Port Louis, it's well worth combining the two locations for retail fans.

Sunset Boulevard, Grand Baie
Explore a range of chic boutiques in the very centre of Grand Baie, where you'll also find a choice of oceanfront cafés and restaurants when you want a break from shopping. Shops are open Monday through Saturday.
Grand Baie La Croisette
The largest mall in the north offers a retail mix that combines fashion, dining, entertainment and leisure attractions.
Ruisseau Creole
Ruisseau Créole, with its shopping and dining services, is nestled between mountain and sea on the west coast of Mauritius.
Le Caudan Waterfront
Le Caudan Waterfront is a commercial centre in Port Louis, the capital city of Mauritius. It includes shops, banking facilities, casinos, cinemas, restaurants, and a marina.
Culinary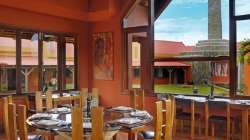 Rhumerie de Chamarel
Unlike the traditional rum produced by the distillation of molasses, Rhumerie de Chamarel rum is agricultural rum, created by distilling pure cane juice for specific aromas and flavours. Enjoy a tour of the Rhumerie followed by a rum tasting. Choose your favourite among the varieties, which include pineapple, coffee and traditional vanilla.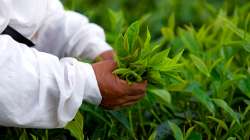 Bois Cheri Tea Plantation
Mauritius is famous for its rum, sugar cane and year-round sunshine, but did you know the island also produces tea? Bois Cheri is the island's largest tea producer. Visit their tea plantation to learn everything you ever wanted to know about tea, and then enjoy an extensive sampling.
Café des Arts
For a memorable dining experience that combines art and food, pay a visit to nearby Café des Arts, housed in an old sugar mill.