My Four Seasons
The Future of Hospitality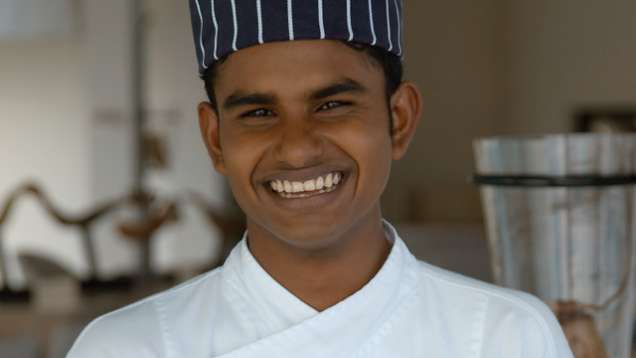 Central to the uniquely Maldivian experience at the heart of Landaa Giraavaru and Kuda Huraa is our predominantly local team. But how does one even begin to contemplate a recruitment drive across some 1,190 islands spread across 90,000 square kilometres of ocean? The answer lies in the Four Seasons Resort Maldives Apprenticeship Programme – a vocational training scheme for young and dynamic Maldivians looking to enter the hospitality industry.

Since its inception in 2001, the year-long programme has equipped more than 200 young Maldivians aged 17-21 with the skills necessary to thrive in the demanding hospitality industry. Awarded the 'President of Maldives Award for Human Resource Development in the Tourism Industry' in 2001, 2002 and 2004, it again hit headlines in 2010 when it became the country's first TVET (Technical and Vocational Education and Training) - certified Apprenticeship scheme, with a government-accredited curriculum and nationally recognised and certified competency standards and qualifications.

Apprentices are selected from a series of hundreds of one-to-one interviews held at up to twenty islands each year. The Class of 2012 – the largest single intake since the programme began in 2001 – will see 40 eager youngsters trained to become solid professionals in areas ranging from F&B Preparation to Safe Maritime Transport and many other facets of hospitality studies. The Four Seasons Resort Maldives Apprenticeship Programme is the most successful and longest running of its kind in the Indian Ocean. During its decade of operation, its reputation has grown to such a degree that virtually all Apprentices get a job upon graduation, with a level of skill that would otherwise have taken years to acquire. So next time you see one of our apprentices working hard to perfect every element of your stay, say hello to the future of hospitality.