Four Seasons chefs and mixologists rank among the best in the world – their combined 27 Michelin stars (at last count) stand as evidence of their passion and talent. But their commitment goes beyond striving to create dishes and drinks that wow with artistry and that outshine expectations. They also are dedicated to crafting a taste of place – culinary selections driven by local flavours and with deep connections to Four Seasons destinations. The result of their collective efforts: a full menu of Masterdishes worth travelling for.

Dine on a Sustainable Catch
FOUR SEASONS HOTEL GEORGE V, PARIS
EXECUTIVE CHEF CHRISTIAN LE SQUER, LE CINQ
THE MASTERDISH: SEA BASS WITH BUTTERMILK CAVIAR
Executive Chef Christian Le Squer grew up surrounded by the sea: As a child in a small fishing village on the coast of Brittany, he collected shellfish, lobsters and crabs to sell for pocket money and helped out on his uncle's fishing boat. Today, he's been recognized with the most prestigious awards in the world of gourmet cuisine, including three Michelin stars. His success has only strengthened his passion for protecting the oceans. For his Masterdish, he sources the sea bass from small-scale fishing operations, replacing it with cod during the sea bass breeding season. The fish is lightly poached in frothed buttermilk and served with caviar – a simple yet elegant reminder of the beauty of nature's bounty.

Start With Fiery Flavours
FOUR SEASONS HOTEL MEXICO CITY
HEAD BARTENDER FRANCISCO CALVO TAPIA, FIFTY MILS
THE MASTERDISH: FÉNIX COCKTAIL
The phoenix is a symbol of hope and immortality: The mythical Greek bird is reborn from fire, rising miraculously from the ashes to live again – a reminder, Head Bartender Francisco Calvo Tapia says, that each day is a fresh start as we climb out of bed. He was struck by similarities between the rising phoenix and Mexico's Day of the Dead holiday, when the dead are "reborn" to visit the land of the living during the celebration. He combined the two with showstopping effect: The sweet, citrusy Fénix cocktail is placed on a platter with lavender alcohol foam and lit on fire.

FOUR SEASONS HOTEL HONG KONG
EXECUTIVE CHEF CHAN YAN TAK, LUNG KING HEEN
THE MASTERDISH: PORK BUNS
Four Seasons Hotel Hong Kong has earned a reputation as a culinary destination; its chefs have been recognized with eight Michelin stars – the most Michelin stars to be found under one roof in the world. At the world's first Chinese restaurant to receive three Michelin stars – now for 13 consecutive years – Lung King Heen Executive Chef Yan Tak observed the generations coming to dine. "I wanted to create something that amazes everyone," he says. The result? A dim sum hybrid of barbecue in a pineapple bun (so named for its appearance) that's true to Cantonese cuisine but adds a twist: The traditionally white and fluffy steamed pork bun is replaced with the firm and crispy pineapple bun – a classic Hong Kong pastry that doesn't actually contain any fruit. The bun is baked at high heat, but the filling of char siu (barbecued pork) and pine nuts remains tender.

Savour a Twist on Tradition
FOUR SEASONS HOTEL HANGZHOU AT WEST LAKE
EXECUTIVE CHINESE CHEF WANG YONG, JIN SHA
THE MASTERDISH: SHANGHAINESE BRAISED PORK
According to legend, during the Song dynasty there was a great poet and scholar who was forced to flee to Hangzhou after criticizing the emperor in the 1000s AD. During his exile, he helped beautify West Lake, building bridges and roads. To say thank you, locals gave him gifts of pork, which he simmered for hours until it was tender. At Jin Sha, Executive Chinese Chef Wang Yong serves a Shanghainese version of the dish: The pork belly is braised with abalone in sweet soy sauce. The main difference? "Sugar is an important ingredient in Shanghainese cuisine," Yong says. "When cooked in the soy sauce and yellow wine, the fat in the pork breaks down to create a distinctive, succulent flavour and a texture that melts in your mouth."

Indulge in an Iconic Dessert
FOUR SEASONS HOTEL BANGKOK AT CHAO PHRAYA RIVER
PASTRY CHEF THAWINEE METTATHAMMAKUL, BRASSERIE PALMIER
THE MASTERDISH: BANANA AND PASSION FRUIT OMELETTE NORVEGIENNE
The omelette norvegienne was first introduced in 1867 at the Exposition Universelle, the second world's fair to be held in Paris. A pastry chef wanted to create a "scientific dessert" to explore the recently discovered low thermal conductivity of egg whites – the sweet treat's eggy meringue exterior acts as an insulator, preventing heat from melting the ice cream interior. Pastry Chef Thawinee Mettathammakul wanted to give the classic dish a Thai twist using tropical fruits and a local rum. The end result? A light, refreshing balance of sweet meringue and tart passion fruit. One traditional touch remains, however: the dish is still flambéd at the table, accompanied by diners' gasps of delight.

Sip on a Mocktail With a History
FOUR SEASONS HOTEL BAHRAIN BAY
RESIDENT MIXOLOGIST GREG MONTILLA, BAY VIEW
THE MASTERDISH: THE PEARL DYNASTY
Bahraini pearls are some of the finest in the world, renowned for their purity, brilliance and lustre. Famed French jeweller Jacques Cartier was so besotted with the gems that he frequently visited the Kingdom of Bahrain in search of the perfect specimens. Resident Mixologist Greg Montilla serves up this rich heritage in a cocktail glass: The Pearl Dynasty mocktail – an elegant blend of rice milk, lemon, pineapple, agave nectar and rosewater – is garnished with edible flowers and an oyster shell bearing a white chocolate pearl.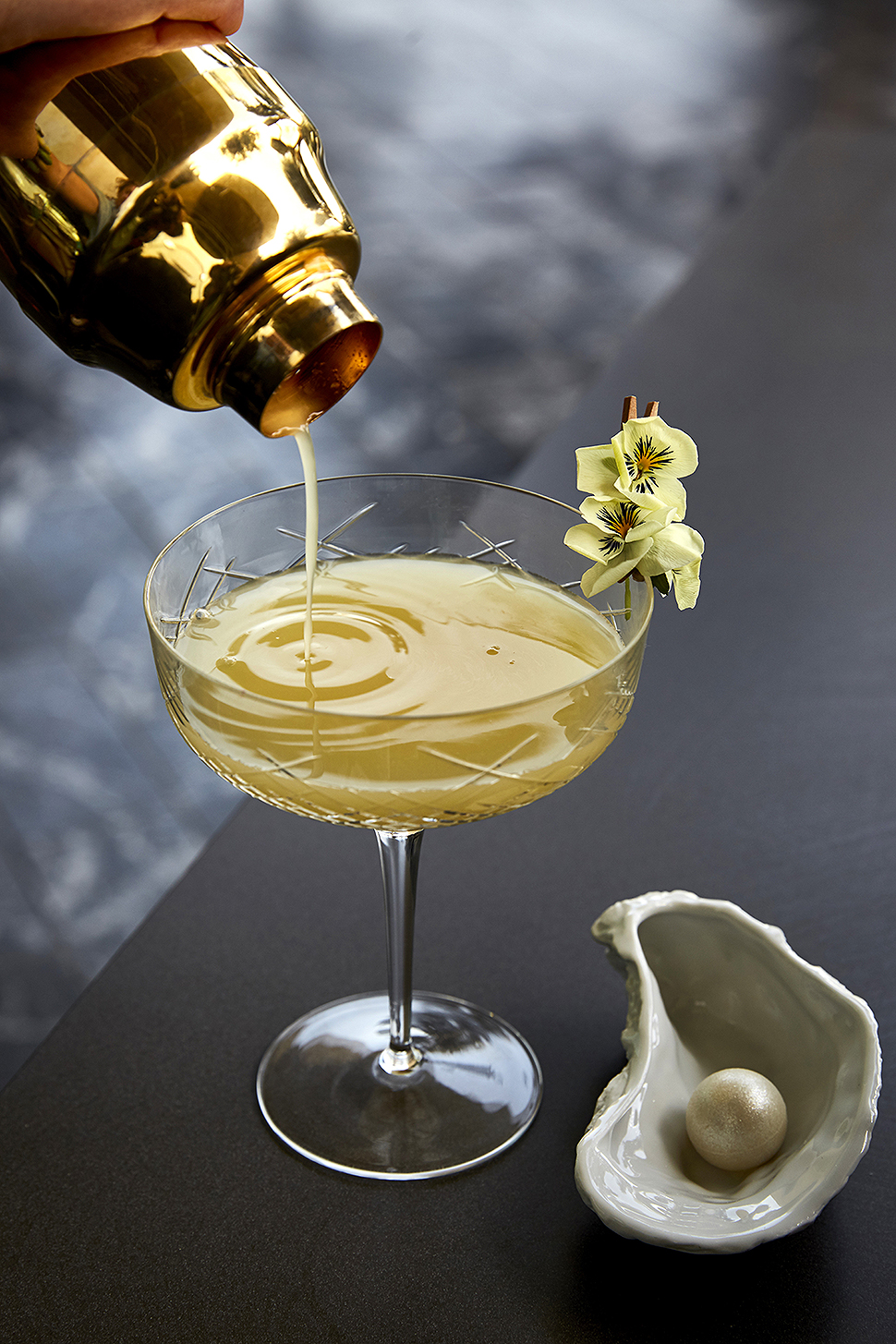 FOUR SEASONS HOTEL CHICAGO
CHEF JONATHON SAWYER, ADORN BAR & RESTAURANT
THE MASTERDISH: PEELED TOMATO TARLET
Chef Jonathon Sawyer says his Peeled Tomato Tartlet is a lot like Adorn Bar & Restaurant, the latest culinary concept at the newly reimagined Four Seasons Hotel Chicago. The tart – like Adorn – is classic yet creative, elegant yet approachable. Plus, Sawyer says, "everyone loves tomatoes." It's easy to see why: This dish looks and feels like a dessert but tastes like a savory salad. Locally grown tomatoes are charred by hand and carefully peeled, then marinated for a rich, umami flavour. Then they're layered with leeks and blue cheese in a handcrafted pastry shell for a delicate, fresh finish.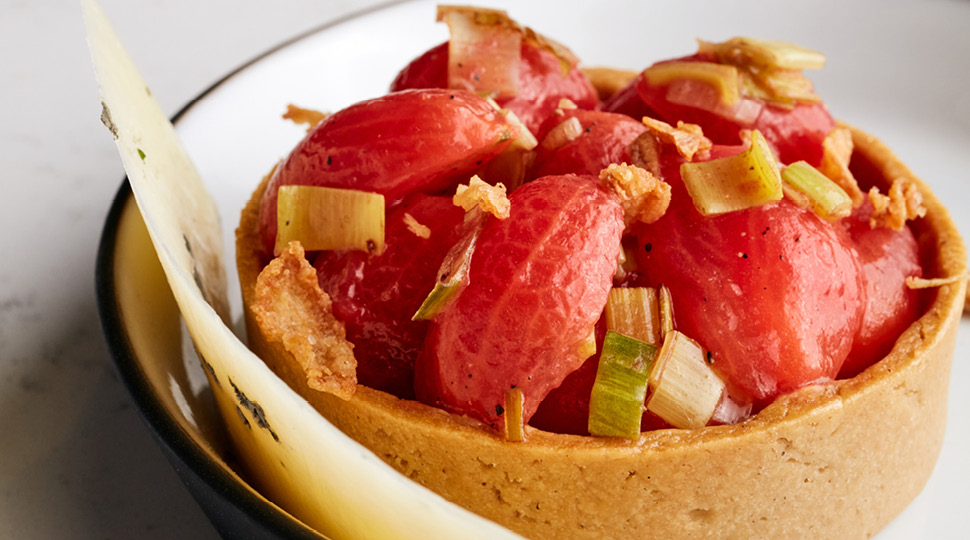 YOUR JOURNEY BEGINS HERE
Driven by taste: Where will you find your next Masterdish?