My mother is everything to me. I was born when she was 23 years old. Although we had a small support system, it was mostly just the two of us. But I never felt that I was lacking another parental figure. That's a testament to how amazing she is: Life was always an adventure.
She instilled in me a desire to chase experiences instead of objects, whether hiking in the summer, ice-skating in the winter or spending entire days daydreaming at the library.
As an adult, I've often felt that life is like pulling on a loose thread and worrying everything will unravel.
As an adult, I've often felt that life is like pulling on a loose thread and worrying everything will unravel. In the past two years, I've had the added pressure of devoting myself to work. I love my job – but working as a social media manager often goes beyond the standard nine-to-five. I feel I must be constantly answering direct messages from clients or e-mails from management.
A lot of times I feel the need to travel – it's that sense of wanderlust and being away from it all.
Rediscovering What Matters
My mindset shifted with a surprise five-night stay with my mother at Four Seasons Hotel Gresham Palace Budapest.
Upon landing, we were greeted by Drew Clarke, Director of Marketing at the Hotel, who whisked us away to a handsome VIP lounge. He made our luggage appear within minutes. I knew then that the entire journey to come would be flawless.
It was impossible not to be excited. And I soon discovered it was impossible not to stand in awe of the Hotel, a restored palace steeped in history, with its millions of mosaic tiles and intricate wrought-iron peacock gate, Páva Udvar. After settling into our room, I couldn't help feeling profoundly grateful as I looked out on the Chain Bridge along the Danube.
After settling into our room, I couldn't help feeling profoundly grateful as I looked out on the Chain Bridge along the Danube.
The next morning, at the Spa, my mother and I received Omorovicza facials using luxurious local ingredients, followed by a traditional Hungarian facial massage. The experience was a firm reminder: Self-care is necessary. The treatments gave me a stretch of uninterrupted time to take a breath and reach for thoughts and ideas that I often feel too busy to dive into.
That sense of awareness and presence permeated the trip. One night, my mother and I, along with Katalin Czeller, a tour guide introduced to us by
Four Seasons, boarded a private sunset cruise on the Danube. Watching from the water as Budapest shifted from day to night is something I'll always remember.
Instead of my phone, I held my mom's hand, intoxicated by the cool air, the grandeur of the Hungarian Parliament Building staring back at us, and the light reflecting on the water.
One of the best parts of the city is its ever-present creative buzz. Ruin bars, unused spaces converted into the city's liveliest places to drink, are perfect examples of Budapest's brilliant ability to rebuild and reinvent itself.
One afternoon, Drew took us to Szimpla Kert, an iconic ruin bar based in the Jewish Quarter of Budapest's 7th District. Twenty years after my mom told me not to vandalize anything, she handed me a pen and said I should draw on the wall. I went over to the wall – already scribbled with thousands of notes – and left a part of myself there.
Four Seasons Hotel Gresham Palace Budapest
I began to notice that my mom was somehow different, too. I'd never seen her so open and adventurous. So much happened on our trip: She relinquished control and let the chef and sommelier at the Hotel's Kollázs – Brasserie and Bar give her a blind taste test of foie gras, Tokaji sweet wines and horseradish ice cream. Drew and Katalin taught her how to greet strangers in Hungarian. At the Workshop, a bar that embodies Budapest's creativity, she drank shots of Unicum, a dark, bitter herbal liqueur that packs a punch, and relaxed with an artistic, laidback crowd.
I couldn't have asked for a better travel partner or better arrangements. I already knew that would be the case, but it really hit me one morning when we were ice-skating together, the way we did when I was a kid.
Travelling with my mom and being cared for so well by the Hotel, I was able to let go
of the incessant pressures of work and actually be present. I was doing something familiar – made even richer by being in a new place – with the person who knows me better than anyone in the world.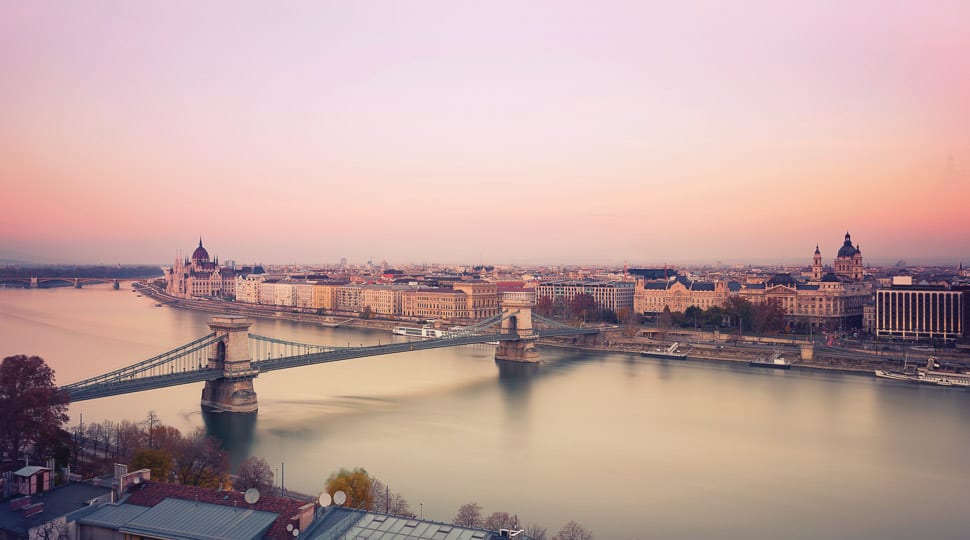 Take Your Time in Budapest
Admire Fairy-Tale Views
Immerse yourself in the beauty of the gleaming lights of Budapest's skyline while sipping a glass of sparkling wine from the comfort of your Danube River-View Room.
Take Tea at the Palace
Taste lavish cakes and savoury delights served in Herend hand-painted fine porcelain sets. Lean back in your comfortable armchair and enjoy live piano melodies under a magnificent glass cupola inside the Hotel's historic Peacock Passage.
Tour and Taste
Learn the history and secrets of the city with our expert guides, followed by a blind taste test dinner, where the chef and head sommelier at the Hotel reveal a five-to eight-course meal paired with wine tailored just for you and your loved one.
Photography courtesy Muse Storytelling, Krissy Rouse, iStock
YOUR JOURNEY BEGINS HERE
How will you take your time?