Tap or click a photo to launch slideshow
Nothing was as it seemed: Guests stepped through what looked like a refrigerator at the back of a Chinese bakery and entered the fourth Four Seasons Pop Down, headlined by Grammy and Academy Award–winning DJ Mark Ronson and catered by a who's who of the food and cocktail world. Alongside a global roster of Four Seasons talent, Four Seasons Hotel Hong Kong contributed Mixologist Lorenzo Antinori and Chef Chan Yan Tak, who served his famous cream puffs and pineapple pork buns at the first-ever Pop Down Bakery. Celebrating the end of the seventh edition of Art Basel in Hong Kong, the party doubled as an immersive culinary art experiment.
The evening was full of imagination and illusions.
Yan Tak and Antinori know a thing or two about ingenuity. Born and raised in Hong Kong, Yan Tak started cooking as a teen to help support his family. He bypassed culinary school and instead used hands-on experience to become – at Lung King Heen at Four Seasons Hong Kong – the world's first Chinese chef to earn three Michelin stars.
Four Seasons Hotel Hong Kong
Antinori originally started bartending to pay for law school. Recognizing his true calling, he left his studies in Rome and racked up accolades at some of Europe's top hotel bars before moving to Asia in 2017. Less than a year later, under his leadership, Charles H. at Four Seasons Hotel Seoul was named one of Asia's Best 50 Bars.
Here, Yan Tak and Antinori discuss finding inspiration in their own backyard – and how collaborating with other global Four Seasons artisans at the recent Pop Down inspired their own creative expressions.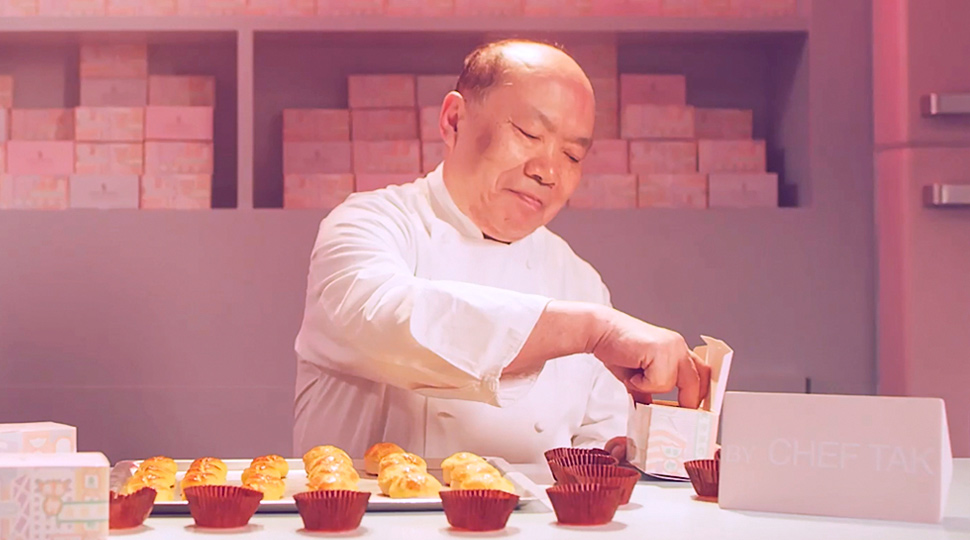 Where do you find inspiration at home in Hong Kong?
Chef Yan Tak: Humble Ju Xing Home is my go-to spot after work. There aren't a lot of places that stay open till 2:00 am, and this cosy restaurant on Portland Street, Prince Edward, has become the hang-out of many chefs due to its fresh ingredients and honest Cantonese cooking. Dishes are very authentic and full of wok hei, a complex charred aroma. Deep-fried pigeon, steamed egg with clams, and steamed prawns with garlic are my favourites on the menu. Siu Choi Wong in Kowloon is essentially a dai pai dong (open-air food stall) moved into a shopfront. Portions are big and meant to be shared, and dishes are normally fried or stir-fried. I always order the stir-fried black beans with goose intestines and deep-fried carp fish balls with clam sauce and steamed eel with black bean sauce.
Bartender Lorenzo Antinori: I love Yardbird, a modern izakaya that specializes in nose-to-tail yakitori chicken. The chicken liver mousse with milk bread and shallots is my favourite dish, and there's a great selection of sake and shochu to complement the food. If I want to treat myself, I head to Otto e Mezzo by Umberto Bombana. It's the only three Michelin star Italian restaurant outside of Italy. Start with a drink at the fantastic bar, run by top Hong Kong bartender Devender Seghal, and be sure to order the veal chop Milanese.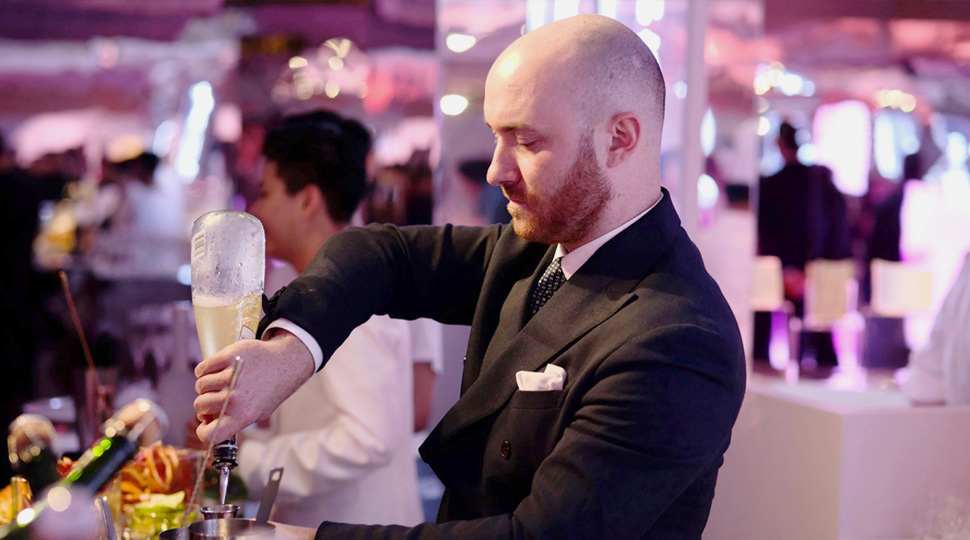 Where do you find cocktail inspiration in Hong Kong?
Bartender Lorenzo Antinori: COA specializes in agave spirits such as tequila and mezcal. Jay Kahn, the owner and bartender, is a master of hospitality and cocktails. Must-try drinks include the Paloma, a combination of blanco tequila and grapefruit soda, and the Decaf Mezcal Negroni. Stockton, a hidden whisky bar in Central, pays tribute to writer Hunter S. Thompson. Even though it's buzzy during the weekend, it still delivers great cocktails and friendly service.
Being part of the Four Seasons family allows me to constantly access inspiration from my counterparts in different parts of the world. – Chef Yan Tak
What is your creative process for developing new dishes or drinks?
Chef Yan Tak: I look to the past. Let me use my Baked Whole Abalone Puff With Diced Chicken, a signature dim sum dish, as an example. I place a whole abalone on top of a butter crusted puff stuffed with minced chicken and mushroom. The abalone has two subtle slices on it, making it easier for guests to eat with their hand. The pleasantly chewy abalone contrasts well with the crispy puff. It is a mouthful of indulgence. This dim sum is inspired by a traditional bridal cake named abalone puff, which is shaped like the luxurious shellfish but doesn't contain seafood. I use 15 whole heads of South African abalone for this dim sum, and the buttery pastry tart acts as a cradle for the diced chicken topped with the abalone.
Bartender Lorenzo Antinori: I get my inspiration from personal experiences and travels. But first, I look at the venue and the space. I like to create a connection between the space and the beverage program through storytelling.
Tap or click a photo to launch slideshow
Has collaborating with other Four Seasons makers from around the world influenced your creativity?
Chef Yan Tak: Being part of the Four Seasons family allows me to constantly access inspiration from my counterparts in different parts of the world. It's a constant source of inspiration and ideas. My slow-cooked foie gras dish with abalone sauce was adapted from the Western kitchens of Four Seasons. The slow cooking is essentially a Western technique I adapted.
Bartender Lorenzo Antinori: The Pop Down is a great opportunity to showcase our craftsmanship here in Hong Kong as well as a chance to get inspired by the work of other colleagues from around the world. It's amazing to see everyone's creativity and how Four Seasons keeps pushing the boundaries of food and beverage.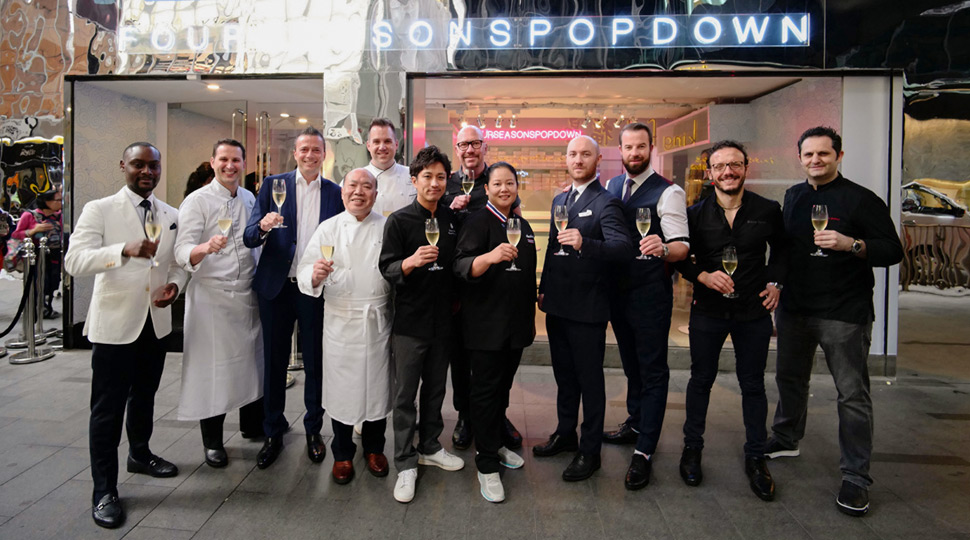 YOUR JOURNEY BEGINS HERE
What will you discover next?