Hours
Every Day

10:00 am – 9:00 pm
Favourites
Your royal retreat wouldn't be complete without The Geo Spa's award-winning couple's ritual, Raja and Ratu (King and Queen). Strengthen your emotional and romantic connection as you focus on your sacral, heart and crown chakras during this unifying ritual, followed by a traditional blessing ceremony.

Flood the body and mind with serenity. Breathing exercises instill tranquility; a rhythmic massage eases tension; and a stream of warm herbal oil on the higher third eye and crown chakras encourages complete escapism.

Details
Spa Services
Wellness Services
No matter your experience level, our private and group sessions will help calm your mind and tone your body.
Meet the Team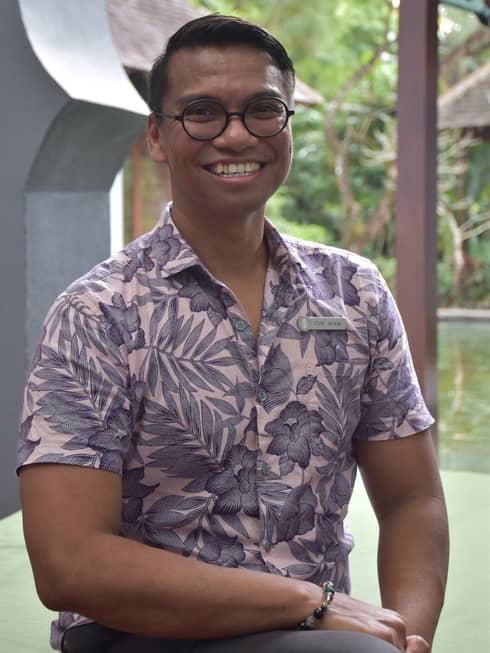 Che Wan
Spa Manager
Leading the exceptional team at the Geo Spa gives Che the opportunity to take an already superb spa facility to new heights and further develop local talent. Che views the Spa not just as a space for indulgence but also self-transformation – that spa treatments are a must for everyone, at any age.
"The more you look after yourself, the more you embrace gratitude for yourself and others."
Shereen Adlina
Resident Yogi
Shereen first discovered the healing power of yoga while battling recurrent benign tumours. The 'mental' yin to her 'physical' sporting yang, yoga balanced Shereen's approach to movement and improved her understanding of the mechanics of the body – including when to challenge and when to let go. Her interest in physiology led to studies as a nurse, personal trainer, yoga instructor and yoga therapist: a combination that has led to her current yoga style, which she describes as "a holistic approach to life and well-being."
"Yoga is a very personal journey through your mind, body and soul; an experience that builds awareness and strength – physically, mentally and emotionally."
Reconnect with yourself and the world around you with the help of this custom, three-part program comprised of a personal Elemental Balance diagnosis, a specialized body treatment and an energetically balanced meal.

Upacara Senja, an Evening Ritual

Join our evening ritual at the Geo Spa with our resident yogi to restore your energy and reclaim your inner soul with vibrations of the earth.