Get to know the incredible variety of natural wonders of Southeast Asia's first UNESCO Geopark through interactive presentations and displays, then join our passionate naturalists for an opportunity to explore these wonders first-hand and embark on your own geopark adventure.
Resort Highlights
Through a series of exhibition boards, interactive presentations and displays, find out about the region's oldest and most spectacular rock formations alongside habitats as diverse as rainforests, mangroves, towering sea stacks and ancient saltwater lakes – as well as the flora and fauna that call our on-site Discovery Centre home.

Bask in the natural beauty just steps from your accommodation – exotic plants and tropical visitors, including hornbills and monitor lizards – on a guided walking tour.

Mondays, Wednesdays and Fridays at 3:00 pm

Dive deep to learn the secrets of the mangroves, and listen to fascinating stories of our resident monkey and Langkawi's namesake sea eagles,
Land, Sea and Sky
Sky Bridge and Langkawi Cable Car

If braving the world's steepest cable isn't enough, wait until you see the Sky Bridge that awaits at the top: a 125-metre (410-foot) cable-stayed spectacular that's suspended 660 metres (2,170 feet) above sea level.

From the 14 cascading tiers of Durian Perangin to Seven Wells – the mythical bathing place of Langkawi's fairies – there's something truly magical about swimming in one of nature's pools. Add a picnic for lunch that's straight out of a fairytale.

Cruise past craggy sea stacks, descend stairs into the mystical lake of the Pregnant Maiden, visit the bustling harbour town of Kuah, and enjoy a private-beach, picnic lunch.

Home to approximately 200 species of birds, Langkawi is an ornithologist's haven. Gunung Raya is a great place to start. Its thickly forested peak twitters with birds, from tiny flowerpeckers to the 1.3-metre- (4.3-foot-) long great hornbill.

While exploring the island, see if you can spot a dusky leaf monkey, one of two monkeys that can be found on Langkawi. Their wide-eyed expressions make them a guest favourite.
On-Site Amenities
Expert Naturalists
Professional archery range
Water sports
Picnic Lunches
Land Adventures
Adventure Rainforest Tracking

Langkawi is blessed with an abundance of trees that are growing on ancient rock and soil. This trekking along the fringe of Seven Well waterfall located at Cambrian rainforest of Gunung Mat Chincang. The nature of the ground within the canopy is usually quite rough and can be slippery, but our guides are able to customize the activity based on your fitness level.

Fully covered clothing and usage of insect repellents are highly recommended

Rainforest Appreciation Walk

Admire the inner workings of Gunung Raya's rainforest ecosystem from deep within. This naturalist-led tour features plenty of exotic birdwatching opportunities.

Rock Climbing

Scale our 12-metre (40-foot) limestone outcrop, walk the cliff, then abseil back down. This adventure features four different levels, experienced staff and miniversions for explorers as young as age 5.

Archery

A forest setting, full-sized target boards and recurved longbows – hold, aim and shoot. Our onsite professional archery range is open to guests ages 12 and above.

Bicycle Tours

Discover Langkawi's bucolic inland beauty on a cycle ride into the past: stilted wooden houses, traditional villages, mud-soaked water buffalo and lush paddy fields.
Sea Adventures
Mangroves Kayak

Don't miss this guided kayak of a fascinating ecosystem. Traverse small, dense tributaries. Follow nature's ebb and flow. Discover wonders around every turn.

Bay Cruise

The three islands in our bay are home to reef fish, wild beaches and fruit bats with a metre-wide wingspan.
Meet the Adventures Team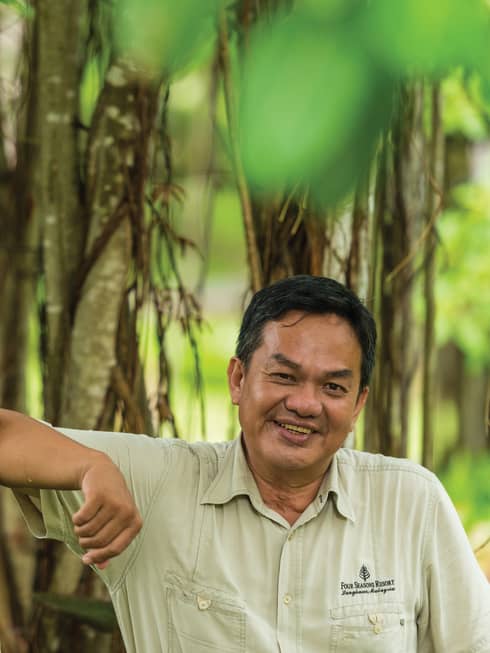 Aidi Abdullah
Senior Naturalist
An avid reader and keen photographer, Aidi has always delighted in exploring the natural world through books and his camera lens. During his years as a pilot, he undertook aerial surveys that took him deep into the jungle and out to sea – experiences that further strengthened his connection with the natural environment. Here at the Resort, Aidi leads garden walks and mangrove tours, helps Four Seasons reduce its carbon footprint and shares easy ways to help protect the world we live in.
"When it comes to nature, you are really investing in the future."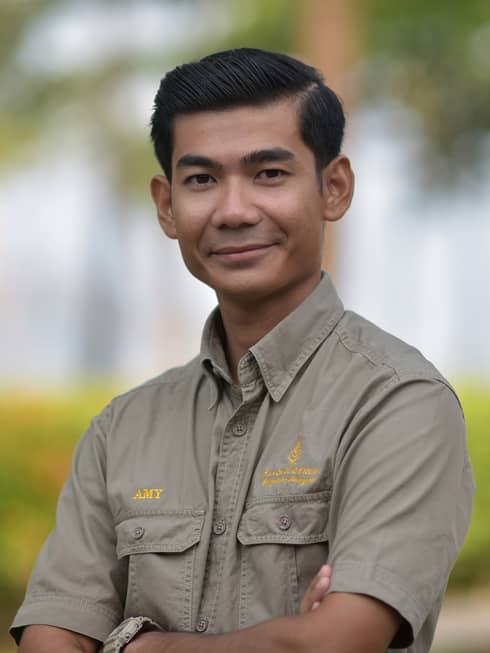 Muhammad Suhaimi Bin Rosli
Resident Naturalist
Suhaimi (popularly known as Amy) credits his daily nature walk for keeping him calm and inspired – even during tough times. Every morning, he spends a quiet hour on the beach or in the forest, enjoying the gentle awakening of the natural world and listening to its timeless messages. Amy loves to share this sense of tranquillity and joy with guests, especially in the breathtaking Geopark. In his downtime, he can be found playing his guitar or giving haircuts (he is also an accomplished barber!).
"Nature speaks to us, if only we take the time to listen."