Riverside Grandeur
Discover the Old World elegance and romance of two European capital cities – just a day trip apart – through architecture, culture and artistic heritage. We curate your journeys to unveil hidden gems and untold stories. Visit enchanting castles, listen to local music and experience centuries-old traditions.
On Your Way
Let us organize an exclusive tour of Jaroslav Springer Winery, known for its outstanding Pinot Noir. Enjoy a private tasting and delightful bites made with local ingredients.

2 hours 37 minutes from Prague / 3 hours from Budapest

Visit this pioneering prototype of modern architecture, and let our concierge team arrange a tour of the villa and garden of this UNESCO World Heritage Site.

2 hours 16 minutes from Prague / 3 hours 25 minutes from Budapest

Step into the abyss at Macocha Gorge, a sinkhole in the Czech Republic's Moravian Karst cave system. Witness a geological marvel and add something unexpected to your day.

2 hours 49 minutes from Prague / 3 hours 53 minutes from Budapest

The Concierge at Four Seasons Hotel Gresham Palace Budapest can arrange a private tour of the archabbey, winery and botanical herb garden at Pannonhalma, Hungary's oldest abbey and a UNESCO World Heritage Site.

4 hours 22 minutes from Prague / 1 hour 26 minutes from Budapest
We recommend stopping by the archabbey's amazing Viator restaurant for a fuelling lunch before continuing on your day trip.

Peter Buday

Chef Concierge, Four Seasons Hotel Gresham Palace Budapest
Learn More About Prague From Our Team
Local Gems That Can't Be Missed

Insiders from Four Seasons Hotel Prague share their favourite spots to eat, drink and play around the Hotel.

Read More

It's not the things you take with you that define your journey; it's the experiences you have and the memories you bring home. Explore our Guest Experience Manager's five sensory "souvenirs."

Read More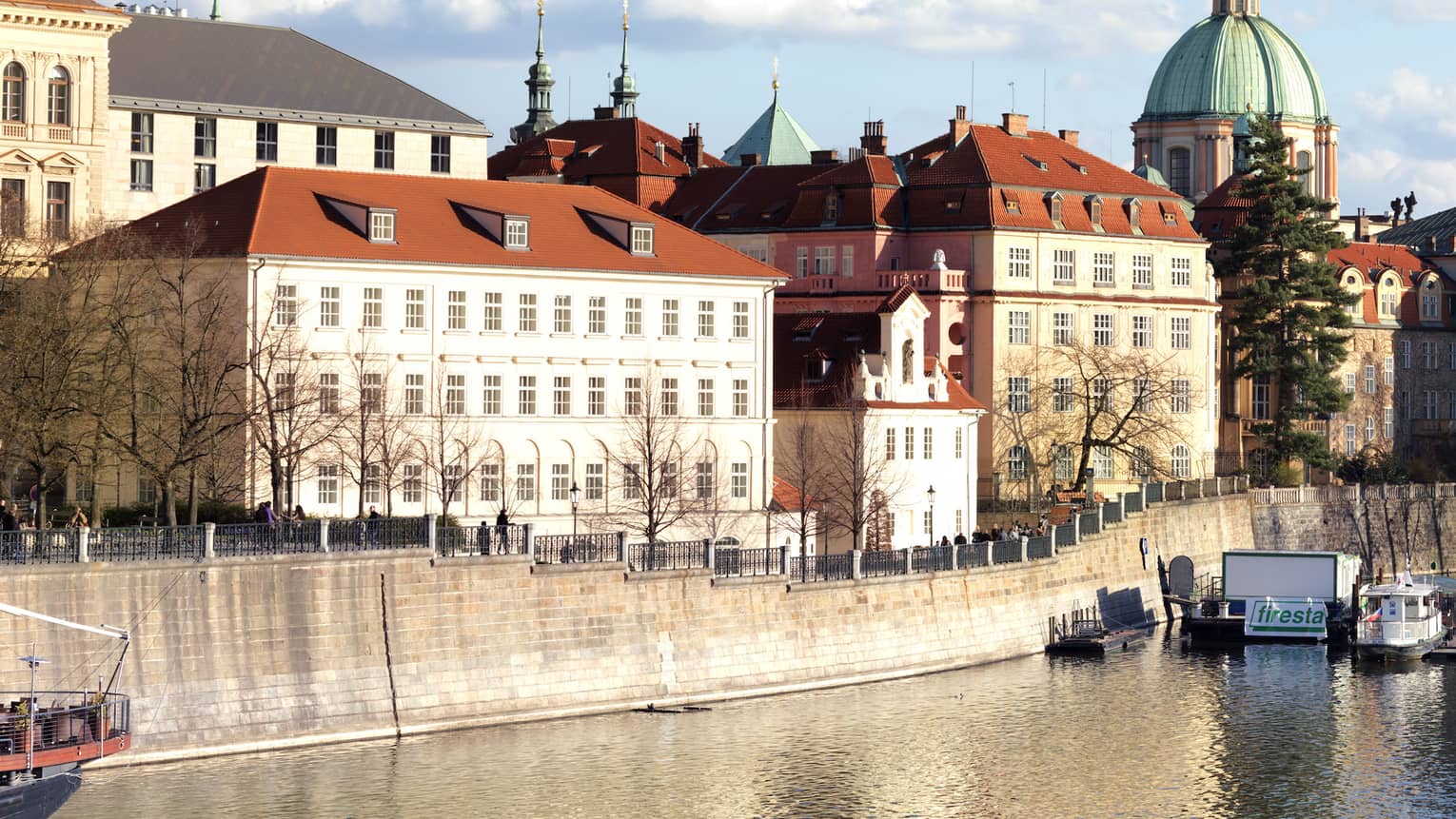 Four Seasons Hotel Prague
There's a certain magic in the air around Old Town Square, Charles Bridge, the Vltava and the tallest spires of Prague Castle – and that's just what you can see from our Hotel. When you stay with us, you open the door to a vibrant and unexpected experience that mirrors the city itself.
Valid for Selected Dates Between

Dec 8 2023 – Nov 30 2024




Offers are subject to availability at time of booking. Blackout dates and other restrictions may apply.

minimum stay:

2 nights
more details
Take on the Budapest Bucket List

Watch our Chef Concierge's Budapest bucket list come to life, then let him help plan your adventures.

Discover the city at sunset by speedboat

Infusing Eastern mystique and Old World elegance, Budapest is a city that has long inspired artists and travellers alike with its beauty, architecture and vibrant cultural life. Travel along the Danube at sunset as the city of lights comes to life. On your private Venetian-style speedboat, a glass of sparkling wine in hand, take in UNESCO World Heritage sites. The excursion ends with a "James Bond moment" as the boat suddenly picks up speed.

Watch video

Tour and Taste at a Royal Palace

Visit the former royal residence of Elisabeth, Empress of Austria and Queen of Hungary, just 30 minutes from Budapest. Let our expert guide take you on a fabulous tour of Hungarian history, finished in style with a slice of Sachertorte, Austria's signature cake.

Spend a Day on Lake Balaton

Set sail on your private Bavaria 33 Sailing Boat on Lake Balaton, the "Hungarian sea," only a 1.5-hour drive from Budapest. The picturesque shoreline has public and private beaches, underwater cave galleries, volcanic hills and ancient fortresses – and endless spots to enjoy a bespoke picnic.

Listen Live and Taste Traditional

At KOLLÁZS – Brasserie & Bar, we offer the quintessential Hungarian menu based on the chef's grandmother's recipes. Join us for a leisurely dining experience or at the bar for a live DJ or band performance while you enjoy a handcrafted cocktail. A variety of local artists bringing the best of Budapest with upbeat, fresh sounds are always on the menu.

Watch video

Picnic in Hungarian wine country

Just 29 kilometres (18 miles) outside the city is Etyek, a village whose surrounding region produces some of the country's finest wines. Tour the countryside and savour exquisite local varietals, then enjoy a private picnic in the lush setting while you soak up the sun. For a sensory souvenir, be sure to take home a bottle of Etyeki Kúria Pinot Noir Selection 2017 – recommended highly by our Head Sommelier Gabor Becker.

Immerse yourself in Art and Design

Spend an afternoon discovering charming antique stores and art galleries in Budapest's art gallery district on Falk Miksa Street. Assisted by your engaging guide, discover hidden gems and shops, where you'll find everything from Hungarian glassware and furniture to home décor and jewellery. Or visit the contemporary Art Factory where you can witness local artists in action and enjoy private studio tours.
Learn More About Budapest From Our Team
Unpacking List – Highlights From the Budapest Bucket List

Our Chef Concierge at Four Seasons Gresham Palace Budapest has crafted eight unforgettable experiences, making it easy to access some of the city's rarest, most inspirational opportunities. Go beyond the ordinary and see everything from a different perspective as you check off every item on your Budapest bucket list.

Read More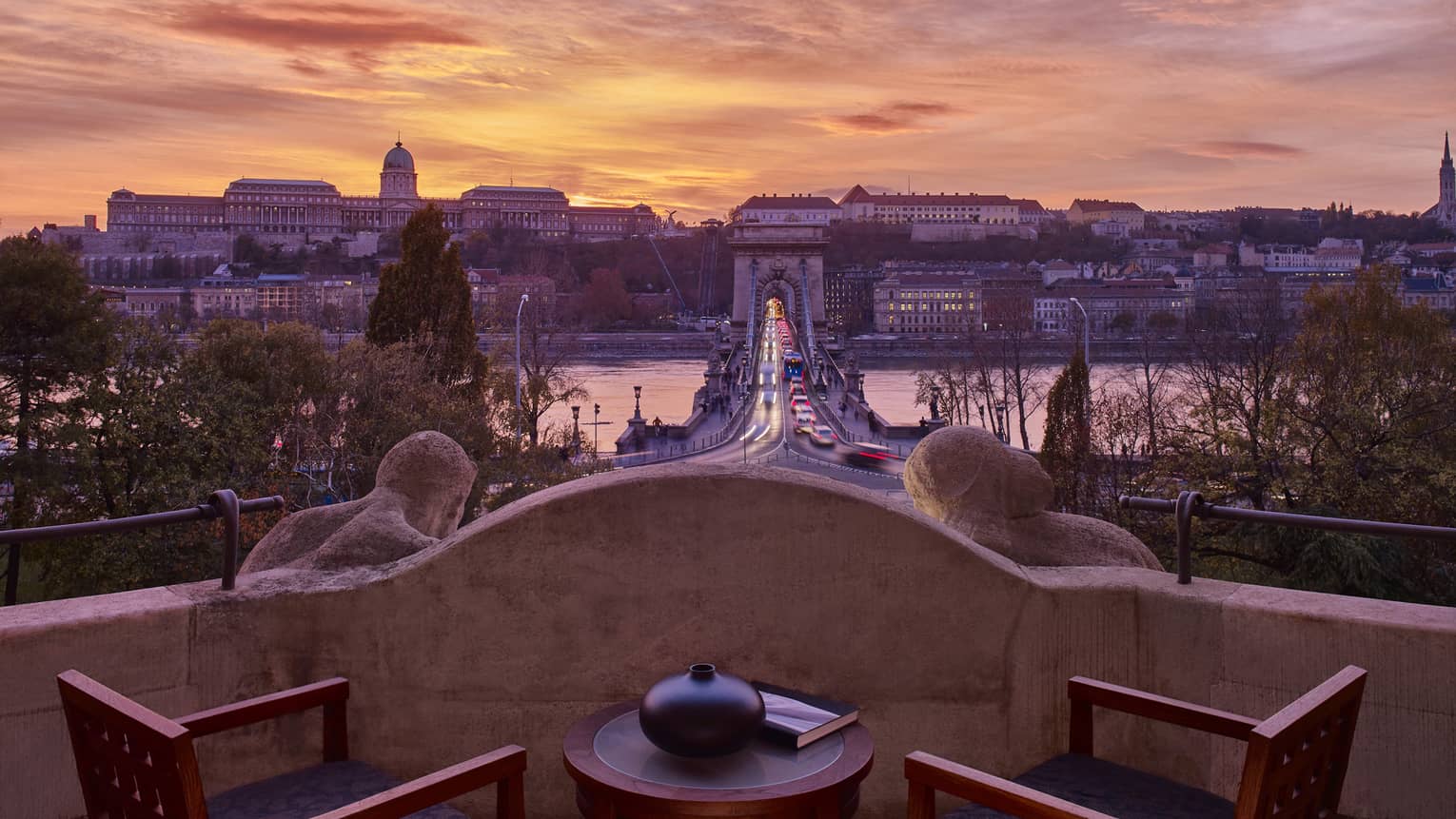 Four Seasons Hotel Gresham Palace Budapest
A landmark on one of Europe's most scenic rivers, our Hotel is an art nouveau masterpiece in the heart of the city's vibrant gastronomic district. Offering panoramic vistas of the Royal Castle, Buda Hills and majestic Chain Bridge, the beautiful Gresham Palace is the only Forbes Five-Star hotel in Budapest.
Tour a Fairy-Tale Chateau
Venture to the small village of Lednice, famous for its chateau surrounded by extensive parklands. Tour the original 12th-century chateau's interior, rebuilt to its romantic neo-Gothic style in the beautiful winery region, and explore the gardens – a perfect opportunity to stretch your legs after the drive. Our culinary team will be happy to pack a picnic for you and your loved ones to enjoy on the castle grounds. In the summer, take a boat cruise along the River Dyje or a carriage ride through the village.

2 hours 40 minutes from Prague / 3 hours from Budapest
Inspiration From Fellow Travellers
@vikjellgren

@christineswanderings
Ready to take the scenic route?
Reserve your stay at Four Seasons and start planning your road trip today.