Under the high ceilings of our contemporary lobby lounge, meet friends or colleagues for coffee or mocktails.
HOURS
Dinner Service Only

6:00 pm – 12:00 midnight
Signature Dishes
Made with high quality French Valrhona chocolate and served with a handmade hazelnut truffle.

Milk-chocolate shell with salty toffee ganache

White-chocolate shell with a white-chocolate ganache coated with icing sugar

White chocolate shell with rose ganache and dry rose petals

Gold-covered dark chocolate shell with Turkish coffee ganache and gold sheet

Hazelnut anhydrous filling, coated with roasted almonds and milk chocolate

Star Anise and Hazelnut Truffle

Milk chocolate shell with star anise and milk chocolate ganache coated with roasted hazelnut

Milk chocolate shell with milk chocolate ganache

Dark chocolate shell with Manjari dark chocolate ganache
Highlights
In a city with a sweet tooth, our Executive Pastry Chef Gregory Chrismant invites guests to experience an exclusively handcrafted selection of chocolate pralines at the Al Soor Lounge.
Meet the Team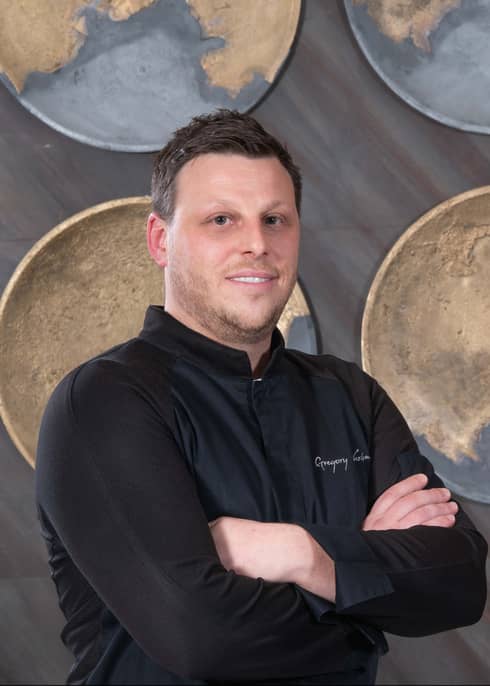 Gregory Chrismant
Executive Pastry Chef
Chef Gregory Chrismant's pastry experience is the result of journey with humble beginnings. At the age of ten, as a native of a small village in the south of France, he knew that he wanted to be a pastry chef and got all the encouragement he needed in his grandmother's kitchen. With a broad smile that illustrates a natural character of positivity and happiness – and seems to grow in the kitchen – Chef Gregory always to put a few drops of love into everything he makes.
"The greatest lesson I got as a pâtissier didn't come from the classroom. It was from my grandmother, who taught me the importance of putting love into what you are doing."
Karen Nunez
Assistant Manager
Heartfelt hospitality comes naturally to Assistant Manager Karen Nunez, the warm and friendly face of Al Soor, the Hotel's contemporary lounge. Hailing from Costa Rica – known as one of the happiest countries in the world – Karen radiates positivity, summed up in her homeland's phrase pura vida, a reference to living a simple and wonderful life.