Share wood-fired pizzas, homemade pasta and espresso with friends or colleagues at our intimate, indoor-outdoor Italian restaurant, located on the top floor.
HOURS
Dinner Service Only

6:00 pm – 11:00 pm
Signature Dishes
Burrata with Tomato-Watermelon Gazpacho, Green Leaves, Balsamic Pearls and Traditional Tarallo

Ricotta, Mushrooms, Truffle Sauce, Spinach

Grilled Octopus, Yellow Tomato Coulis, Bread Croutons, Potato Foam

Acquarello Rice, Butter Emulsion, Lobster Bisque, Glazed Canadian Lobster

Lady Finger Cookies soaked in Coffee, Coffee Cremeux, Mascarpone Mousse, Coffee Jelly, Shredded Chocolate

Mozzarella Fior di Latte, Gorgonzola, Spinach, Fig, Almond Slices

Handmade Veal Agnolotti, Own Jus, Chanterelle Mushrooms, Cheese Fondue, Hazelnuts
Highlights
Folia, meaning "from the leaves," is offering healthy menu options at Sintoho and Dai Forni. On a mission to carry the vibrancy of flavour profile and presentation to the plate using plant-based ingredients, all menu items are inspired by the local flavours of the region.
Meet the Team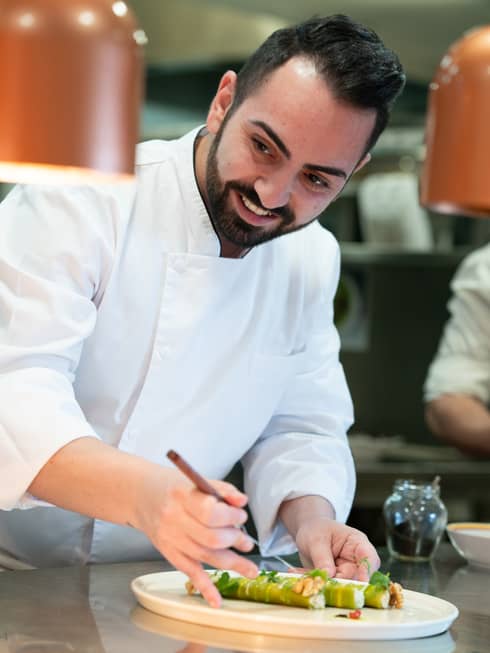 Chef Luigi Frassanito
Having spent the last decade developing his skillset to secure a coveted Four Seasons role, Chef Luigi's warmth and creativity have found a home in the casual elegance and upbeat vibes of Dai Forni at Four Seasons Hotel Kuwait. Here, beneath the copper-sheathed wood-burning ovens, classic Italian comfort foods find heightened levels of taste thanks to "secret cucina libera" ingredients, which feature Asian elements infused into authentic Italian dishes to create a rich and unique flavour.
"Working outside of Italy, my responsibility is to convey the authenticity of the cuisine without compromising the style of the local chefs and people."