Florence is a rhapsody of history, beauty and emotion. Our experts at Four Seasons Hotel Firenze have personally crafted a collection of four timeless experiences – making it easy to access some of the city's rarest, most thrilling opportunities. Book our three-day package and choose one of these experiences to embellish your stay. We'll help you go beyond the ordinary and see everything from a different perspective.
EXPERIENCES
FLOAT ABOVE FLORENCE IN A HOT-AIR BALLOON
PAUL LYDKA, HEAD CONCIERGE
Take off from the private park at the heart of our Hotel and, as the morning breeze gently catches the balloon, float south above the Duomo cathedral, the Piazza della Signoria and the Ponte Vecchio. Land in the Tuscan countryside where a picnic awaits your arrival.
"I wanted our guests to see Florence from a whole new angle: above! Our Hotel is the only place in the central city where a balloon can take off. You fly so close to the roof of the Duomo, it's as if you can touch it. It's truly a breathtaking experience."
ENJOY A PRIVATE DINNER ON THE PONTE VECCHIO
VITO MOLLICA, EXECUTIVE CHEF
On one of the world's most iconic bridges, dine on the only open-air terrace above the Arno River, enjoying a four-course meal designed by Michelin-starred chef Vito Mollica.
"I knew I had to create a menu that would live up to this beautiful setting and enhance the emotions of the moment. The meal features the most sophisticated Tuscan cuisine, and to honour the jewellery shop downstairs, I've added an unexpected ingredient: gold."
DRIVE A VINTAGE CAR THROUGH TUSCANY
DANIELA TROVATO, HOTEL MANAGER
Connect with the timeless Tuscan countryside, driving a classic European sports car. Choose your favourite – whether a 1960 Giulietta Spider, a 1958 Mercedes-Benz 190 SL Cabrio or a 1956 Porsche 356A Speedster – and find it waiting upon your arrival.
"I've always adored classic cars, and I knew our guests would love exploring Tuscany in a vintage Ferrari or Alpha Romeo. Each car has a personality all its own, and it makes the journey even more exciting. I suggest driving to San Gimignano, stopping at wineries along the way."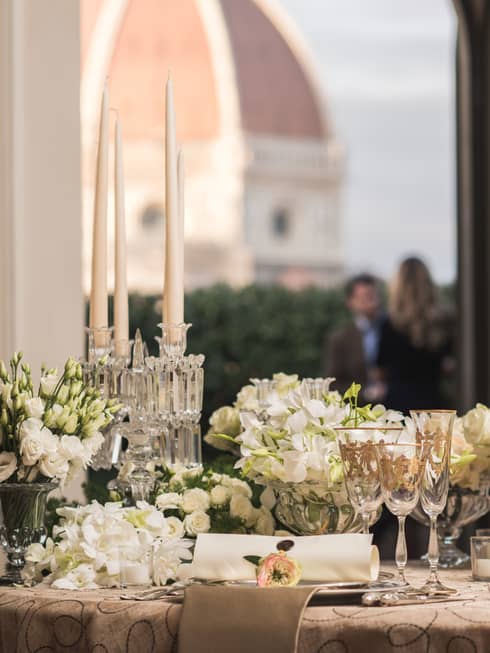 HAVE DINNER WITH THE DUOMO IN A NOBLE BUILDING
Patrizio Cipollini, General Manager
Spend an evening in a Noble Palazzo dating from the 15th century. The venue, kept secret for the family owners' privacy, is said to be where Leonardo da Vinci painted his most famous piece of art: the Mona Lisa. Dine with a view of the Duomo so spectacular that it seems to have invited itself to the table.
"I'm passionate about the history of Florence, and I love that our guests can have this first-hand experience of history. It's a thrill to dine so close to the Duomo. My favourite part of the building is the penthouse terrace, with its 360° view of the centre of Florence, from Piazza della Signoria to Ponte Vecchio."
CRUISE THE ARNO RIVER IN A HISTORIC RENAIOLI BOAT
Float along this legendary river, viewing famous landmarks along the way while relaxing aboard a luxuriously restored 150-year-old Renaioli boat, originally used to collect sand to build the palazzi of Florence. A real Renaiolo is your guide, ready to answer all of your questions.
Florence Rhapsody
Access some of the city's rarest, most thrilling opportunities on your stay of three or more nights.
offer valid for:

Nov 18 2019 – Dec 31 2020

minimum stay:

3 nights

maximum stay:

6 nights

Reservation must be made at least 7 days in advance
included
Daily breakfast for two
Choice of one of the following experiences: Hot-Air Balloon Ride; Ponte Vecchio Dinner; Secret Dinner; or Vintage Car Tour
With stays taking place between May and September, subject to weather conditions: A Renaioli boat cruise on the Arno River
more details