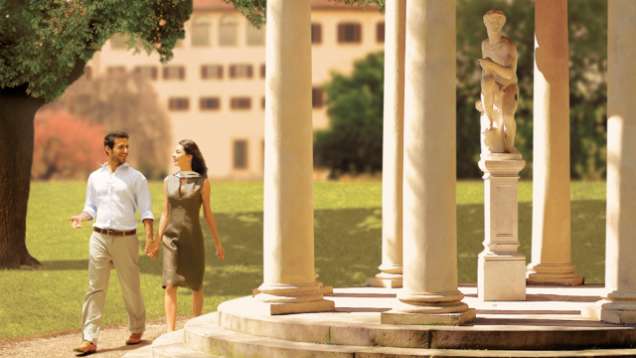 Your first memories of a new life together start now. Arrange a private dinner in the garden or balloon over the countryside. We'll do everything we can to make your time in Florence unforgettable.
Spa Suite for Two

Our Concierge will be happy to arrange a day in our Spa Suite. Ideal for couples, this luxurious suite is nestled among the secluded trees of Giardino della Gheradesca. Enjoy a soothing combination of face, body and massage treatments, just for the two of you.
Altana Terrace

The private terrace Altana is the scene of many dreamy dinners for two. In an intimate setting with 360 degree views of Florence, touch the Duomo's dome with your fingertips. Often the private dinners on the Altana terrace are a surprise for someone special. Your private butler collects your partner with a simple "follow me," which is often followed by a "where are we going?" Available only during the summer months, sunset over Florence awaits, with champagne, flowers, candles and canapes as marriage proposals, wedding anniversaries and exceptional birthday dinners are celebrated in a magical, unforgettable evening for two.
The Faggio Pendolo

Wrapped in the shade of a thousand sweeping branches, the Faggio Pendulo or Weeping Beech, is a dining area like no other. Completely invisible to passers-by, up to twenty-four people can dine unseen within the shade of this one-hundred-and-seventy year old tree. With the addition of hundreds of tea candles the atmosphere inside the Faggio Pendulo tree has a dreamlike, magical quality. This enchanting open air setting - cool, green and fresh - is offered for summer events of any kind.
Lobby Chapel

Built with special permission by the Archbishop of Florence in 1475, this little sanctuary was the first chapel built within a private Florentine home. Surrounded by angel frescoes from the fifteenth century - cherubs, clouds and mother-of-pearl - this sweet dome ceilinged room is one of the loveliest corners of Florence. For a refined, yet cosy event for up to ten people, the chapel is a wonderful place for symbolic ceremonies such as vow renewals, intimate dinners or a small wedding.
The Ponte Vecchio

There is no view or location like it in the world and only the Four Seasons can make it happen. A secluded dinner for two on an exclusive Ponte Vecchio balcony overlooking the Arno River as the sun sets - it's the quintessential Florentine vista, made entirely yours for an evening. Attended by your own butlers and a four course Michelin star menu, the Ponte Vecchio dinner retreat is one of the world's most famous 'wonder ideas' of beautiful travel. Dinner on the Ponte Vecchio is a lifetime experience and an incomparably superb indulgence. Only available to The Four Seasons during the warmer months of summer, enjoy this utterly Tuscan moment with your own private violinist.