Impress your guests with innovative Four Seasons cuisine and only-in-Florence dining experiences. Our chefs work with you to customize authentic menus, and all of our dining outlets can be privatized. From a Renaissance-themed dinner to dining under the stars, infuse your meeting or event with true Tuscan flavour.
EVERYTHING YOU NEED
UNFORGETTABLE GROUP DINING

Invite your guests to experience another era with a Renaissance-themed dinner in which groups don costumes of the time and dine on a Tuscan feast. The evening is complete with court jesters and medieval musicians. Or gather for an afternoon welcome reception at the Seven Virtues temple, followed by dinner served in an open marquee under the stars. We offer truly unique dining experiences for groups large and small.

From big ballrooms with frescoes to more intimate meeting rooms featuring direct access to the garden or a private terrace, each of our meeting spaces can transform into an elegant venue for cocktail receptions or private dining. Additionally, all of our on-site restaurants can be privatized for groups.

DETAILS

Let us cater a traditional Tuscan meal in a private nearby castle or a medieval feast at Corridoio Vasariano, which connects to the Uffizi Gallery where guests can marvel at an extensive collection by masters from the 16th to 20th centuries.

Your guests enjoy a variety of dining options when staying at Four Seasons. They can sip on cocktails at the Al Fresco and Pool Tree Bar or savour Asian specialities and signature cocktails at La Magnolia Bar and Restaurant. Il Palagio invites guests to experience Michelin-starred Tuscan cuisine coupled with exceptional Italian wines, while the Atrium Bar offers a perfect lounge atmosphere.

Details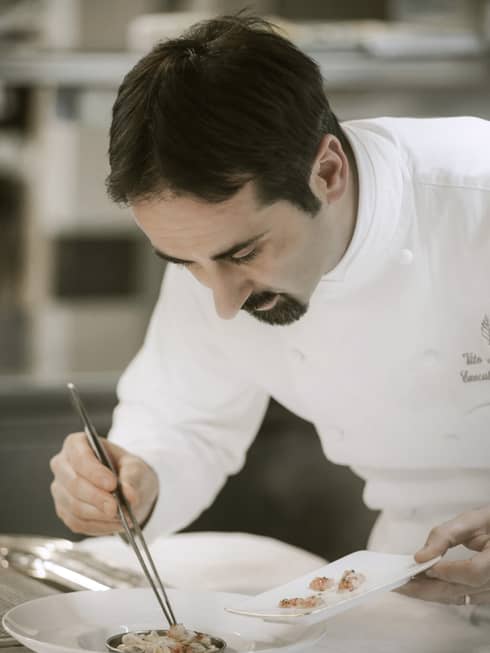 Vito Mollica
Executive Chef and Director of Food & Beverage
Chef Vito Mollica is a staunch advocate of Italian food. Inspired as a young boy by the local specialities prepared by his mother, he has spent his career seeking to preserve the culinary ecology of his home nation by supporting small producers, old-style markets and local varieties.
"We love showcasing our tradition through exciting group experiences, inviting local suppliers to prepare their traditional food in front of the guests. My favourite is the Italian market, with mozzarella cheese and pizza making."