To appreciate Florence's true beauty is to understand its history. The features that have become iconic to this destination—the breathtaking frescos, statues with lifelike detail, crenellated towers and red-tiled roofs—were created by some of the city's original artisans. Today, the individuals sustaining these creative traditions are also helping to define the Renaissance-era city. To fully embrace Florence's rich and enduring artisanal legacy, we recommend fuelling up with a double espresso and a cosy breakfast at Il Palagio or La Magnolia at Four Seasons Hotel Firenze before embarking on a walking tour of these select landmarks within the historic city centre.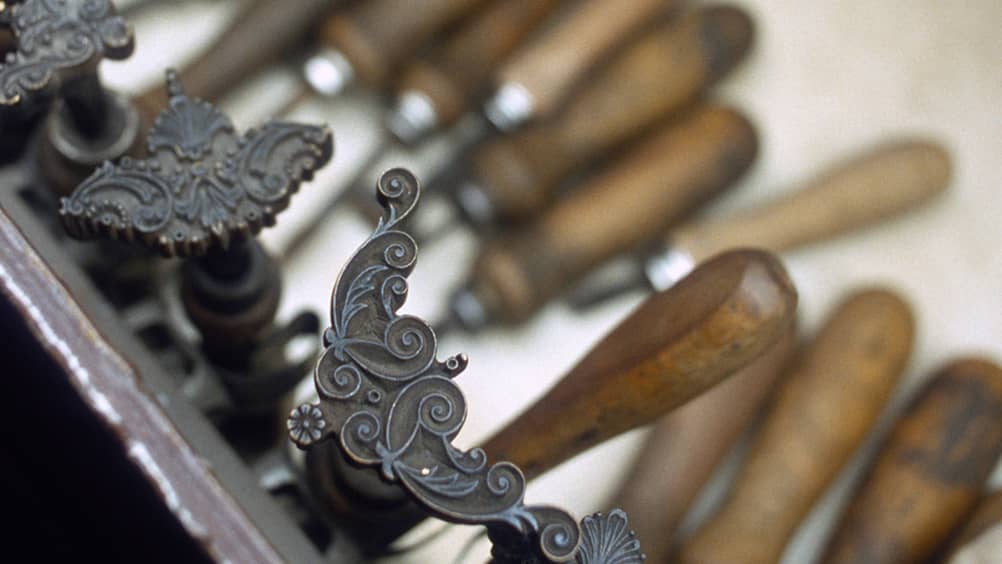 Photography Adam Eastland / Alamy Stock Photo
From the Hotel, stroll southbound towards the Arno River and arrive at the majestic Piazza Santa Croce. Enter the magnificent Basilica di Santa Croce that crowns the square (its interior is wrapped in frescos by Giotto), and navigate to the Scuola del Cuoio, or leather school. Today guests can visit the workshop—converted from a dormitory of Franciscan friars into a school following World War II—and watch as in-house artisans expertly craft leather goods using centuries-old techniques. Their work—handbags, shoes, buttery-soft jackets, accessories and decorative objects, some gilded with 22-carat gold—is on sale in the school's gift shop. Scuola del Cuoio continues to provide long-term schooling and also offers abbreviated visits (ranging from free 15-minute discussions to a full-day workshop), which are perfect for guests who would like an up-close look at the leather gilding process or a chance to try their hand at crafting leather.
Continue towards the Arno River to pass over Ponte alle Grazie, Florence's oldest and longest medieval bridge, and arrive at the new headquarters of bespoke shoemaker Stefano Bemer. Known for his made-to-measure and ready-to-wear men's shoes, Bemer was also renowned for his artisan shoemaking training programmes. He famously taught Daniel Day Lewis the craft over the course of 10 months. Following Bemer's death in 2012, his 30-year-old brand, with its spirit and dedication to artistry, continues to be championed by Tommaso Melani and the Gori family of Scuola del Cuoio.
Nearby, tucked away at the top of a 15th-century palazzo, is the atelier of Florence's award-winning perfumer Lorenzo Villoresi. The man behind the famous nose can usually be found in his laboratory, surrounded by hundreds of aromatic jars and bottles, carefully mixing essences for a new creation. "This work is very precise," says Villoresi. "I sometimes can spend a year perfecting a fragrance."
Often inspired by his travels to far-flung locales (a trip to the Middle East in 1981 spurred his fascination with fragrance), this modern-day Renaissance man offers tailor-made scents (we recommend scheduling an appointment at least three weeks in advance), as well as his own line of perfumes.
Via Maggio
Also south of the Arno, in the city's Oltrarno ("beyond the Arno") quarter, lies Via Maggio, a historic street that today is home to many of Florence's much-admired antique shops. A row of elegant buildings trimmed with statues and plaques, Via Maggio owes its beauty to its proximity to the Palazzo Pitti. Once the Medici court moved there in the 16th century, noble families tried to outdo one another by constructing beautiful homes in the surrounding area. Today, this street is dotted with an eclectic mix of stores selling art, furniture and ceramics.
One such Via Maggio shop, however, stands out for the beauty that beckons from within its showroom. The artisans of Bianco Bianchi specialize in the art of scagliola—an artisan trade from the Renaissance that produces intricate inlaid designs on tables and panels using powdered moonstone. The craft was largely forgotten until the 1960s, when it was revived by the skilled hands of a self-taught craftsman, Bianco Bianchi. Today, Bianco's children, Alessandro and Elisabetta, continue the work, creating striking pieces such as a marble table adorned with a poetic scene of lilies and sparrows taking flight.
"To carry on our father's work is to continue the tradition of Florentine craftsmanship," notes Alessandro. "It is part of the fabric of the city."
Ponte Vecchio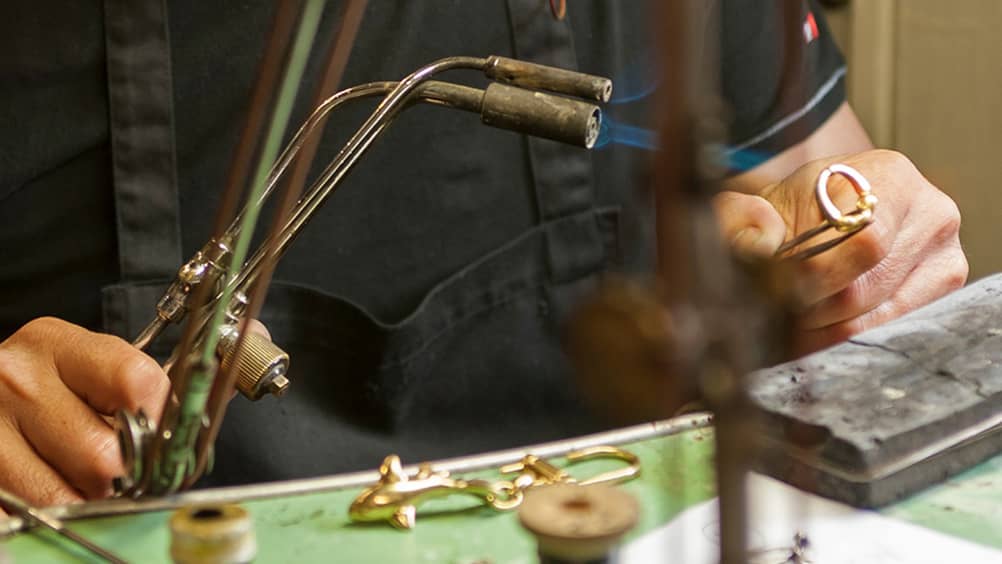 Photography Four Seasons Hotels and Resorts
Return to the north side of the Arno via Ponte Vecchio, the bridge whose diminutive medieval structure belies its allure. This spot is always packed—but do take a moment to stand amidst its buzzing crowds and admire the waters stretched out underneath, glittering like the jewellery in the stores that flank the bridge's edges.
Centuries ago, Ponte Vecchio's tenants were butchers, but the smell that escaped from these shops so displeased the Medici family that jewellers were invited to occupy the space instead. Positioned halfway across the bridge, Dante Cardini's windows shine bright with Italian-made jewellery, including one-of-a-kind creations such as a 3-carat pink sapphire and diamond-encrusted ring by Tuscan designer Roberto Poggiali. Fourth-generation owners Massimo Del Taglio and Elisabetta Gardella say that their store sells jewellery in the spirit of their great-grandfather, who opened Dante Cardini in 1888.
"Our clients are globetrotters," says Del Taglio, "and they want something special to remind them of Florence and our creativity."
Piazza Della Signoria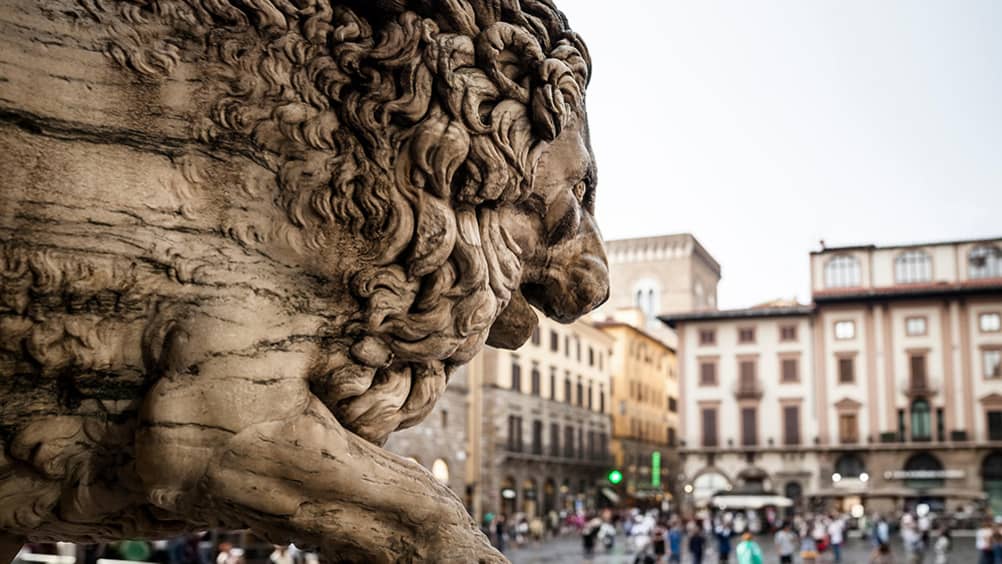 Photography Westend61 GmbH / Alamy Stock Photo
This L-shaped square, which sits in front of Palazzo Vecchio and connects to the Uffizi Gallery, is a meeting place for locals and is always awash in activity. Here, make it a point to say hello to Florence's leading uomo (man), David—whether that means battling the crowds to see Michelangelo's original at the Uffizi, or admiring the replica that greets guests in front of  Palazzo Vecchio. Inside this fortress-palace-cum-town-hall, art aficionados will also want to view the Salone dei Cinquecento, a chamber framed in paintings by Giorgio Vasari, which are believed to cover lost works by Leonardo da Vinci and Michelangelo. Just outside the Uffizi's perimeter, on the quiet Via Georgofili, an olive tree grows as a memorial to the lives lost in the 1993 bombing of the museum.
Il Palagio, Four Seasons Hotel Firenze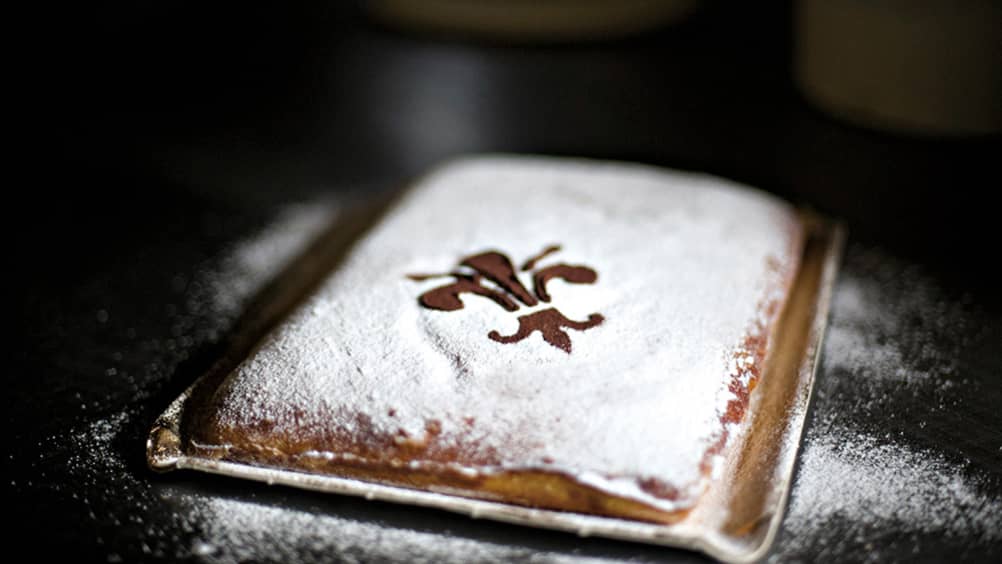 Photography Four Seasons Hotels and Resorts
Make the easy 20-minute stroll back to the Hotel in time to see the sun set over the lush Giardino della Gherardesca. Sip on a signature cocktail such as the Lipari, sweet passito wine mixed with peach liqueur and Prosecco—the perfect conversation starter for recapping the day's sights. Round out the evening with an intimate dinner in Il Palagio, the Hotel's Michelin-starred restaurant where Executive Chef Vito Mollica presents a modern take on traditional Italian dishes. Cavatelli pasta with Cacio cheese and pepper, for example, is served with marinated red shrimp and baby calamari to give the robust Roman dish a sweet, delicate edge.
Four Seasons Hotel Firenze