For your safety and in line with the precautionary measures, you will be requested to show the Green Health code on Ehteraz App before entering. Temperature check will also be held for guests arriving in our restaurants and lounges.
Reservations in our restaurant and lounges are strictly required. Maximum party size per table will be 4 guests. Should the guests walk in, we encourage to take a seat in our lobby and call our Dining Reservations at +974 4494 8500 to make a reservation. Last minute reservations are subject to availability in respect to the guidelines from the Ministry of Public Health.
Signature Dishes
Cod steeped in sweet miso, then oven-baked to perfection

Creamy spicy or butter ponzu

KING CRAB LEG WITH SHISHO SALSA

NOBU STYLE WAGYU BEEF SPICY PONZU TACOS
Experience Chef Nobuyuki Matsuhisa's signature, new-style Japanese cuisine at the world's largest Nobu restaurant, dramatically perched above the Arabian Gulf.
hours
Closed on Sundays

Dinner à la carte

Monday - Saturday

6:30 pm – 11:30 pm

Brunch

Fridays

12:00 pm - 4:15 pm

Bar and Lounge

Monday - Saturday

6:00 pm – 1:00 am

Happy Hour

Monday - Saturday

6:00 pm – 8:00 pm

Ladies Night

Monday

6:00 pm – 1:00 am

Children Policy: Children under age 10 are only welcome for Friday brunch.
Meet the Team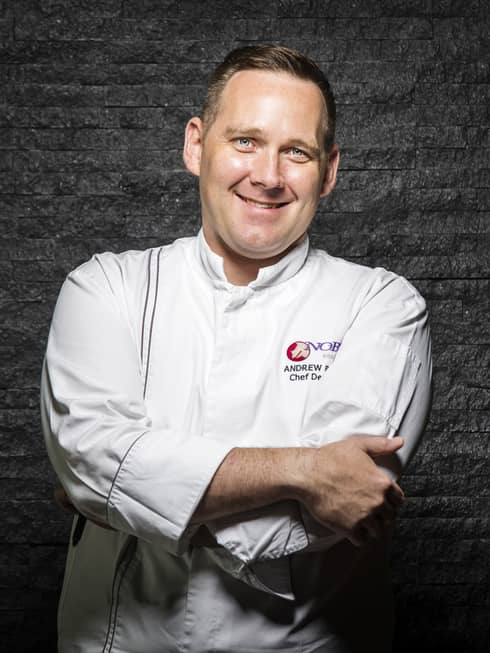 ANDREW BOZOKI
HEAD CHEF AT NOBU
Chef Andrew was 17 years old when he started his culinary career. From the beginning, he knew he didn't wanted to be a conventional Chef so he learned from the best – Chef Nobu. After a long journey, Andrew has not not only mastered Nobu's kitchen style, but adds his own creations to the restaurant. His ultimate goal – to to make guests happy at their table.
"I learned from the toughest and the best, because I myself wanted to become one of the best."
Events
Friday, 12:00 noon – 4:15 pm

Nobu Brunch

Start your weekend with an exquisite brunch featuring a wide selection of Nobu's speciality dishes.

Details