Experience Chef Nobuyuki Matsuhisa's signature, new-style Japanese cuisine at the world's largest Nobu restaurant, dramatically perched above the Arabian Gulf.
hours
Dinner à la carte

Every day

6:30 pm – 11:30 pm

Brunch

Fridays

12:30 pm – 4:00 pm

Bar and Lounge

Every Day

6:00 pm – 1:00 am

Happy Hour

Sunday – Friday

6:00 pm – 8:00 pm

Ladies Night

Monday

6:00 pm – 1:00 am

Sip and Sushi

Saturday

6:00 pm – 1:00 am

Children Policy: Children under age 10 are only welcome for Friday brunch.
Signature Dishes
Cod steeped in sweet miso, then oven-baked to perfection

Creamy spicy or butter ponzu

KING CRAB LEG WITH SHISHO SALSA

NOBU STYLE WAGYU BEEF SPICY PONZU TACOS
Meet the Team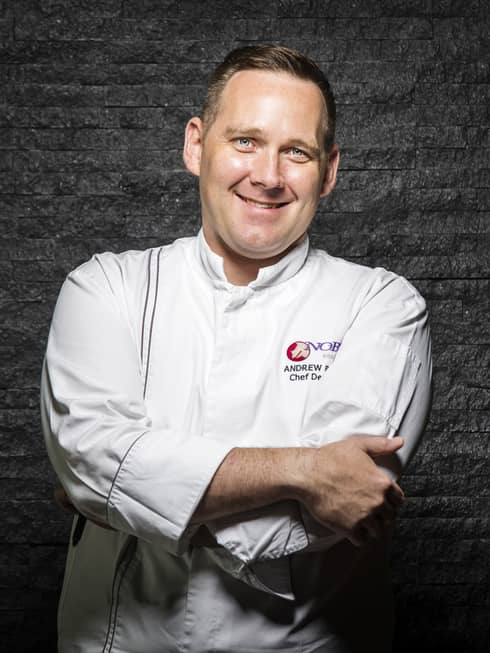 ANDREW BOZOKI
HEAD CHEF AT NOBU
Chef Andrew was 17 years old when he started his culinary career. From the beginning, he knew he didn't wanted to be a conventional Chef so he learned from the best – Chef Nobu. After a long journey, Andrew has not not only mastered Nobu's kitchen style, but adds his own creations to the restaurant. His ultimate goal – to to make guests happy at their table.
"I learned from the toughest and the best, because I myself wanted to become one of the best."
Events
SATURDAYS, 6:30 PM

SUSHI OMAKASE

Indulge in the ultimate sushi-tasting journey with a wide selection of our chef's specialties, or let our chef surprise you with his choices of the week.

Friday, 12:30 pm – 4:00 pm

Nobu Brunch

Start your weekend with an exquisite brunch featuring a wide selection of Nobu's speciality dishes.

Details

March 25 and 26

WORLD OF NOBU

Experience Nobu Doha 5th anniversary with this two-day event of culinary celebrations with Chef Nobu Matsuhisa himself with Master Sushi Classes and Special six-course World of Nobu Omakase. QAR 550 per person for six-course Omakase | QAR 750 per person with wine and sake pairing | QAR 700 per person for the master sushi class | QAR 595 per person for world of Nobu 2020 celebration

Make a Reservation