All Food and Drink
Events
Friday, 1:00 pm – 4:00 pm

Nobu Brunch

Start your weekend with an exquisite brunch featuring a wide selection of Nobu's speciality dishes. Price: Regular Brunch – QAR 345, Sparkling Brunch – QAR 525.

Learn More

Friday, 1:00 pm – 4:30 pm

Four Seasons Brunch

Kick off your brunch experience with the award-winning Friday Brunch at Four Seasons Hotel Doha. Enjoy unlimited a la carte brunch favourites that feature classic dishes such as caviar, oyster, Peking duck and many more.

Learn More

Saturday, 1:00 pm – 4:30 pm

Elements Summer BBQ

Celebrate summer at our new Saturday BBQ Brunch at Elements. Savour family favourites at our live BBQ cooking stations along with roaming trolleys featuring Dim Sum, Crispy BBQ Beef Rib Wrap and a Dessert BBQ skewers trolley.
Meet the Team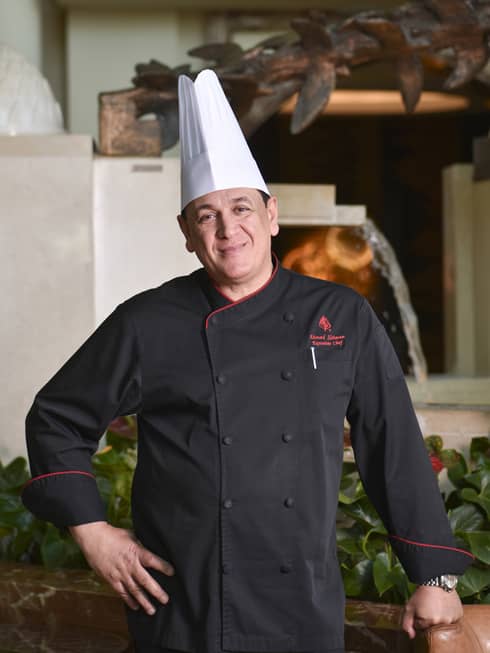 Ahmad Sleiman
Executive Chef
Ahmad's passion for cuisine began by watching his mother cook every day for the enjoyment of the family. With more than 30 years of experience, Ahmad strongly believes that excellence is achieved by taking things to the next level, bringing passion to the food and being proud of every dish served.
"My love of cooking comes from watching my mother serve us our favorite dishes."
Culinary Experiences
Diversity is the essence of Qatar's community, as it is for our expert culinary team. Harnessing the talent of our chefs who hail from all around the world, we are proud to showcase the most diverse and authentic dining experiences in Doha.

Ahmad Sleiman

Executive Chef
DISCOVER YOUR LOCAL MASTERDISH

Created with artistry, driven by taste and enriched by connection. Reunite with loved ones over Baklawa Ice Cream, a culinary Masterdish created by Chef Mohammed Saleem. Available at Marina Terrace, Baklawa Ice Cream is one of our signature dishes made with Pistachio and Chocolate Ice Creams, Phyllo Pastry & Chocolate Sauce.

Details

MAGICAL DESERT DINING EXPERIENCE

Capturing the allure of the desert, yet conveniently located in the heart of the city, the Magical Desert Dining Experience showcases Doha's rich cultural traditions and is perfect for gathering family and friends. Held on the Hotel's private beach on the Arabian Gulf, and set under a traditional Bedouin-style tent, the dinner is the only Hotel experience of its kind in Doha.

Watch the video

Barefoot Thursdays at the Beach

Sit down to a toes-in-the-sand grilled dinner with family or sip delectable drinks with friends at the Beach Bar. Either way, breathtaking views of the Arabian Gulf await.

Watch video