Whether it's a hearty breakfast, a quick lunch or an intimate dinner, indulge in our special menu of International favourites prepared in an open kitchen setting.
HOURS
Lunch Offerings

Lunch: Sunday – Thursday, 12:30 pm – 3:00 pm

Four Seasons Brunch: Every Friday, 1:00 pm – 4:30 pm

Saturday BBQ Brunch: Every Saturday, 1:00 pm – 4:30 pm

Dinner – A la Carte

7:00 pm – 11:00 pm

Happy Hour

Sunday – Thursday, 5:00 pm – 7:00 pm

Ladies Night

Every Wednesday, 5:00 pm – 11:00 pm
For your safety and in line with the precautionary measures, you will be requested to show the Green Health code on Ehteraz App before entering. Temperature check will also be held for guests arriving in our restaurants and lounges.
Signature Dishes
Lamb Dumpling in Yogurt Sauce with Vermicelli Rice

Basil, Parmesan Cheese, Tomato Sauce

Tomato, Turmeric, Curry Leaf and Chili

Five Spice Kaizen Sashimi

Yuzu Soy, Crispy Ginger
Meet the Team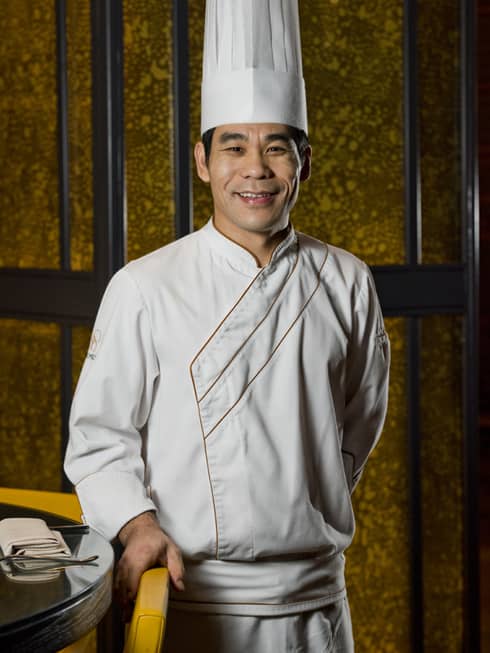 Fuliang Ding
Head Chef at Elements
Chef Ding discovered his passion in the kitchen after attending a culinary school in his home country of China. After working throughout China as a hotel chef for three and a half years, he mastered Chinese cuisine, but his appetite for learning culinary skills did not end there. He ventured off again to add Thai and Japanese cuisine to his repertoire, and now, Chef Ding brings unique spices, herbs and extraordinary flavours to Elements dishes.
"I knew that I was meant to be a Chef because I felt I belonged in the kitchen."
Events
Mondays, 7:00 pm – 10:30 pm

Ding n Duck

Start your Monday on a high note with our "Ding N Duck" trolley experience at Elements. Savour a 4-course menu by Head Chef Fuliang Ding featuring Papaya Salad and Peking Duck finished with a mouthwatering chocolate sphere. QAR 340 for half duck and QAR 590 for whole duck experience

Saturday, 1:00 pm – 4:30 pm

Saturday BBQ Brunch

Experience our Saturday BBQ Brunch at Elements. Savour family favourites at our live BBQ cooking stations along with roaming trolleys featuring Dim Sum, Crispy BBQ Beef Rib Wrap and a Dessert BBQ skewers trolley.

Sunday – Thursday

ELEMENTS CONNECTED

Connect with your friends, colleagues and loved ones at Elements. Every day is special with themed Happy Hour programs tailored to your celebrations.