Whether it's a hearty breakfast, a quick lunch or an intimate dinner, indulge in our special menu of International favourites prepared in an open kitchen setting.
HOURS
Breakfast

6:30 am – 11:00 am

Lunch

Sunday – Thursday

12:30 pm – 3:00 pm

Brunch

Friday and Saturday

1:00 pm – 4:30 pm

Dinner

Friday – Tuesday

7:00 pm – 11:00 pm

Seafood Night

Wednesday

7:00 pm – 10:30 pm

Flavours of Asia

Thursday

7:00 pm – 10:30 pm

Elements Connected Happy Hour

Thursday – Sunday

5:00 pm – 7:00 pm
Signature Dishes
Ceasar Salad with Soft Shell Crab
Meet the Team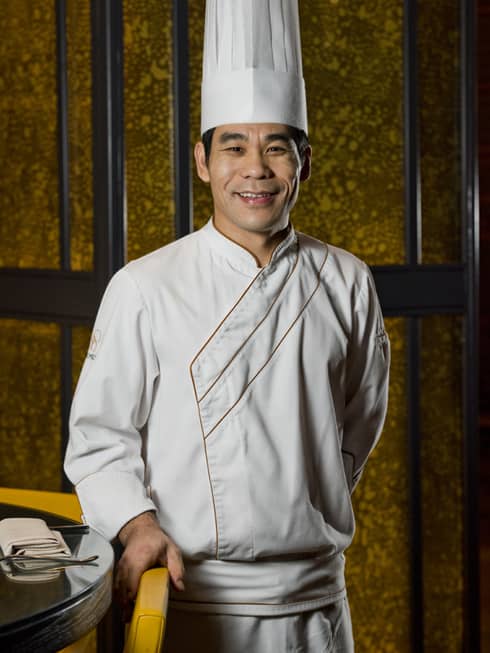 Fuliang Ding
Head Chef at Elements
Chef Ding discovered his passion in the kitchen after attending a culinary school in his home country of China. After working throughout China as a hotel chef for three and a half years, he mastered Chinese cuisine, but his appetite for learning culinary skills did not end there. He ventured off again to add Thai and Japanese cuisine to his repertoire, and now, Chef Ding brings unique spices, herbs and extraordinary flavours to Elements dishes.
"I knew that I was meant to be a Chef because I felt I belonged in the kitchen."
Events
Festive Season at Elements

Embrace the joy of the festive season at Elements. Gather with your loved ones and share delightful holiday dining experiences for Thanksgiving, Christmas and the New Year.

Learn More

Wednesday and Thursday, 7:00 pm – 10:30 pm

Theme Nights

Weekday dinner plans are sorted with Theme Nights at Elements. Sail over to Seafood Night on Wednesdays and enjoy our fresh fish market,or indulge in Pan Asian favourites every Thursday during Flavours of Asia. Gather with friends and family and indulge in a rich buffet of international favourites. QAR 295 for Regular Package; QAR 490 for Enhanced Package; QAR 147 for children ages 6 to 12.

Friday and Saturday, 1:00 pm – 4:30 pm

Four Seasons Brunch Experience

Kick off your brunch experience with the award-winning Friday and Saturday Brunches at Elements. Enjoy unlimited international dishes from caviar and oysters to viennoiserie and charcuterie and much more from our live stations. Friday Brunch: QAR 350 for Regular Package; QAR 545 for Enhanced Package. Saturday BBQ Brunch: QAR 295 for Regular Package with local water; QAR 490 for Enhanced Package.