Rediscover your favourite fitness routines and take up exciting new challenges in a lush valley in Northern Thailand! The Mini Boot Camp package offers the perfect combination of health and luxury – in signature Four Seasons style.
At the Four Seasons Resort Chiang Mai, there is inspiration everywhere – from majestic mountains to shimmering rice fields. Perhaps the most rewarding experience is the practice of yoga and meditation in such soulful surroundings, guided by our deeply talented resident yogi. Later, a detoxifying treatment at the spa cleanses and refreshes the body, mind and spirit.
Boot Campers can also enjoy a personalised introductory lesson to strength training/body toning, and join the local farmers for a crash course in rice planting. The numerous trails amidst paddy fields and tropical trees offer hours of active fun – go for long walks and scenic runs, with glimpses of local life along the way. Bicycling enthusiasts will love the Tour de Mae Rim, a guided bicycling excursion through the lush valley. Before you leave to re-enter the real world, clear your mind and uplift your spirits with a final meditation session.
For longer fitness-focused adventures, contact the Resort for a customised Boot Camp package.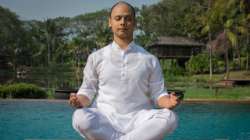 Yogic harmony
Balance body, mind and soul with a fully-rounded yogic experience, guided by our resident yogi Dheeraj Singh Patwal, who learnt his art in the Himalayas. The session includes movement, breathing, asanas (poses) and meditation – all designed to help you achieve better posture, stronger muscles and inner calm.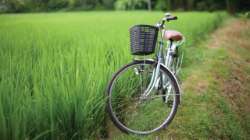 Bicycling bliss
Bicycle your way through picturesque paddy fields, accompanied by an experienced guide. Not only does the invigorating ride work your hip and leg muscles, it also offers a look at local sights and sounds.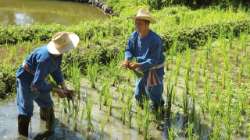 Rice planting
Don your Thai farmer's hat (and traditional outfit) for a crash course in rice planting. Join the farmers as they transplant from seedbeds to fields. Besides being an authentic and rewarding experience, this brisk outdoors activity will get your muscles and metabolism moving!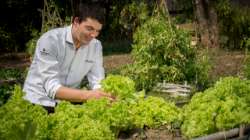 Personalised diet
Meet the Chef and decide on the best diet to achieve your fitness goals. It's your Boot Camp – so we'll customise all the meals to suit your unique needs and preferences.
THREE-DAY ITINERARY
Day 1
Personalised consultation for a customised Boot Camp experience
60-minute Muay Thai session
Rejuvenating dinner of fresh ingredients and local flavours
Day 2
Energizing breakfast of superfoods and fresh fruit
Private yoga – breathing, asanas, movement, meditation
Power-packed lunch to keep you going
Detoxifying spa treatment to cleanse and refresh body, mind and soul
Day 3
Bicycling tour of the lush Mae Rim valley with the General Manager
Nutritious breakfast featuring healthy, tropical produce
Meditation to calm the mind and find your center
Personalised consultation for continued fitness inspiration